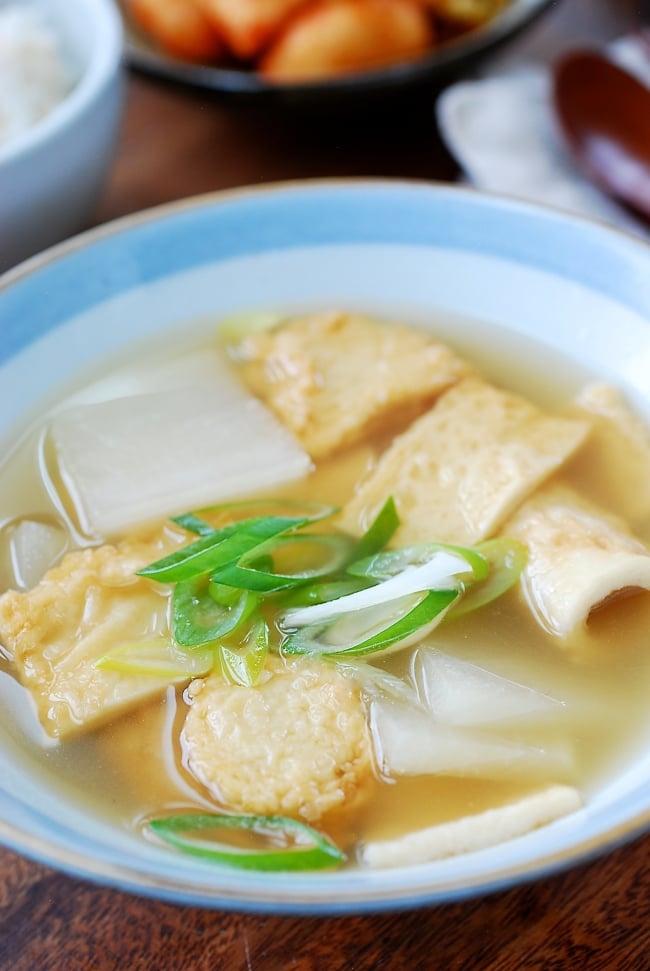 When it's cold outside, skewered eomuk (어묵) simmered in a light savory broth is hugely popular at street food carts and stalls in Korea. Eomuk (aka odeng, 오뎅) is processed fish cake made with pureed fish and other ingredients. It's a common ingredient used in various Korean dishes such as gimbap and eomuk bokkeum. The street version of eomuk guk (soup) is conveniently served on long skewers with the hot broth served separately in a cup. At home, eomuk guk can be prepared without skewers as an easy everyday soup!
This dish originates from the iconic Japanese dish called "oden" which is a stew made with fish cakes and many other delicacies. The Korean version is much simpler, made mostly with fish cakes and radish. Oddly enough, Koreans call fish cakes "odeng" not the dish itself.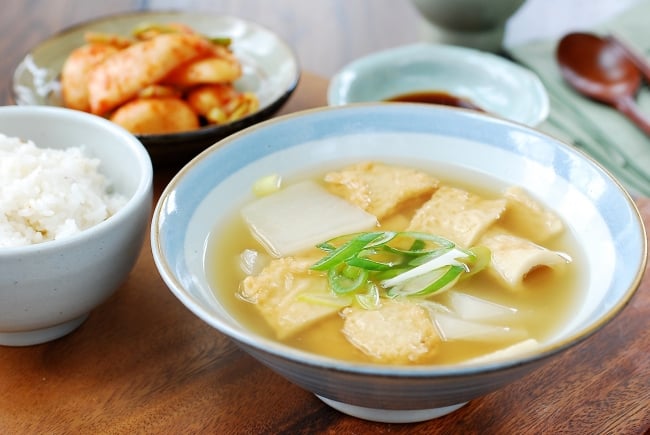 As mentioned in my eomuk bokkeum, Busan, a southern coastal city, is most famous for delicious eomuk. Outside Korea, you can find fish cakes made in Busan in the frozen section of Korean markets. Eomuk comes in many shapes and sizes. You can use any type for this recipe. I like to use a combination of different types for varying shapes and textures. Simply cut them into bite sizes if necessary.
A simple anchovy broth is all you need for this soup. You can of course use more complex broth if you like. See my How to Make Anchovy Stock for options. But, let me tell you my secret ingredient — a dried or fresh hot chili pepper when making the broth. It'll make the broth taste really good, giving a subtle spicy kick to the broth while reducing that oily taste of the fish cakes.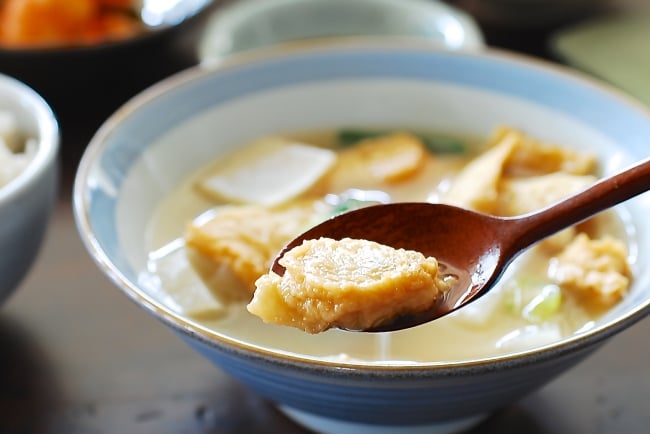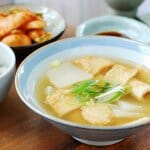 Ingredients
12

ounces

eomuk

fish cake

8

ounces

Korean radish

mu

1

teaspoon

minced garlic

1/2

tablespoon

soy sauce

1/2

tablespoon

soup soy sauce

1

scallion

roughly chopped

salt and pepper to taste

8

cups

anchovy broth made with 1 optional dried or red chili pepper - See anchovy broth for the recipe.
Instructions
Make 8 cups of anchovy broth with the optional chili pepper.

Cut the fish cakes into bite size pieces.

Cut the radish into about 1 to 1-1/2 inch-thin squares.

Quickly blanch the fish cakes in boiling water to remove excess oil, and then drain.

Add the radish slices to the broth, and boil until translucent and soft, about 5 minutes. Add the garlic, and season with the soy sauce.

Drop the fish cake in, and boil for a few more minutes. Add salt and pepper to taste. Drop the scallion in before turning off the heat.