Korean beef bulgogi can be made with any good quality cut of meat. Flank steak is full of beefy flavor, but somewhat tough, but this marinade with some juice from a can of pineapple quickly tenderizes the flank steak.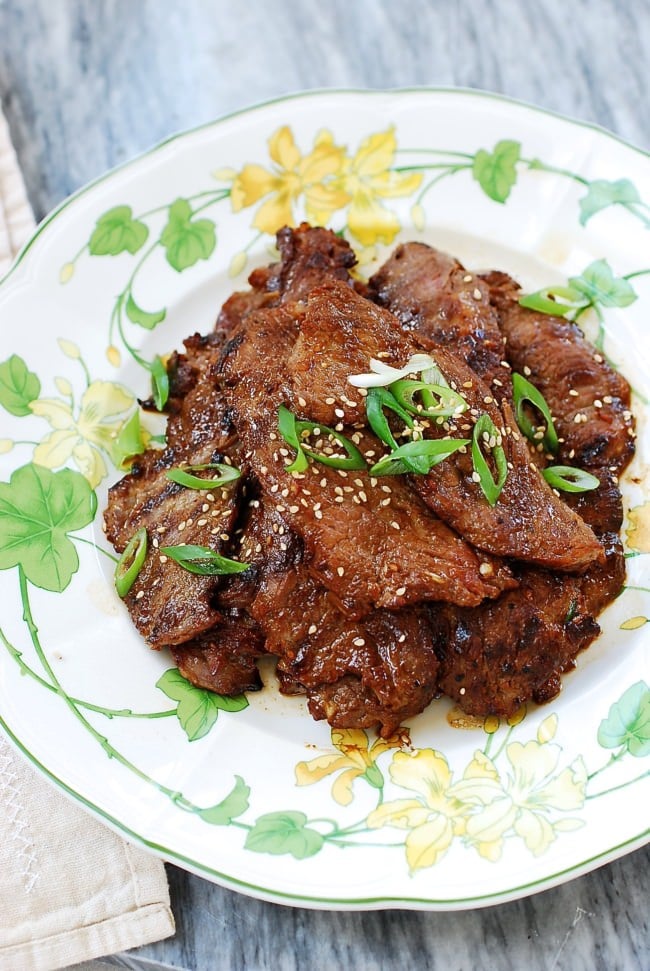 I'm in NYC for a few days visiting my children! Before I left home on Saturday, I prepared some foods to bring to them, including this bulgogi made with flank steak. I quickly cut up 2 flank steaks, in a pack from Costco, and prepared this marinade that works really well with flank steak. While I was doing all that, it occurred to me that I should also share this recipe I've been enjoying for quite some time.
The classic bulgogi is typically made with thinly cut ribeye, but it can certainly be made with any good quality cut of meat. I find flank steak works really well!
Typically, flank steak is grilled whole and then sliced to be served. I also have a recipe here where I cooked the whole flank steak and then sliced to serve for my slow cooker bulgogi. For regular bulgogi, the meat is sliced before being marinated. Flank steak is full of beefy flavor, but somewhat tough, so it's important to cut against the grain.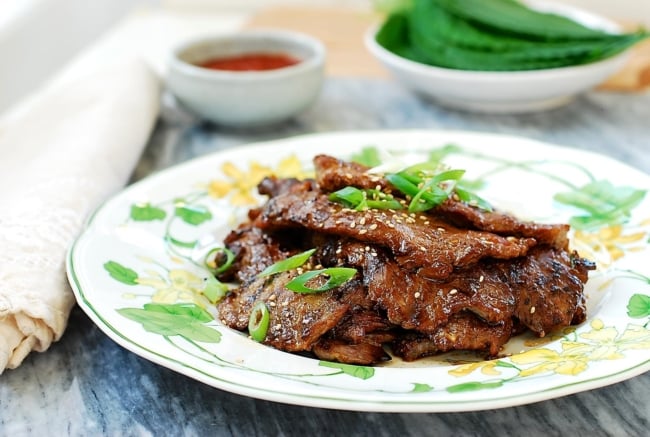 How to tenderize flank steak for bulgogi
This marinade with some juice from a can of pineapple does the nice trick tenderizing the flank steak. You can substitute it with a little bit of ground kiwi. Korean green plum extract (maesilcheong, 매실청) or grated Korean pear is also nice, but not as strong as pineapple or kiwi as a tenderizer.
I cooked some for our lunch within an hour of marinating, and the meat was tender but pleasantly chewy. It will be best to marinate up to a half day, but you can marinate longer if you like your meat very tender.
If you have made my all purpose marinade, you will simply need to add the pineapple juice, ginger, and sesame oil to 1 cup of the all purpose marinade to make a similar marinade as this one.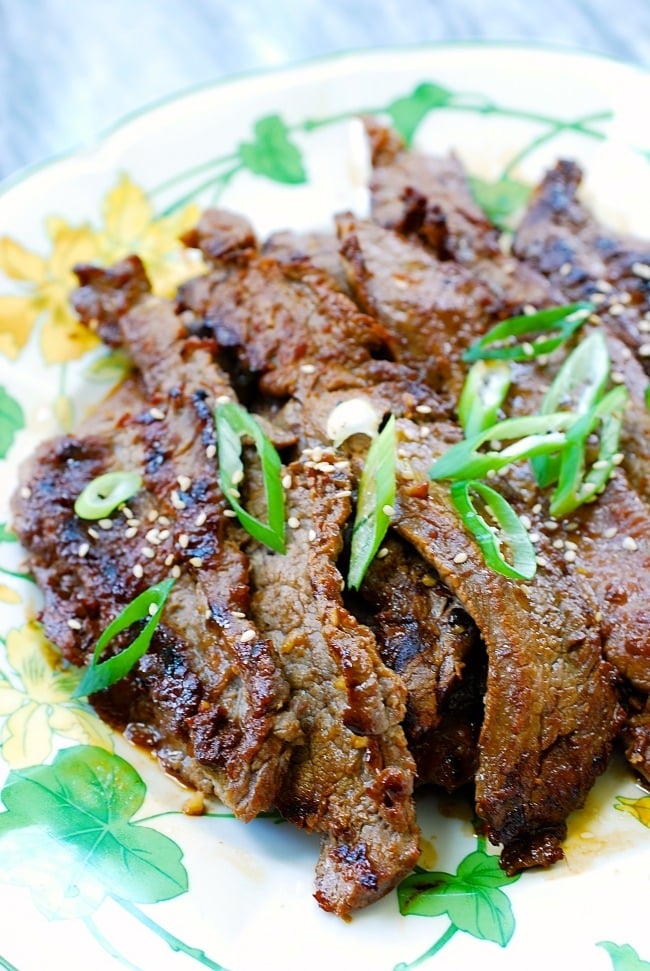 For more Korean cooking inspirations, follow along on YouTube, Pinterest, Twitter, Facebook, and Instagram.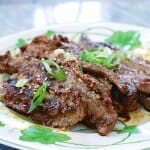 Ingredients
1

flank steak

about 1.5 to 2 pounds

2

scallions

roughly chopped
Marinade
5 to 6

tablespoons

soy sauce

3

tablespoons

sugar

2

tablespoons

rice wine

or mirin or white wine

4

tablespoons

juice from a can of pineapple

use 100% juice

1

tablespoon

minced garlic

1 to 1-1/2

teaspoons

finely grated ginger

2

tablespoons

sesame oil

2

teaspoons

sesame seeds

⅛

teaspoon

pepper
Instructions
Slice the meat (about ⅓ to ¼ - inch thick) against the grain at a steep angle.

Combine all the marinade ingredients in a bowl, and mix well.

Add the meat and scallions and mix well until evenly coated. Marinate at least for 1 hour.

Heat a grill pan or a skillet over high heat and add the meat slices. Lower the heat as necessary. The marinade may burn if the heat is too high. Cook until the meat is cooked through and slightly caramelized, one to two minutes each side.