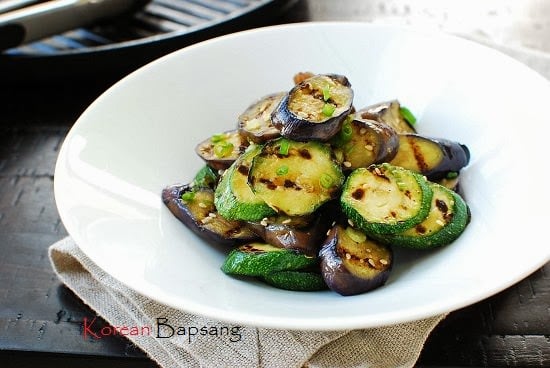 I know I should be posting fall recipes by now, butI thought I'd share this grilled vegetable side dish with you while summer vegetables are still around (though disappearing quickly).I made the dish with the last eggplant I picked from my garden today and a zucchini I had in the fridge.
I've previously posted eggplant and zucchini side dishes, such as
gaji namul
,
gaji bokkeum
and
hobak namul
, whic
h involve different cooking techniques. Grilling is another method I use often. It gives the vegetables an excellent texture while adding a bit of a charred taste. Lightly dressed, these grilled vegetables are simple and delicious!

Ingredients:
For the vegetables:
1 medium size Korean/Asian eggplant (about 6 ounces)
1 medium size zucchini (about 6 ounces)
2 teaspoons vegetable oil
1 scallion, finely chopped
1/2 teaspoon minced garlic
1 teaspoon sesame oil
1/2 teaspoon sugar
1 teaspoon vinegar (or lemon juice)
1/2 teaspoon roasted sesame seeds
pinch pepper
Cut the eggplant and zucchini crosswise into about 1/4-inch thick pieces. Sprinkle with salt (about 1/2 teaspoon for each vegetable). Let sit for about 15 minutes until wilted and some liquid has been released.
Pat the eggplant and zucchini pieces dry with a paper or kitchen towel. Coat them with two teaspoons of vegetable oil.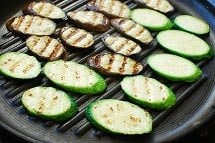 Preheat a lightly oiled grill or grill pan. Grill the vegetable pieces, for a minute or two, until cooked through and slightly charred with nice grill marks.
Add all remaining ingredients and gently toss everything together.