Lightly seasoned with a soy sauce based sauce, this grilled eggplant and zucchini side dish is simple and delicious!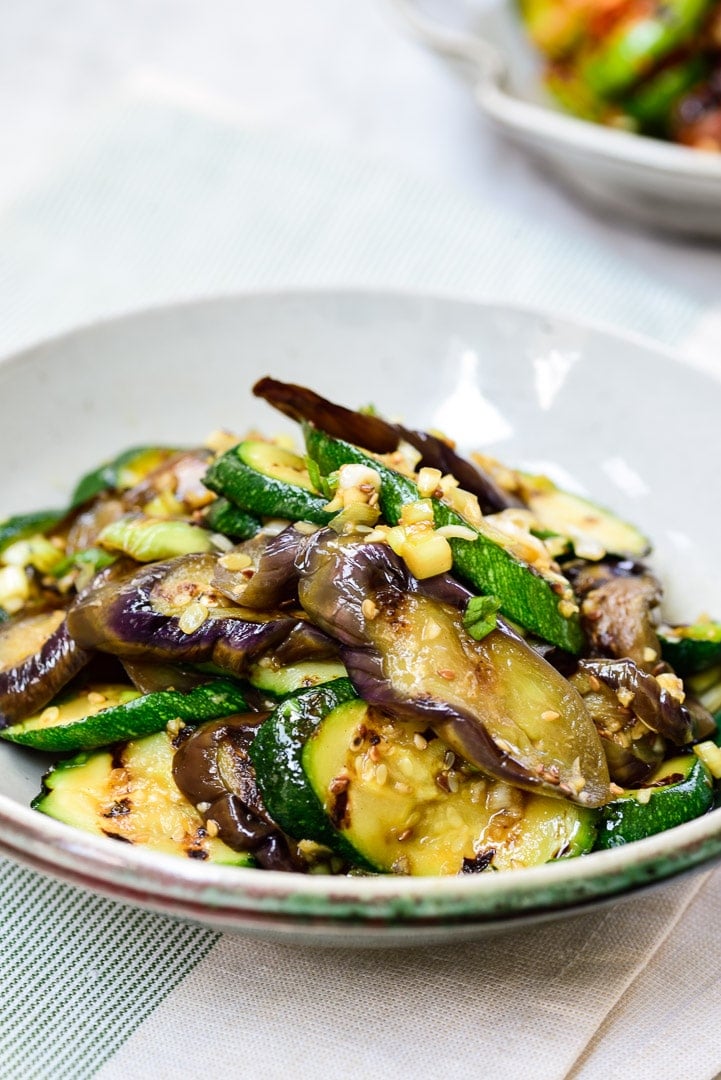 The summer may be coming to an end, but summer vegetables are still abundant in my garden and at your local farmers' markets and stores! Grilled vegetables are a summer favorite. Grilling gives the vegetables an excellent texture while adding a bit of a charred taste. With just a few ingredients, these Korean flavored grilled eggplant and zucchini are easy to put together for a great side dish.
I also have several classic eggplant and zucchini recipes on the blog, such as gaji namul, gaji bokkeum, spicy gaji bokkeum, hobak bokkeum, hobak buchim, hobak jeon, which involve different cooking techniques. Hope you check them out.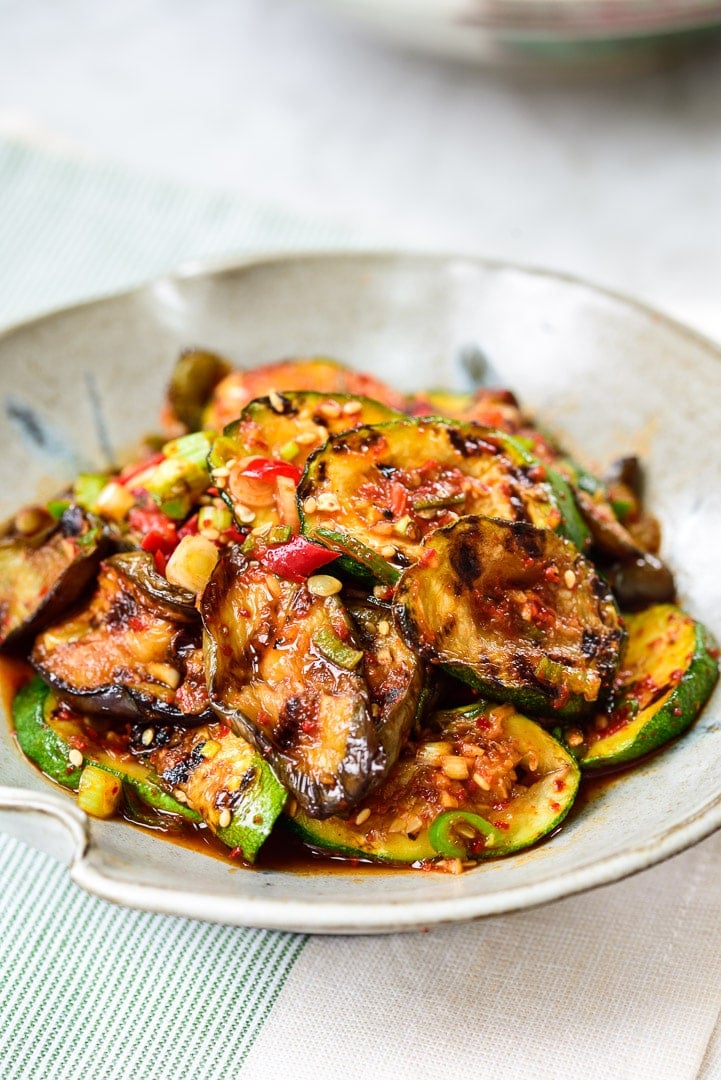 I like the combination of eggplant and zucchini for this dish, but you can also swap out one of them with another vegetable you like or try the recipe with entirely different vegetables. Mushrooms, onion (or red onion), asparagus, or other summer squash (such as yellow squash) are all great options.
Eggplants and zucchinis are high in water content, so I like to salt (sweat) them a little to remove excess moisture. Salting also gives the vegetables a better texture.
The grilled vegetables are tossed with a few typical Korean seasoning ingredients (yangnyum, 양념). For a spicy version, simply add a couple of teaspoons (or more) gochugaru (Korean red chili pepper flakes). I sometimes throw in finely chopped chili peppers as well.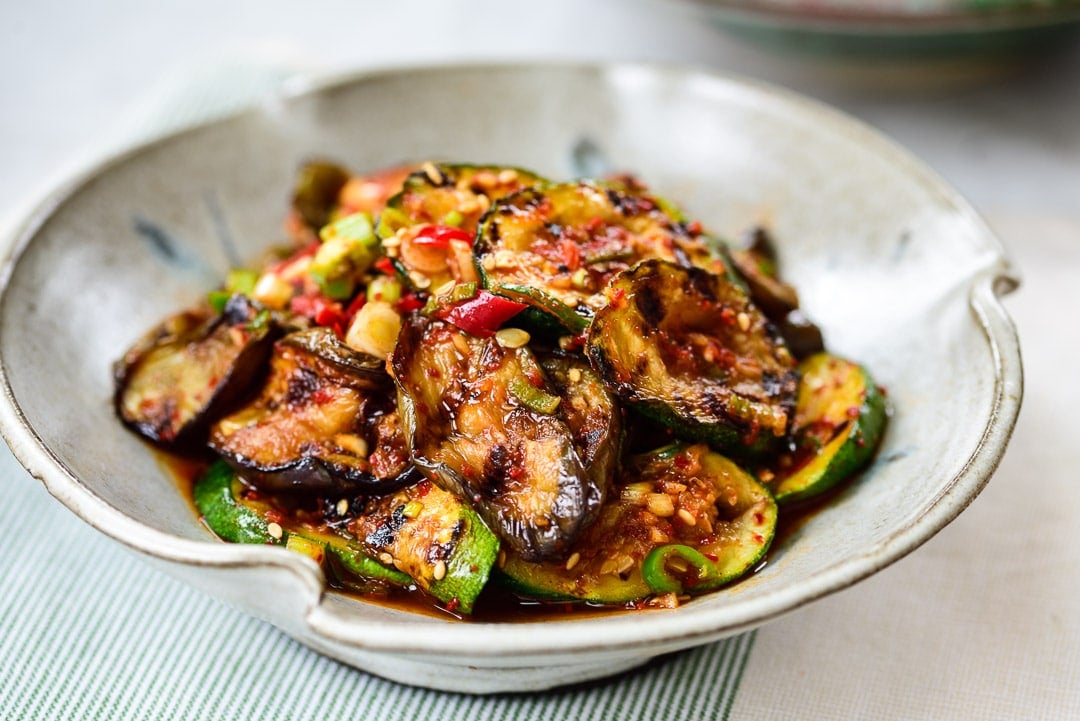 For more Korean cooking inspirations, follow along on YouTube, Pinterest, Twitter, Facebook, and Instagram.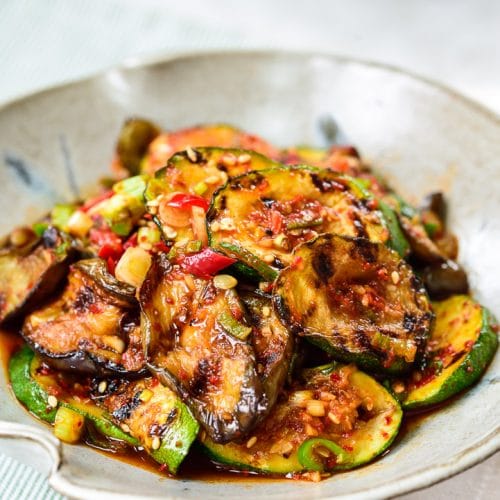 Gaji hobak muchim (grilled eggplant and zucchini)
Side Dish
Print Recipe
Ingredients
1

medium size Korean/Asian eggplant

about 8 ounces

1

medium size zucchini

about 8 ounces

1/2

teaspoon

salt

cooking oil
For the seasoning:
1

scallion, finely chopped

1

teaspoon

minced garlic

1

tablespoon

soy sauce

2

teaspoons

sesame oil

1

teaspoon

sugar

1

teaspoon

roasted sesame seeds

pinch

pepper

2

teaspoons

gochugaru - optional for a spicy version

adjust to taste

1

green or red chili pepper - optional for a spicy version
Instructions
Cut the eggplant and zucchini crosswise into about 1/3 inch-thick slices.

Place the vegetables In a bowl, and sprinkle with salt (about 1/4 teaspoon for each vegetable). Let sit for about 20 minutes until wilted and some liquid has been released. Flip them over half way through. Discard the liquid.

Preheat a lightly oiled grill or grill pan over medium high heat. You can also use a large skillet. Grill the vegetable slices, for about two minutes per side, until cooked through and slightly charred with nice grill marks.

Add the seasoning ingredients and gently toss everything together.
This recipe was originally posted in September 2013. It's been updated here with new photos, a recipe card and minor improvements to the recipe.