A simple Korean side dish you can make with abundant summer zucchinis! It's also great in bibimbap.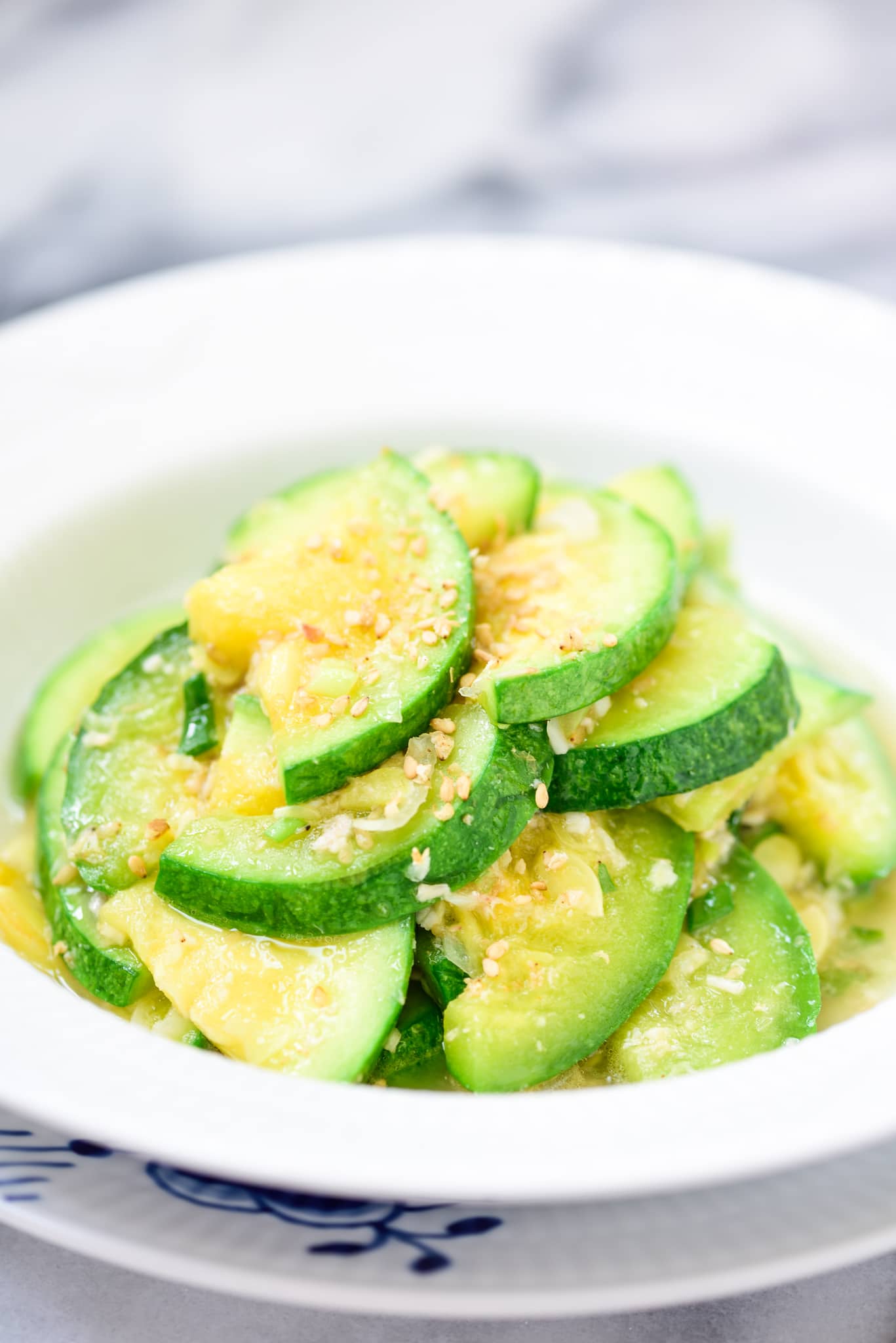 This stir-fried zucchini is one of my favorite summer side dishes (banchan, 반찬)! It's delicious with summer zucchinis.
My preference is to make this dish with Korean zucchinis called aehobak (애호박), meaning young squash, when in season. I get a steady supply from my garden. Aehobak has the shape of regular zucchini, but with a lighter green color, thinner skin, and more delicate yellowish flesh. There are also round shaped varieties of aehobak. You may be able to find them in Korean markets in the summer months.
However, you can make this dish with any zucchini varieties, such as grey zucchini, black beauty, etc.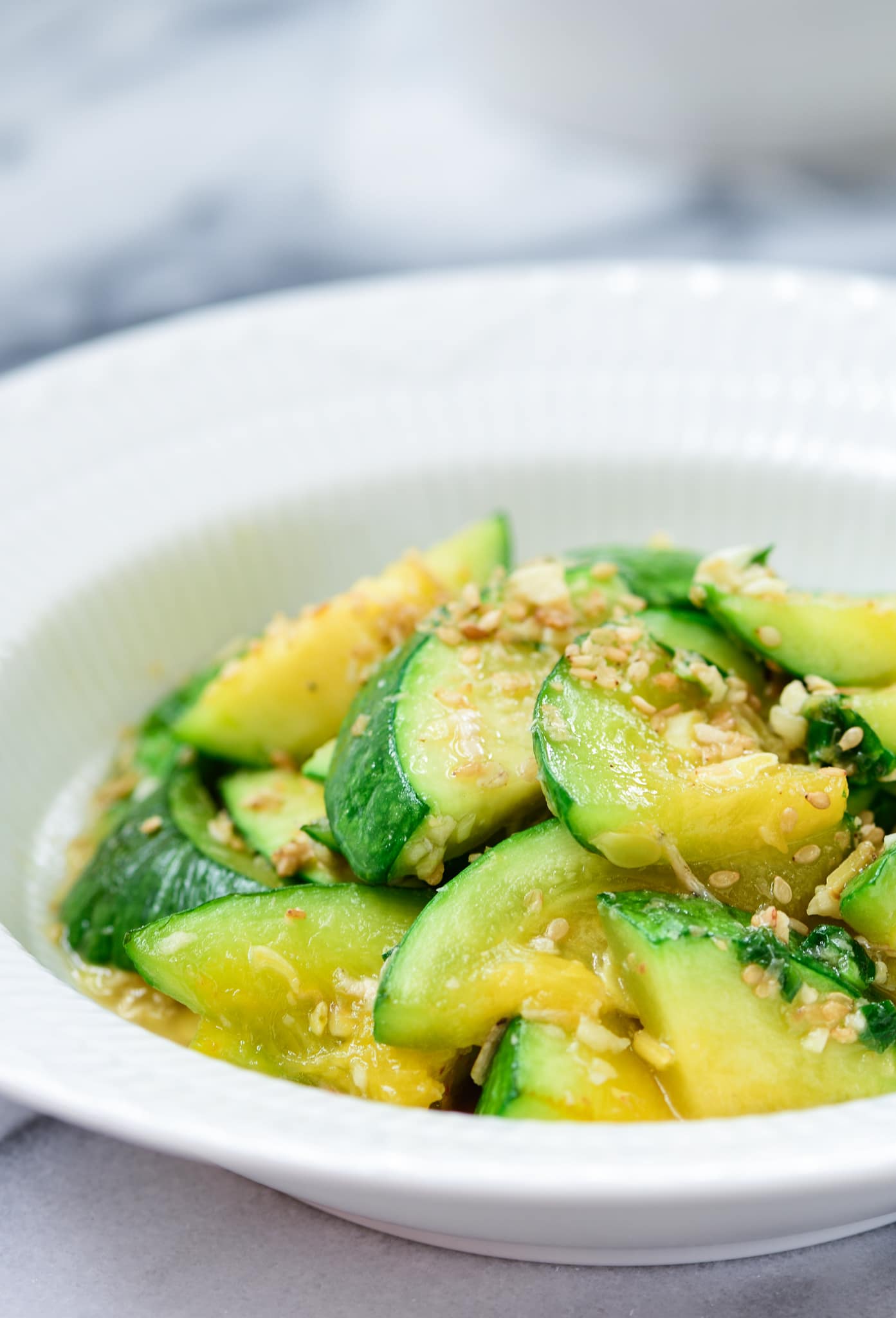 This dish can be vegan if you use salt or soup soy sauce (guk ganjang, 국간장) to season. However, the classic seasoning for this Korean side dish is
saeujeot
(or saewujeot, 새우젓), which is salted and fermented tiny shrimp. It adds a delicious savory flavor to the zucchini. Fish sauce works as well.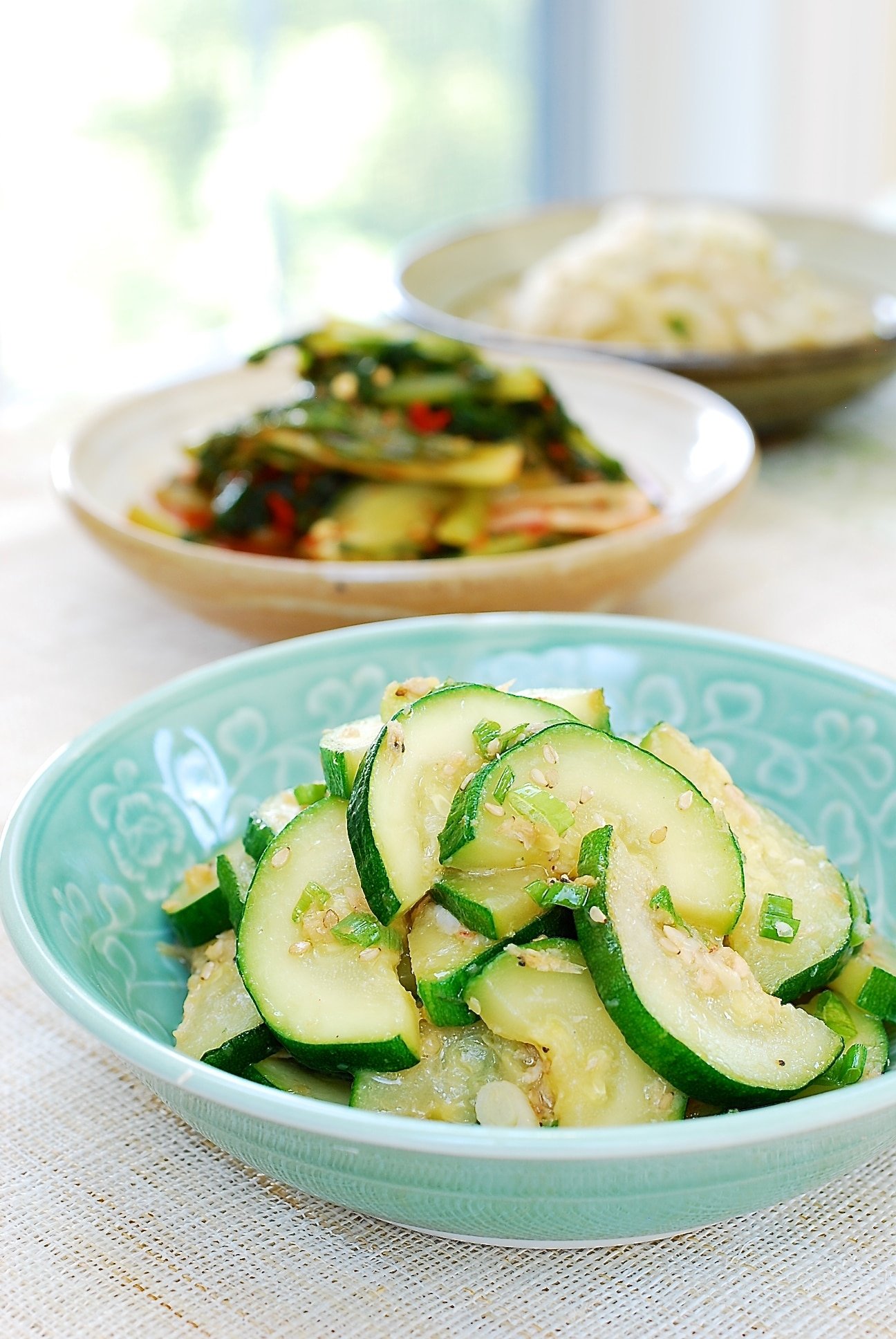 If you have leftover saeujeot from making kimchi, keep it in the freezer in a freezer bag. It won't freeze because of the high level of salt content, but will keep well for a long time.
You can keep this zucchini side dish in the fridge for up to 4 days if it lasts that long.
More zucchini recipes
Hobak buchim
Hobak jeon
Gochujang stew with zucchini
Hobak madu (zucchini dumplings)
Gaji hobak muchim (grilled eggplant and zucchini)
For more Korean cooking inspirations, follow along on YouTube, Pinterest, Twitter, Facebook, and Instagram.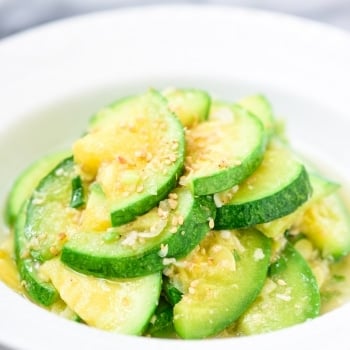 Ingredients
1

medium zucchini (about 10 - 12 ounces)

2

teaspoons

saeujeot (salted shrimp) or salt to taste

or fish sauce

1

teaspoon

minced garlic

1

scallion

finely chopped

1

teaspoon

sesame oil

1

teaspoon

sesame seeds (preferably crushed)

1

tablespoon

cooking oil
Instructions
Cut the zucchini in half lengthwise (cut into quarters if using a round zucchini). Then cut crosswise into about 1/4 to 1/3-inch thick slices.

You can use saeujeot as is or finely chopped. This is very salty, so use 2 teaspoons first and add more if needed.

Heat a pan with a tablespoon of cooking oil over medium high heat. Add the zucchini, garlic and saeujeot (or salt or fish sauce) to the pan. Cook for 2 to 3 minutes, stirring well. Add 2 tablespoons of water to the pan while stir frying. You can add another spoon or two of water if the pan is dry.

Add the scallion, sesame oil and sesame seeds. Continue to cook until the zucchini is softened and turns translucent, about 2 to 3 minutes. Do not overcook. Taste and add more salted shrimp or salt if necessary.
This recipe was originally posted in July 2011. Here, I have updated it with new photos, more information and improvements to the recipe.