Kkaennip kimchi is a quick and easy kimchi you can make with fragrant perilla leaves.
My kkaennip (깻잎) plants have been thriving all summer this year! In Korean homes, there can never be too many of these wonderfully fragrant leaves. They have just started to flower, and I'm excited to harvest seeds (deulkkae, 들깨) later in the fall.
Kkaennip is a species of perilla which is a member of the mint family and widely used as a vegetable in Korea.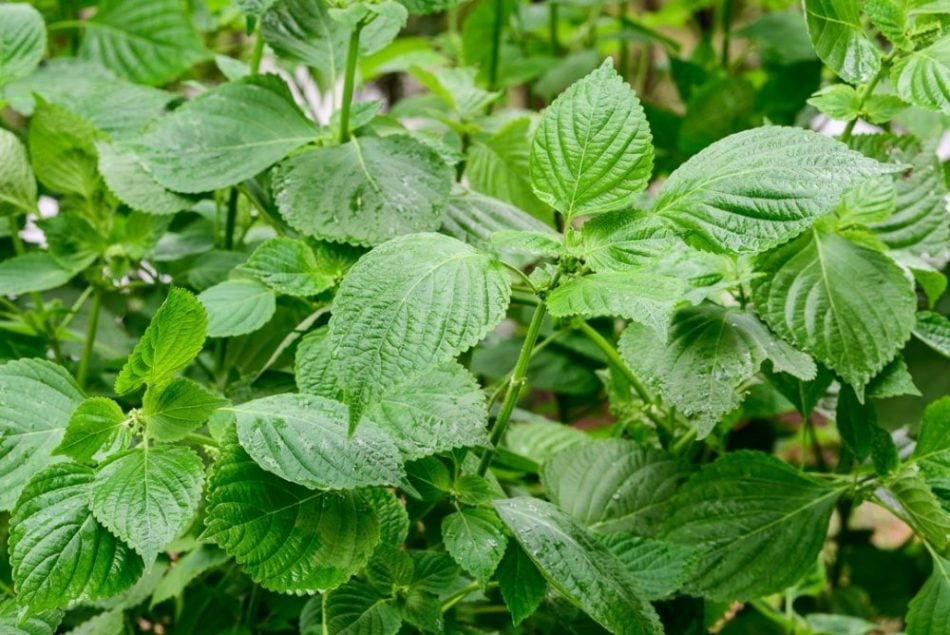 Perilla plants are very easy to grow. They love a well drained, sunny location. I've been growing mine in several containers this year and have been picking 50 to 60 leaves every few days when they peak. If you're interested in growing them, look out for seedlings at Korean markets in springtime. You can easily find seeds online (such as Etsy and Amazon) these days as well.
Otherwise, kkaennip is available all year round at Korean markets.
Fresh leaves are usually used as ssam (wraps) for grilled meat or fish, or added to bibim guksu, savory pancakes, or stews for extra flavor. They are also great in gimbap (or kimbap) or pork rolls.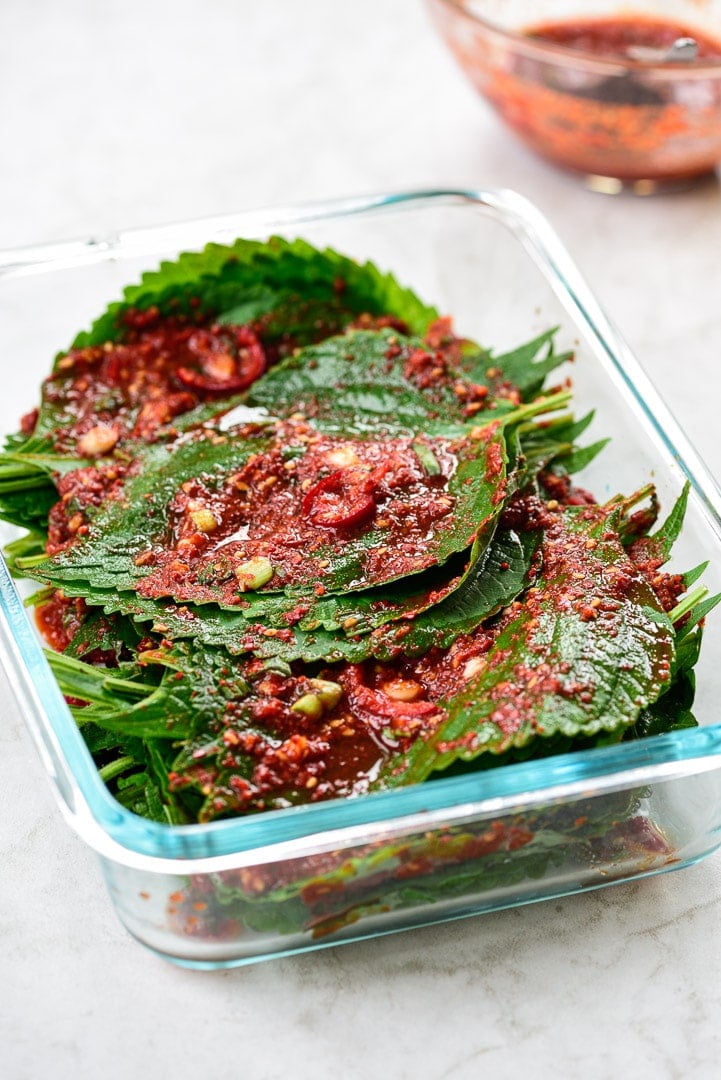 We've been enjoying kkaennip jjim (steamed perilla leaves) all summer. For longer storage, pickling kkaennip (either as jangajji or kimchi) is highly popular in Korea. Kkaennip jangajji and kimchi are staple summer side dishes but also traditional ways to preserve this fragrant vegetable to be enjoyed during the off season. I've been stocking up by making several batches of both.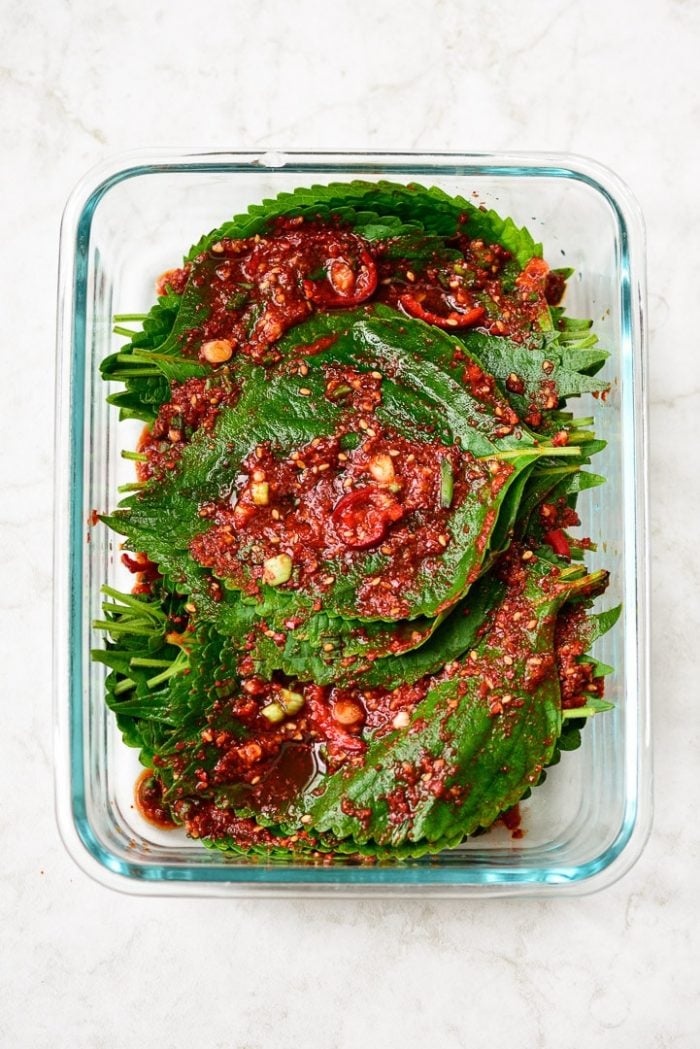 How to make kkaennip kimchi
Making kimchi with perilla leaves is very easy. For the seasonings, I used a combination of Korean fish sauce (myulchi aekjeot, 멸치액젓) and soup soy sauce (guk ganjang, 국간장). You can use all fish sauce for a bit more robust flavor or all soy sauce for a vegan option. Regular soy sauce can be used if you don't have soup soy sauce.
For other vegetables, I used a scallion and a red chili pepper which is optional. Garlic chives are also great in place of scallion.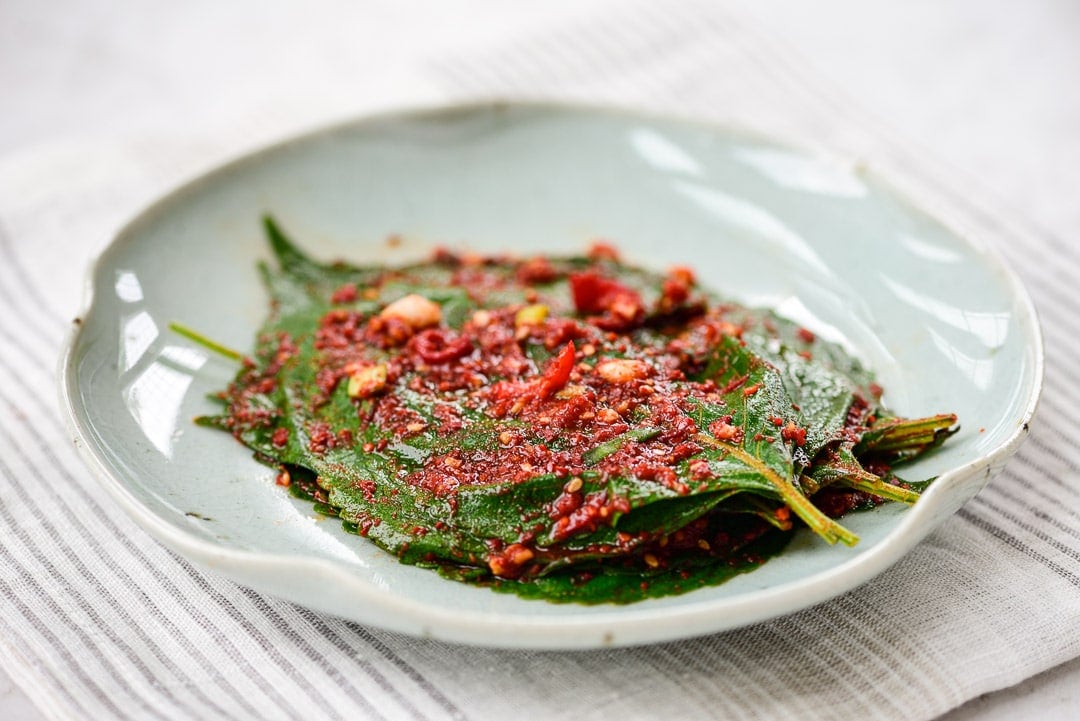 For more Korean cooking inspirations, follow along on YouTube, Pinterest, Twitter, Facebook, and Instagram.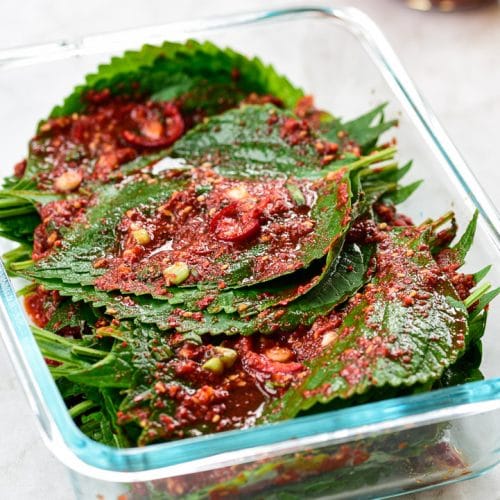 Ingredients
50 to 60

kkaennip (perilla leaves)

1

scallion finely chopped (about 1/4 cup)

1

red chili pepper - optional

2

tablespoons

gochugaru (or 2.5 TB)

1

tablespoon

myulchi aekjeot (fish sauce)

1

tablespoon

soup soy sauce (or regular soy sauce)

2

teaspoons

minced garlic

1

teaspoon

sugar (or 2 ts maesilcheong, Korean plum syrup)

1

teaspoon

roasted sesame seeds

1/4

cup

water or dashima (dried kelp/kombu) broth

See note
Instructions
Wash the kkaennip thoroughly under running water one at a time, especially the back, rough side. Hold the stems together, and shake off the excess water.

Place them in a colander to further drain/dry.

Mix all the seasoning ingredients well in a small bowl.

Place 3 or 4 leaves at a time, in a bowl or container with an airtight lid, and spread about a teaspoon of the sauce all over. Repeat the process with the remaining leaves. Rotate the location of the stem part of each batch to level the stack. Pour any remaining sauce over the leaves when all the leaves are used up.

Cover tightly with the lid. Let it sit at room temperature for a few hours and refrigerate. You can start enjoying it right away, but it will keep well for weeks.
Notes
If using, boil a small piece (about 2-inch) of dasima in 1/2 cup of water for about 5 minutes and then cool with the dasima in it.
This recipe was originally posted in August 2013. It's been updated here with new photos, a recipe card, and minor improvements to the recipe.