A delicious summer side dish made with eggplants! It's quick, easy and delicious!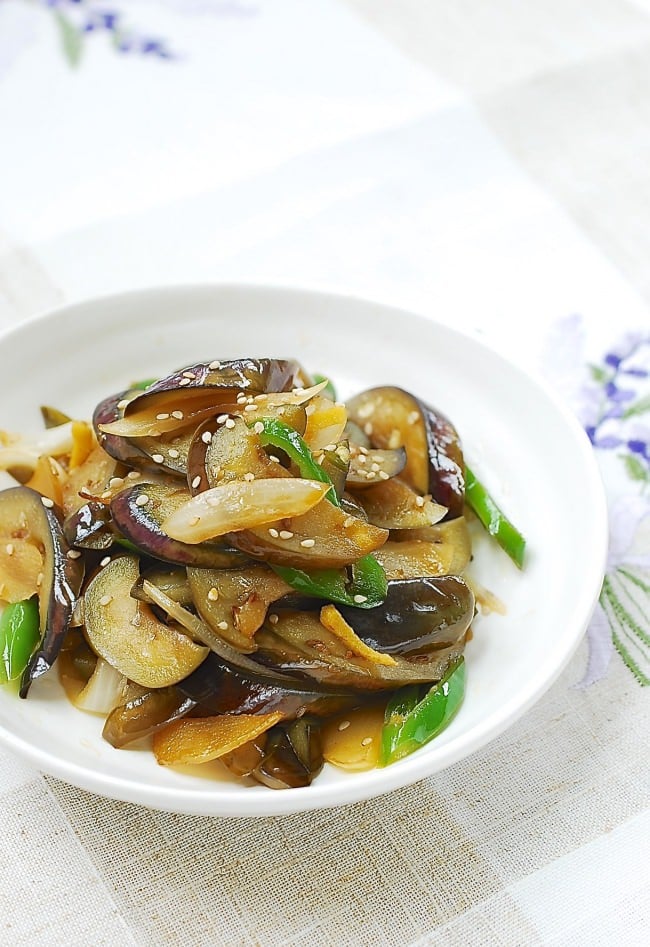 Are you enjoying summer's bountiful vegetables? In the summer, Korean tables are full of vegetable side dishes. I'm growing cucumbers (oi, 오이), zucchini (hobak, 호박), eggplants (gaji, 가지), perilla leaves (kkaennip, 깻잎), chili peppers, tomatoes, and garlic chives (buchu, 부추). I also go to the farmers' market often, so there has been no shortage of summer vegetables in my house. Here's one of my go-to, quick summer side dish made with eggplant!
You will need slender Korean/Asian eggplants for this recipe. They have tender skin and sweet flesh.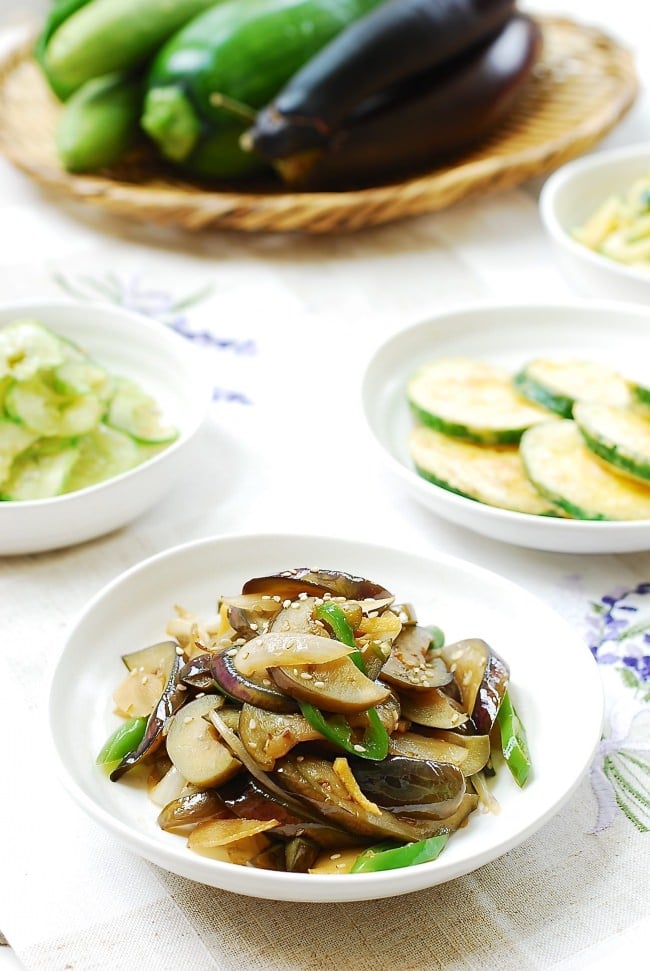 There's another stir-fried eggplant side dish (gaji bokkeum, 가지볶음) on this blog. That one is seasoned with gochujsang (Korean red chili pepper paste), so it's a bit spicy. This recipe is a mild version seasoned with soy sauce. You can use a bit of oyster sauce too, if you have it. It will add another layer of flavor to the dish.
To add a pop of green color to the dish, I used a couple of green chili peppers for this recipe. I also find garlic chives (buchu) works really well with this dish. Sometimes, I also add a handful of mushrooms (oyster, king, or shiitake mushrooms). If you use more vegetables than the recipe calls for, be sure to add more seasoning.
The other summer vegetable side dishes in the photo below are oi bokkeum, kkaennip jjim, hobak bokkeum, yeolmu kimch, and hobakjeon.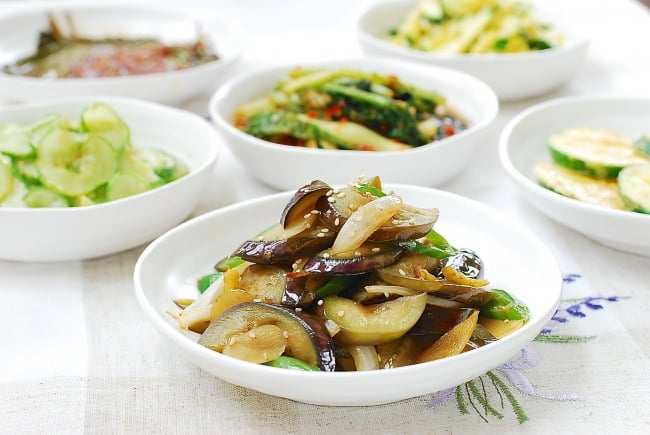 More eggplant recipes
Gaji namul (Steamed eggplant side dish)
Gaji bokkeum (Spicy stir-fried eggplant)
Gaji hobak muchim (Grilled eggplant and zucchini)
Gaji mari (egg plant rolls)
For more Korean cooking inspirations, follow along on YouTube, Pinterest, Twitter, Facebook, and Instagram.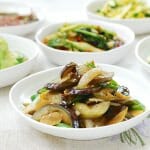 Ingredients
1

medium Korean/Asian eggplant

gaji (or 2 small), about 8 ounces

1/2

medium onion

2

small green chili peppers

2

garlic cloves

thinly sliced

1

small thumb size ginger

cut into short matchsticks

cooking oil
Seasoning
1

tablespoon

soy sauce

1

tablespoon

cooking rice wine (matsul, mirim or mirin)

1

tablespoon

oligodang or maesilcheong (plum syrup)

(or 1 teaspoon sugar)

Pinch

salt and pepper

1/2

tablespoon

sesame oil

1/2

teaspoon

sesame seeds
Instructions
Cut the eggplants lengthwise in halves. Then cut diagonally into about 1/4-inch thick slices. Thinly slice the onion, and slice the chili peppers diagonally. Mix the soy sauce, rice wine, and corn syrup (or sugar) in a small ball.

Heat a pan with 1 tablespoon of cooking oil over medium high heat. Add the onion, garlic, and ginger, and stir-fry until fragrant. Add the eggplants and stir-fry, for a minute or two until they start to soften.

Stir in the sauce mix, and then add the peppers.

Continue to stir-fry until the eggplants are well coated with the seasoning and the chili peppers are slightly wilted. Season with salt and pepper to taste. Turn the heat off. Drizzle the sesame oil over and mix well again. Sprinkle with the sesame seeds to serve.