This spinach doenjang guk is a popular soup in Korea. Commonly made in a clam-based broth, the soup is light and refreshing!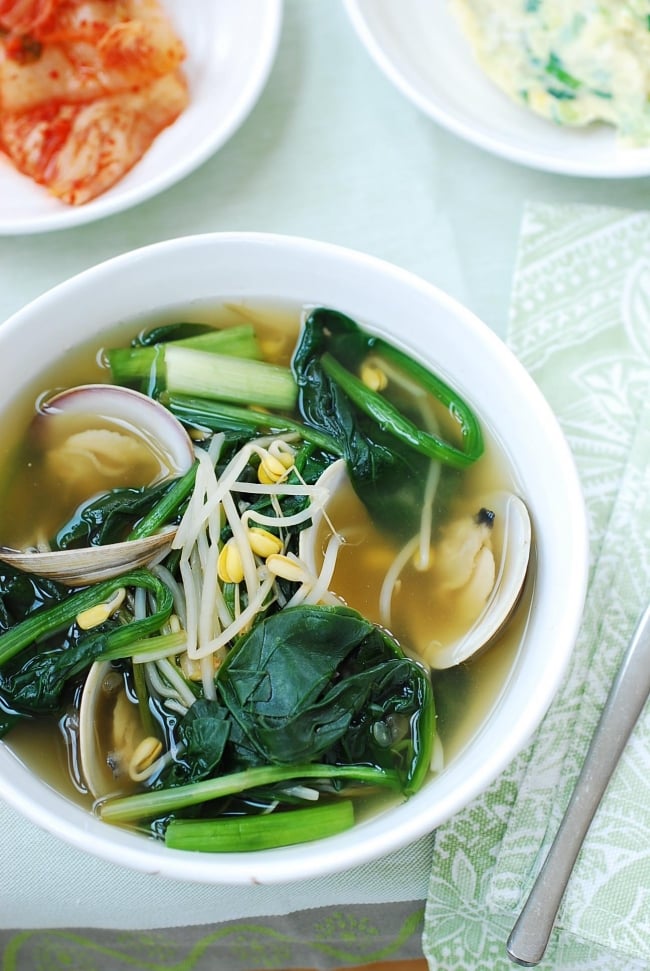 Spinach can be found all year-round, but spring spinach is terrific! This spinach soup made with doenjang (Korean fermented soybean paste) is a popular soup in Korea, especially in spring. Commonly made in a clam-based broth, the soup is light and refreshing!
The important thing to remember is to use a small amount of doenjang not to overpower the sweetness of the spinach and the mild briny flavor of the clams.
I like to add some kongnamul (soybean sprouts), as my mother used to, because it adds a textural contrast and extra flavor to the soup. It can be omitted if desired.
By now, you know to save the water used to rinse the rice if you're making a soup or stew with doenjang. The starch water works as a binding agent between the soybean paste and the broth. It also enhances the flavor of the soybean paste.
Any type of small clams, such as manilla or little neck clams, are fine for this soup. You can also make it simply with anchovy broth or vegetable broth.
More Korean soup recipes
Baechu doenjang guk (napa cabbage soup)
Kongnamul guk (Soybean sprout soup)
Mu guk (radish soup)
15 Korean soup recipes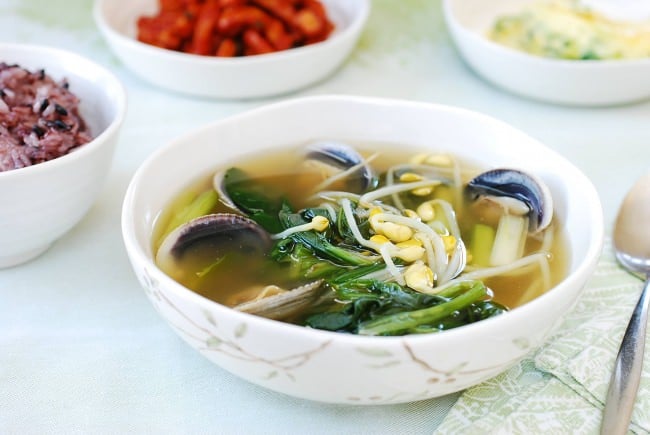 For more Korean cooking inspirations, follow along on YouTube, Pinterest, Twitter, Facebook, and Instagram.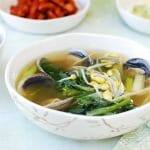 Ingredients
1/2

pound

any small variety of clams

Manila, little neck clams

1

bunch fresh spinach

about 10 ounces

8

ounces

soybean sprouts

kongnamul, 콩나물

2

scallions

1 to 1-1/2

tablespoons

doenjang

된장 (Korean fermented soybean paste)

1

teaspoon

minced garlic

salt and pepper
Instructions
Rinse and scrub the clams. Place the clams in salted water (1 tablespoon of salt in 2 to 3 cups of water) for 30 minutes or longer to get the clams to spit out the sand.

Trim off the roots from the spinach. Wash thoroughly until there is no more sand in the water. Drain. If your spinach is long, you can cut them in half. Rinse the soybean sprouts a couple of times, discarding any floating skins. Drain. Clean and roughly chop the scallions.

In a large pot, stir the soybean paste into 6 cups of water (preferably the water used to rinse the rice). Bring it to a boil over high heat.

Add the clams, beansprouts and garlic. Boil until clams open and the beansprouts are cooked, about 3 to 5 minutes.

Throw in the spinach and scallions, and cook until wilted for a minute or two. Add salt and pepper to taste.