Gyeranjjim is a Korean savory egg custard dish. It's a popular side dish that goes well with any Korean meal. Try it with this easy recipe!
Gyeranjjim (계란찜) is a Korean savory egg custard dish. Gyeran means eggs, and jjim refers to a steamed dish. Eggs are also called dalgyal (달걀) in Korean, so this dish is also called dalgyaljjim (달걀찜). It's a popular side dish for breakfast, lunch, and dinner both at home and restaurants. Gyeranjjim is so quick and easy to make that I often add it to a meal at the last minute.
You can make it simply with eggs and scallions, but other chopped vegetables such as carrot, onion, and/or zucchini are great additions as well. Growing up, we often had it with pollack roe.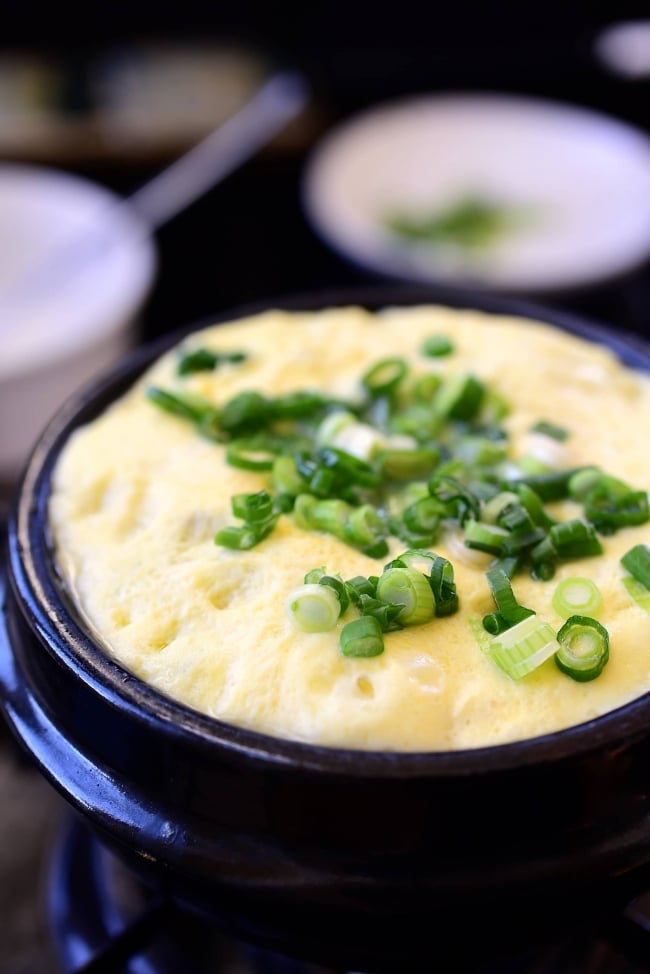 To thin the eggs and enhance the flavor, I usually use anchovy broth. You can certainly use water or any other broth such as dashima broth or vegetable broth. For a silky, custard-like texture, I use 1/4 cup liquid for each egg. Adjust to your taste.
For the seasoning, salted shrimp (saeujeot, 새우젓) is the best with eggs. Saeujeot adds a unique savory flavor to the eggs. Fish sauce will be excellent as well.
How to steam the eggs
Gyeranjjim is usually cooked and served in a small earthenware (ttukbaegi, 뚝배기) at Korean restaurants. I also like to cook it in my earthenware directly on the stove top. But, you can use a ramekin or a heatproof bowl and place it in boiling water in a pot to steam. You can also microwave the eggs, covered with ceramic wrap, although the result may not be as silky as the other methods.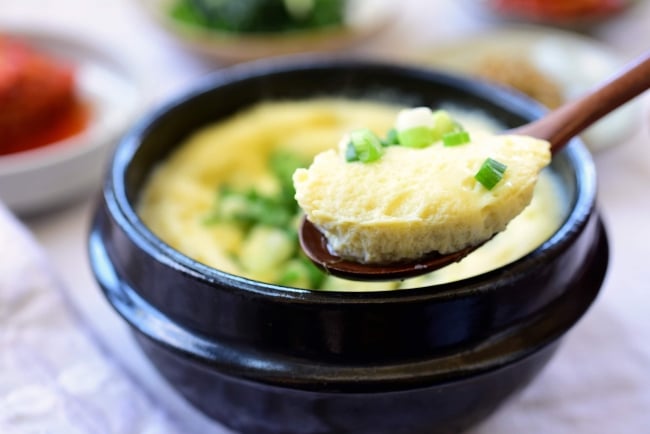 Have you tried this gyeranjjim recipe? Please rate the recipe below and leave a comment! Stay in touch by following me on YouTube,Pinterest,Twitter,Facebook, andInstagram.
Gyeranjjim (Korean Steamed Eggs)
Appetizer, Side Dish
Print Recipe
Ingredients
4

large eggs

1

cup

anchovy broth (or water or dashima broth)

1-1/2

teaspoons

salted shrimp (saeujeot) or 3/4 teaspoon salt

(or fish sauce)

2

tablespoons

chopped scallion
Instructions
Beat the eggs with a spoon.

Run the mixture through a sieve to break it down into a smooth liquid consistency. (If you skip this process, make sure to beat the eggs until very smooth.)

In a lightly oiled earthenware, small stone/ceramic pot, or any heatproof bowl, mix the beaten eggs well with the anchovy broth or water and salted shrimp (saeujeot) or salt.
Use one of the following cooking methods depending on the cookware used:
Earthenware/ceramic pot (stove-top proof):
Add the egg mixture to the pot. Cover, and simmer over medium low heat on the stove for about 7 minutes. The egg mixture should still be runny in the middle at this point.

Gently stir the eggs in a circling motion with a spoon. Reduce the heat to low. Add the scallions, cover, and simmer for 2 to 3 minutes until the mixture is set.
Stock pot:
Bring water to a boil in a medium-sized pot. The water should come halfway up the sides of the ramekin/bowl. (Adding a folded paper towel at the bottom will prevent the ramekin/bowl from rattling while the water is boiling.)

Carefully place the ramekin/bowl in the pot. Cover the pot and steam for 8 minutes over medium low heat. Make sure the water boils gently.

Gently stir the eggs with a spoon. Add the scallions, cover, and steam for an additional 4 minutes until the mixture is set.
In this post, I've updated my gyeranjjim recipe that was originally posted in March 2010 with more information, new photos and an improved recipe.