This traditional version of tteokbokki is mildly flavored with a soy sauce based sauce. It's slightly sweet and deliciously savory!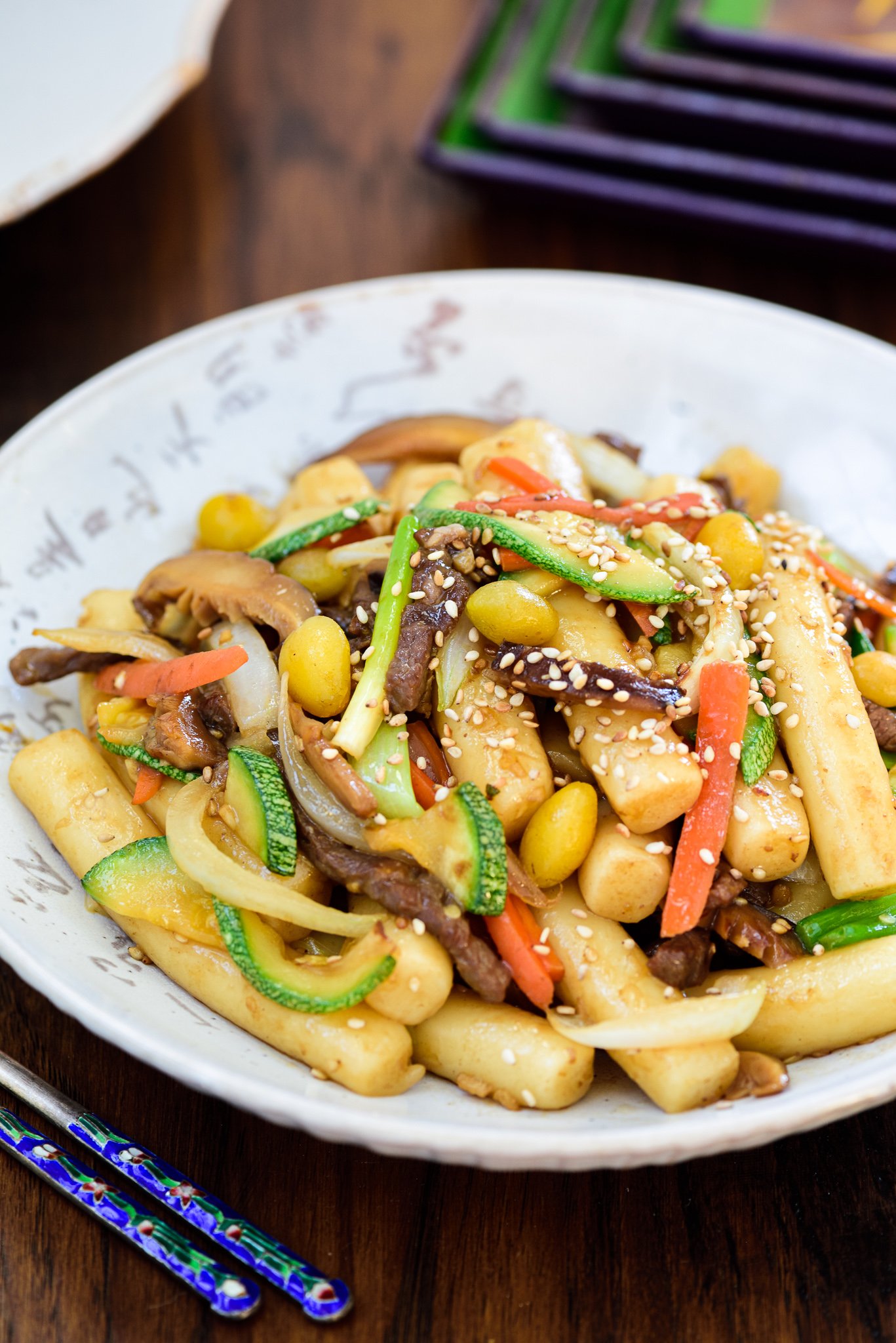 Gungjung tteokbokki (궁중떡볶이) is the traditional version of tteokbokki. Gungjung means "royal court" in Korean. Unlike today's red spicy version, this traditional version is mildly flavored with a soy sauce based sauce. As such, it's also called ganjang tteokbokki (간장떡볶이). Ganjang is soy sauce.
This version of stir-fried rice cakes dates back to the Joseon Dynasty (1392-1910). As the name suggests, it was part of the royal cuisine and regarded as a high class dish – an interesting contrast to the modern spicy version which is pretty much street food.
One story behind the origin of this royal dish is that it was inspired by japchae (stir-fried starch noodles with vegetables) and created to help regain the King's appetite. In fact, gungjung tteokbokki is also known as tteokjapchae (떡잡채) perhaps because it is made in a similar fashion to japchae.
This deliciously colorful dish will be a great addition to your lunar New Year feast! You can, of course, enjoy as a snack or a light meal any time of year.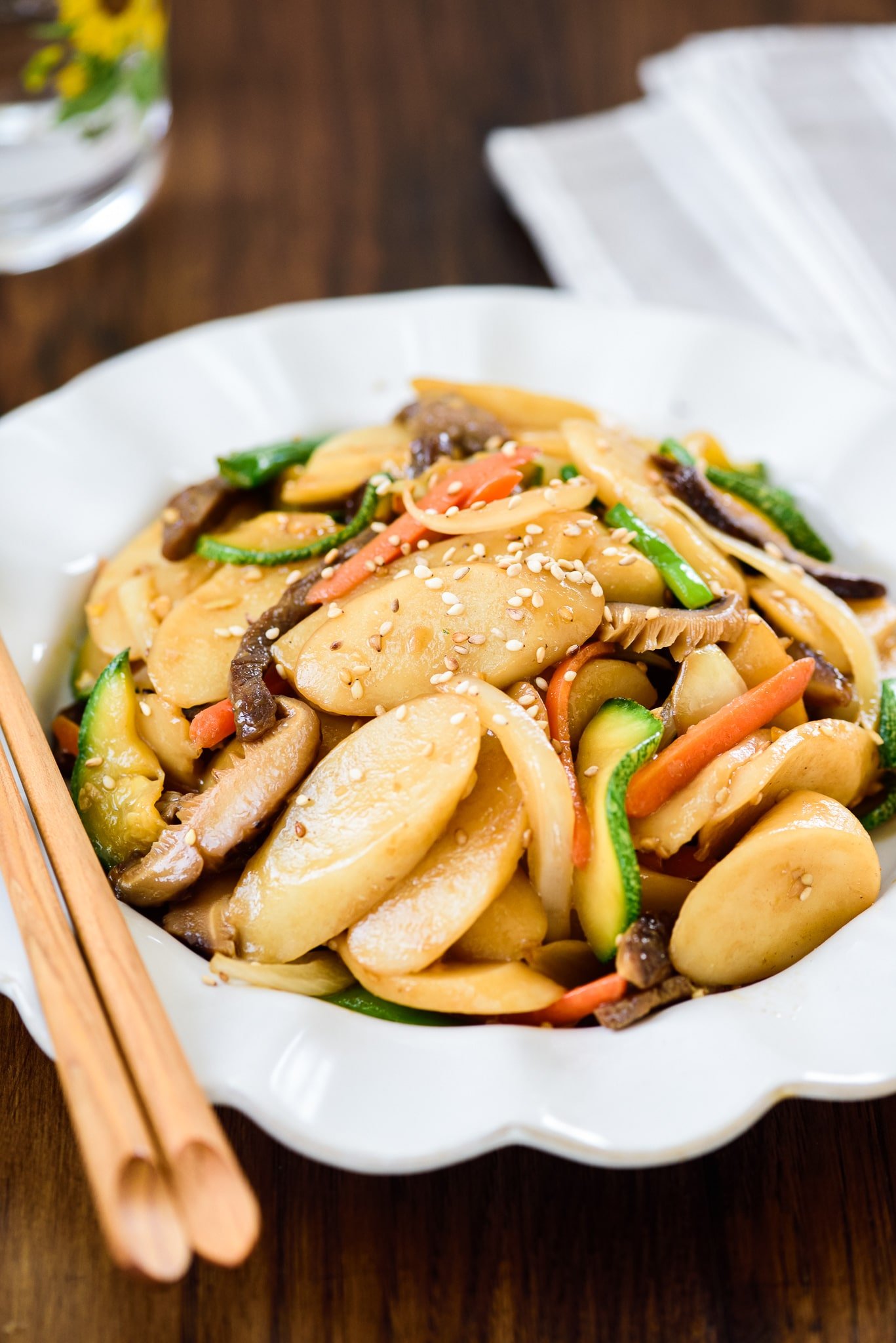 The rice cake
Garaetteok (가래떡), a cylinder-shaped white rice cake, is used in various ways in Korea. The thin ones are cut short for making tteokbokki, hence the name tteokbokki tteok (떡볶이떡). The thick type is sliced into thin oval shapes for making tteokguk (rice cake soup), which is the New Year soup.
Either one is fine for this recipe. If using the thick type, simply cut thin (quartered lengthwise) and short for this recipe.
You can also use thinly sliced oval shape rice cakes (tteokguk tteok, 떡국떡) to make this dish.
The Additions
This recipe uses beef but you can use pork or chicken if you like. Likewise, feel free to use any vegetables you want. Garlic chives, colorful bell peppers and spinach are all great options.
You can make this dish vegan or vegetarian by simply omitting the meat and increasing the amount of the mushrooms or other vegetables.
Ginkgo nuts and/or pine nuts are traditional garnishes, but absolutely optional.
More savory rice cake recipes
Tteokbokki (spicy stir-fried rice cake)
Seafood cheese tteokbokki
Soupy tteokbokki
Tteokguk (rice cake soup)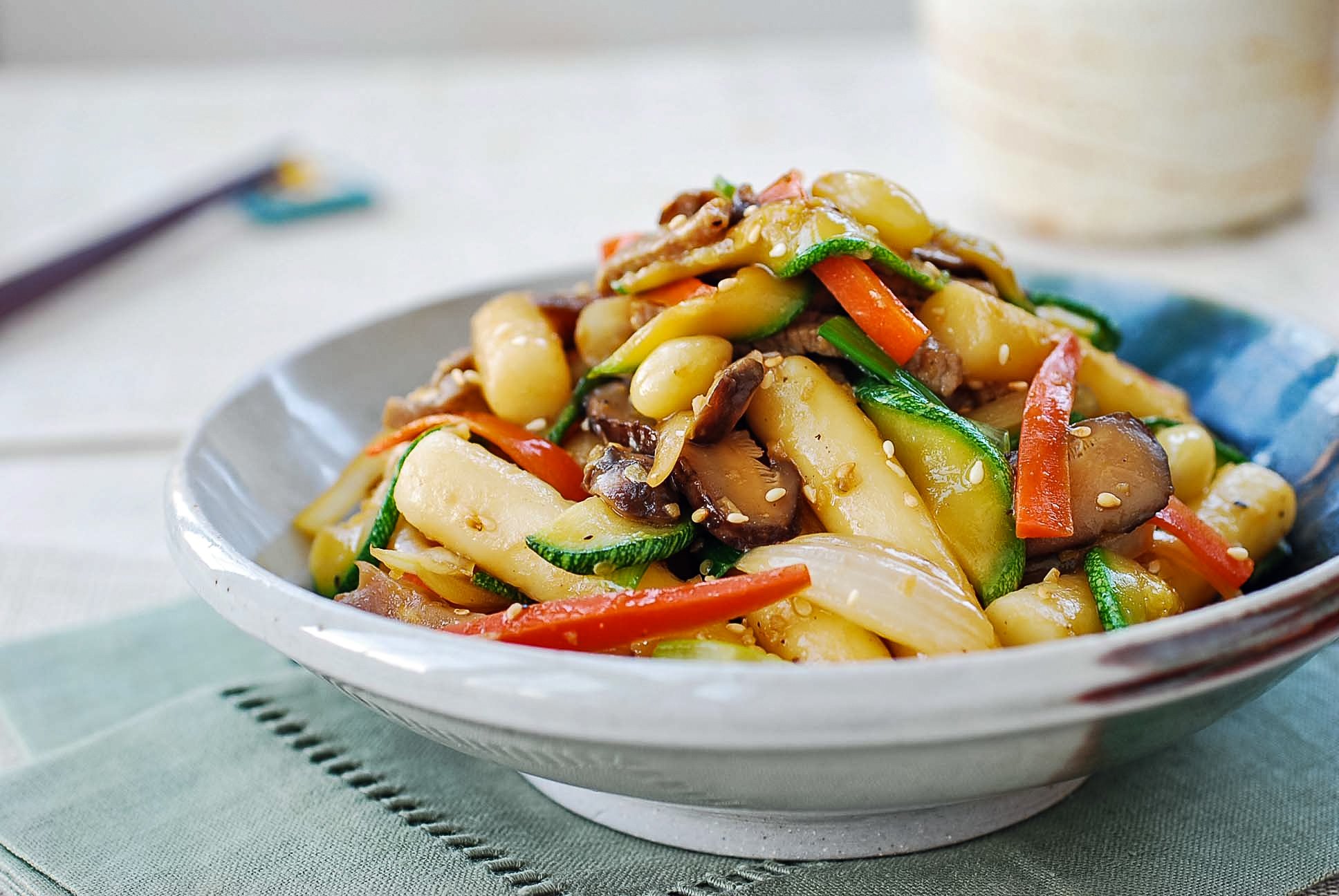 For more Korean cooking inspirations, follow along on YouTube, Pinterest, Twitter, Facebook, and Instagram.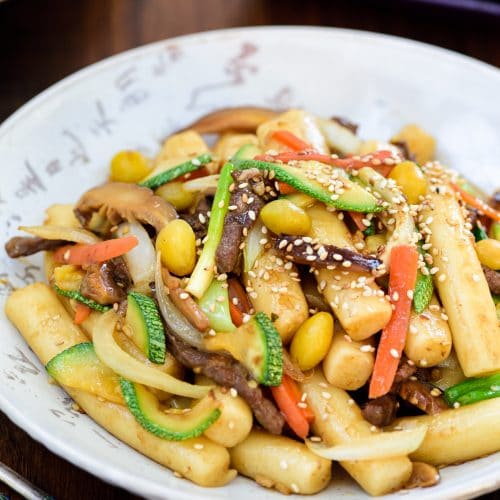 Gungjung Tteokbokki (Royal Court Rice Cake)
Appetizer
Print Recipe
Ingredients
1

pound

thin garaetteok/tteokbokki tteok

about 2-inch long pieces

4

ounces

lean beef

sirloin, eye round, chuck tender or rib eye

3

or 4 shiitake mushrooms

fresh or soaked if dried

1/2

medium zucchini (about 4 ounces)

You can also use garlic chives and/or colorful bell peppers.

1

medium carrot

cut into thin, 2-inch strips

1/2

medium sweet onion

thinly sliced

1 to 2

scallions

cut into 2-inch lengths

salt

cooking oil for stir-frying
Sauce:
3

tablespoons

soy sauce

1

tablespoon

rice wine

or mirin

1

tablespoon

sugar

1

tablespoon

sesame oil

1

teaspoon

sesame seeds

2

teaspoons

minced garlic

pinch

pepper
Instructions
Mix the sauce ingredients well and set aside. Bring water to a boil in a medium size pot. Add the rice cake pieces. Boil until all the pieces float to the top. The time required will vary depending on the condition of rice cakes. The rice cakes will be very soft when cooked, but they will become harder as they cool. Drain them out with a sieve. Do not rinse. Mix with 2 tablespoons of the prepared sauce. Set aside.

Thinly slice the beef into about 2-inch long strips. Cut stems off the mushrooms and slice into thin strips. Place the beef and mushrooms in a bowl, and mix in a tablespoon of the prepared sauce. Marinate while preparing the other ingredients.

Cut the zucchini in half lengthwise and then thinly slice crosswise and slightly diagonally to make the cuts longer. Generously sprinkle salt over zucchini slices, and set aside for 10 - 15 minutes. Squeeze out excess liquid from the zucchini by hand. In a lightly heated and oiled skillet, stir fry the onion, carrot, and zucchini over medium high heat, about 2 minutes. Add the scallion at the end (not in the photo). Transfer to a bowl.

In the same skillet, cook the beef and mushrooms over medium high heat until the meat is cooked through, 1 to 2 minutes. Reduce the heat to medium low. Add the rice cakes and stir fry for another minute or two. Turn the heat off.

Add the rice cakes to the bowl with the vegetables, along with the optional ginkgo or pine nuts, and the remaining sauce. Toss well to combine everything well. Adjust the seasoning with additional soy sauce or sugar as necessary. Serve warm.
This gungjung tteokbokki was originally posted in January 2014. I've updated it here with new photos and minor changes to the recipe.