This tteokbokki recipe gives you extra broth that's spicy and slightly thick. You can enjoy it like a soup along with the chewy rice cakes and other additions such as boiled eggs and ramen noodles.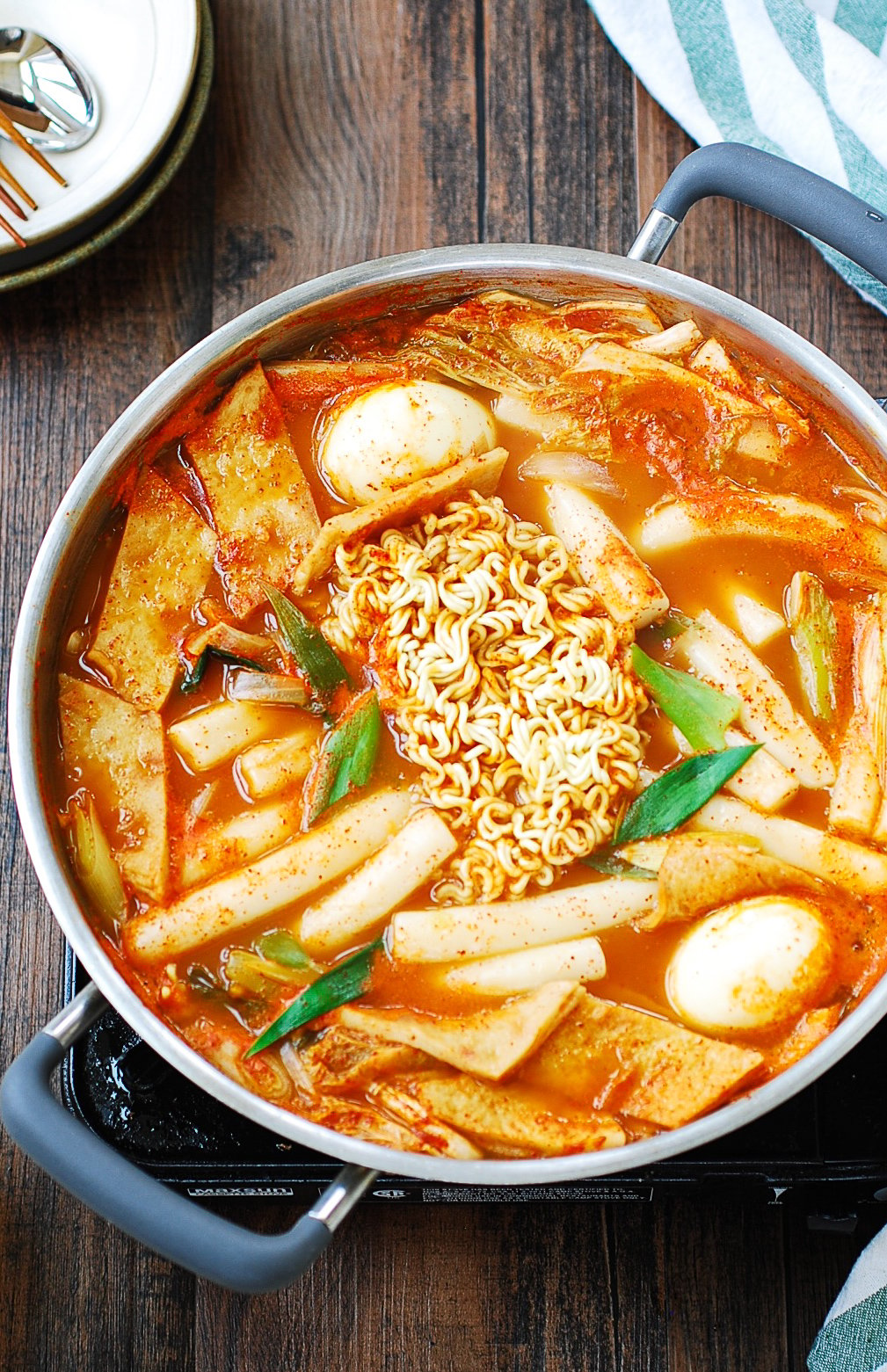 Here's another recipe for spicy tteokbokki (떡볶이) for you! In case you're new to the dish, literally translated "stir-fried rice cake", tteokbokki is one of the most popular snack/comfort foods at home and on the streets of Korea! The other spicy tteokbokki I have on the blog has been enormously popular! I hope you also love this soupy version called gukmul tteokbokki (국물 떡볶이). Gukmul refers to the liquid in the dish.
Tteokbokki is made with garaetteok (가래떡), a cylinder-shaped white rice cake. Thick ones are sliced into thin oval shapes for making tteokguk (rice cake soup). Thinner, shorter ones are used for tteokbokki, hence called tteokbokki tteok (떡볶이떡). You can use either one for this recipe. They are sold either freshly made, refrigerated, or frozen at Korean markets.
Unlike the more common tteokbokki in a thick sauce, the soupy version uses a lot more broth so the spicy, slightly thick broth can be enjoyed along with the chewy rice cakes. Typically, tteokbokki is made with anchovy broth for a depth of flavor. A flavorful broth makes a big difference in this recipe as well.
For a vegan option, you can use a vegetable broth and omit the fish cake and eggs.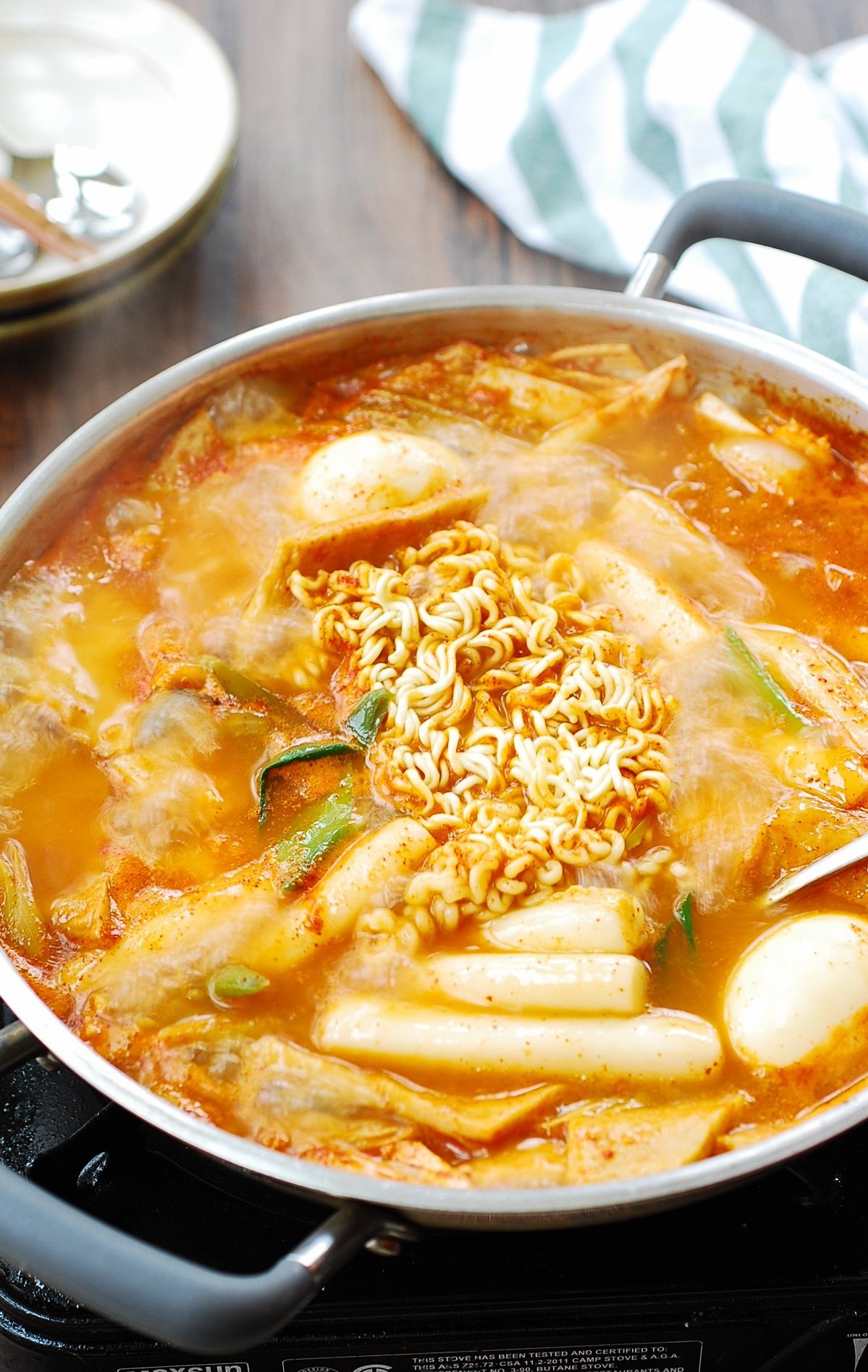 I used gochugaru (고추가루, Korean red pepper flakes) for spiciness in lieu of the gochujang (고추장, Korean red chili pepper paste) that's used in the other tteokbokki recipe. Gochujang is made with rice powder or flour, and thus it can make the broth thicker. So, gochugaru works better for a cleaner tasting broth. Finely ground gochugaru is best for this recipe, but not absolutely necessary. I finely ground my medium ground gochugaru in a spice grinder.
For vegetables, I used napa cabbage I had in the fridge. The soft, sweet cabbage is delicious with the spicy broth. It can certainly be substituted with green cabbage.
It's common to add boiled eggs or ramen noodles to this type of tteokbokki, but they are optional. You can also use soaked sweet potato starch noodles (당면, dangmyeon), instead of ramen noodles if preferred.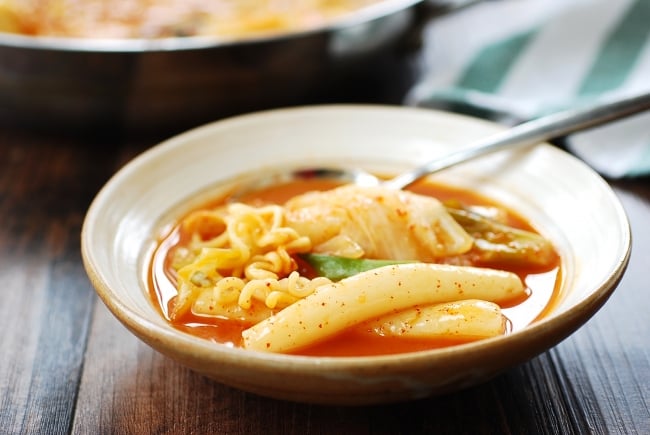 For more Korean cooking inspirations, follow along on YouTube, Pinterest, Twitter, Facebook, and Instagram.
Ingredients
1

pound

tteokbokki tteok

떡볶이떡 (2 to 3-inch long rice cake pieces or oval shapes)

8

ounces

napa cabbage

or green cabbage

2

sheets eomuk

어묵, (fish cakes - aka oden)

2

scallions

1/4

onion

2

soft boiled eggs - optional

1/2

of 1 package raw ramen noodles - optional

5 to 6

cups

anchovy broth
Seasoning
3

tablespoons

gochugaru

고추가루, Korean red chili pepper flakes, preferably finely ground

2

tablespoons

soy sauce

1

tablespoon

sugar

1

tablespoon

corn syrup or oligodang

or use 1/2 tablespoon more sugar

1

tablespoon

garlic

1/2

teaspoon

salt

pinch

pepper
Instructions
Soak the rice cakes for about 20 minutes if hardened or refrigerated. Make anchovy broth (see note).

Cut the cabbage, fish cake, and scallions into about 2-inch long pieces. Thinly slice the onion.

Mix all the seasoning ingredients in a small bowl with 3 tablespoons of the broth or water.

Add the anchovy broth (or water) to a large pan or shallow pot. Stir in the prepared seasoning mix. Bring it to a boil over medium high heat.

Add the rice cakes and cook, stirring occasionally. When the rice cakes started to soften, throw in the vegetables, fish cakes, and the optional eggs. Continue to boil, stirring occasionally, until the rice cakes and vegetables are soft, about 10 minutes. Add the optional noodles with 2 minutes remaining.
Notes
Add 12 to 14 medium dried anchovies (the guts removed) and 1 piece of dried dashima (about 4-inch square) to the pan along with 7 cups of water. Bring it to a boil, uncovered, over medium high heat, and boil for 10 minutes. For more ideas for broth, see anchovy broth.