Got kimchi in the fridge! Try making this spicy, slightly sweet, savory and tangy cold noodle dish. It's simply made with kimchi and a few staple seasoning ingredients!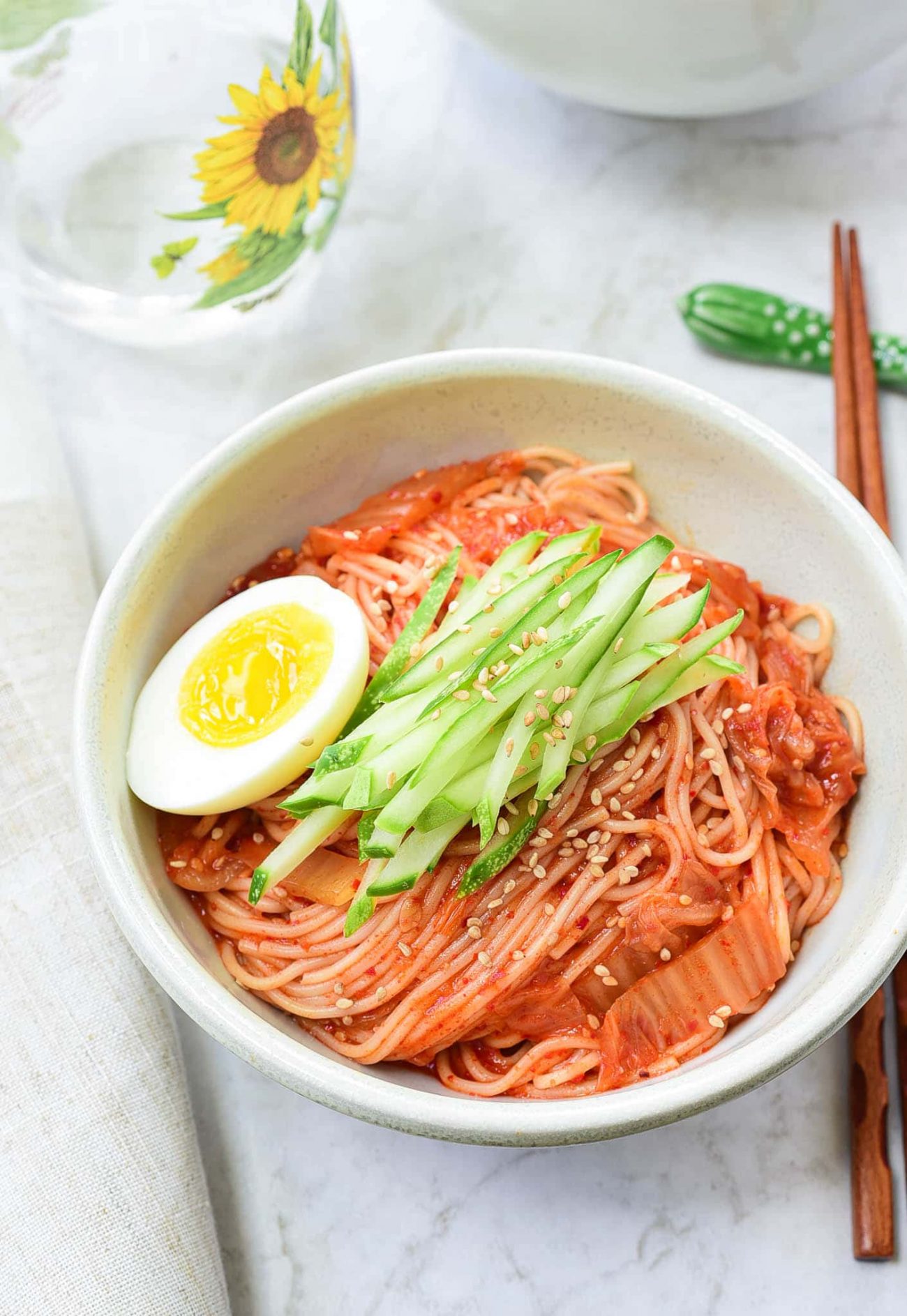 What do you make for lunch, or dinner for that matter, when there seems to be nothing in your fridge? For Koreans, it's usually a dish made with kimchi because there is almost always some kimchi in our fridges. So, when your fridge has nothing substantial but has kimchi, make this kimchi bibim guksu (김치비빔국수) for a quick lunch or a light meal any time of the day. It's deliciously spicy, sweet and tangy with a kimchi crunch!
How to make kimchi bibim guksu
Unlike my other bibim guksu recipe which uses a few different vegetables, kimchi is truly all you need for this humble dish. But, you can add other vegetables such as cucumbers or lettuce, if you want. I also like to use some perilla leaves (kkaennip) for a wonderful aroma and flavor it adds to the dish. Thinly sliced gim (dried seaweed sheet) is also an excellent addition.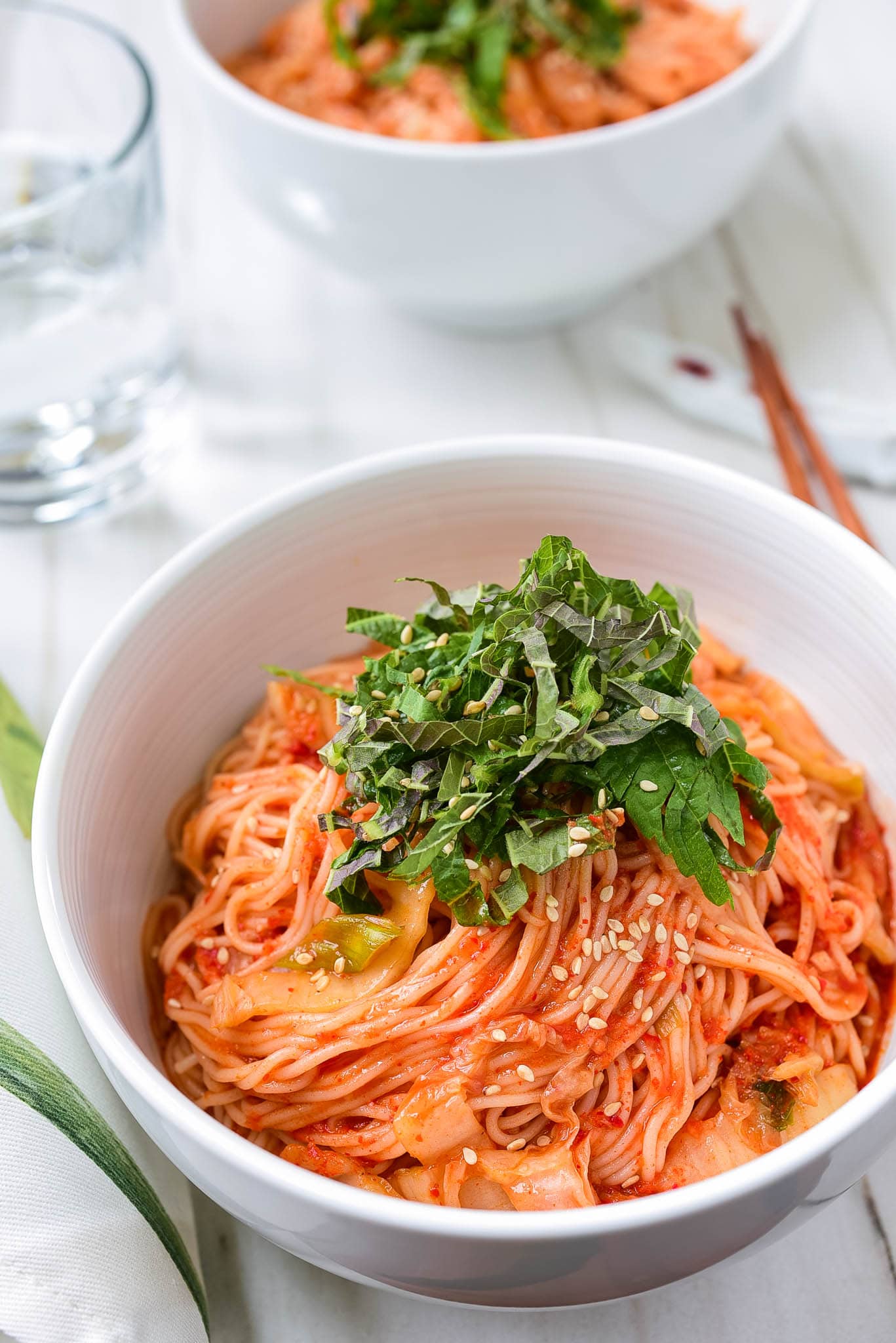 For the seasoning, I mix kimchi and some juice from kimchi with a few staple ingredients such as soy sauce, vinegar, sesame oil, gochujang (Korean red chili pepper paste), and some gochugaru (Korean red chili pepper flakes). You can leave out gochugaru if you like the noodles to be less spicy. For the sweetener, I use a combination of corn syrup (or oligo syrup) and sugar. The syrup gives a nice sheen to the dish, but you can simply use more sugar if you want.
What noodles to use
Typically, kimchi bibim guksu is made with thin wheat noodles, which come in two slightly different thickness — somyeon (소면), very thin noodles, and joongmyeon (중면), slightly thicker noodles. You can use either one for this recipe, depending on your preference.
This kimchi bibim guksu recipe was originally posted in July 2011. I've updated it here with new photos and minor changes to the recipe.
More similar cold noodle dishes
Bibim guksu (spicy cold noodles)
Jjolmyeon (spicy chewy noodles)
Jaengban guksu (cold noodles and vegetables platter)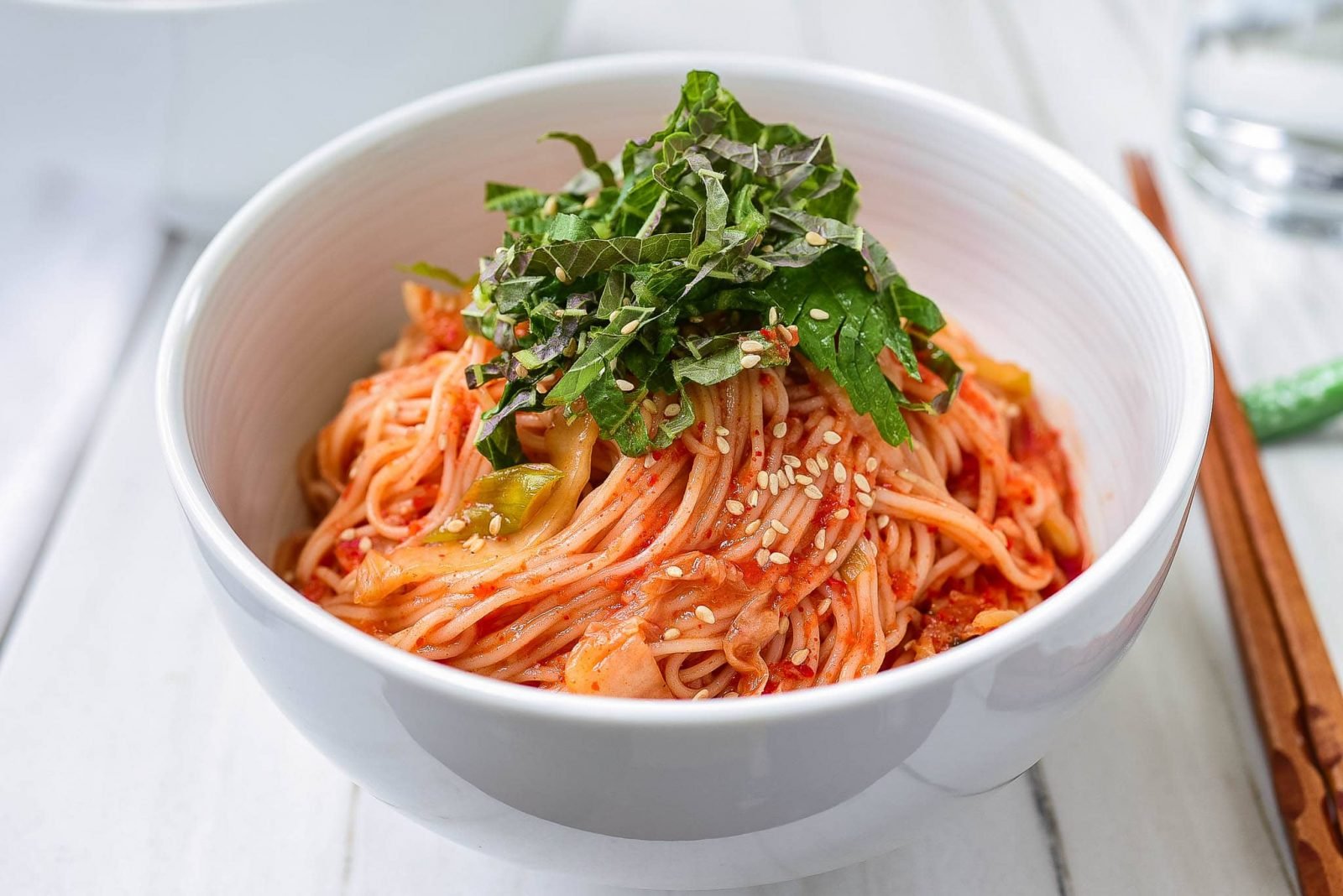 For more Korean cooking inspirations, follow along on YouTube, Pinterest, Twitter, Facebook, and Instagram.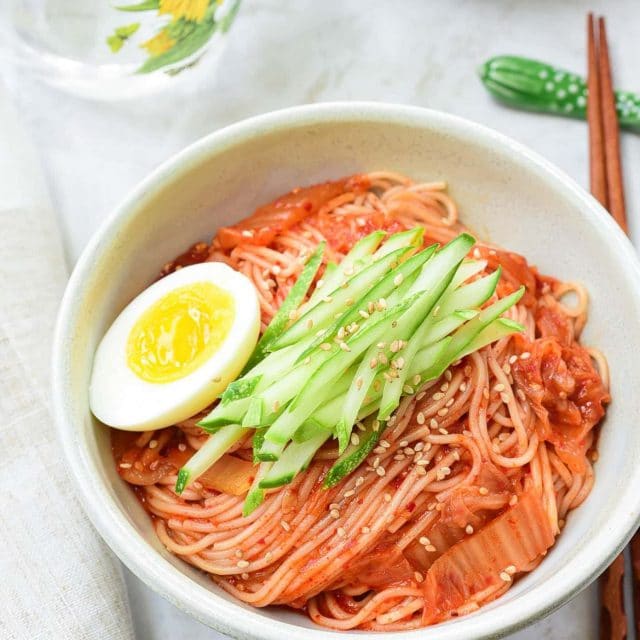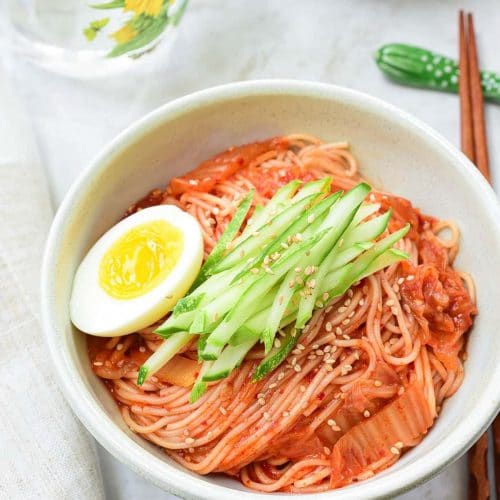 Kimchi Bibim Guksu (Spicy Cold Noodles with Kimchi)
Main
Print Recipe
Ingredients
8 - 10

ounce

somyeon, 소면, (thin wheat noodles)

1

cup

thinly sliced kimchi

preferably fully fermented

1/4

cup

juice from kimchi

use a little more soy sauce and vinegar if unavailable

1

tablespoon

gochujang (Korean red chili pepper paste)

1

tablespoon

soy sauce

2

tablespoons

rice vinegar or any other clear vinegar

1

tablespoon

sugar

1

tablespoon

corn syrup (or oligo syrup, 올리고당)

use more sugar if unavailable

1

tablespoon

sesame oil

2

teaspoons

sesame seeds
Optional Garnish
4

perilla leaves (kkaennip)

thinly sliced

or

cucumber

thinly sliced

1

hard boiled egg
Instructions
Bring a medium pot of water to a boil while preparing the kimchi sauce.

Thinly slice the kimchi and place it in a medium size bowl. Add the juice from the kimchi and remaining sauce ingredients, and mix everything well.

Add the noodles to the pot of boiling water. Cook the noodles according to the package instructions (3 – 4 minutes). Drain quickly and shock in icy cold water to stop cooking. Drain and rinse in cold water again. Repeat until the noodles become cold. Drain well.

Combine the noodles with the kimchi sauce, and toss everything until the noodles are evenly coated with the sauce. Taste and adjust the seasoning to taste by adding more soy sauce, sugar and/or vinegar, if necessary. Garnish with your choice of the optional vegetables and/or the boiled egg and serve cold.