Dumplings are much easier to make than you think, especially with store-bought dumpling wrappers. Delicious and versatile, homemade dumplings are well worth the effort!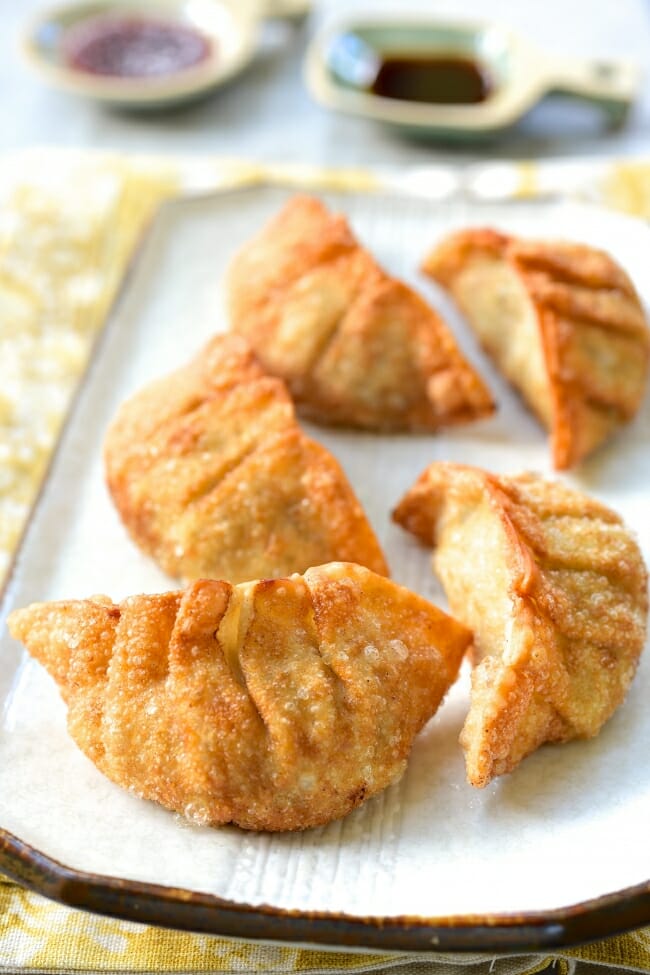 What is mandu?
Mandu is a general term for Korean dumplings that consist of a savory filling wrapped in thin wrappers. I've been making some variation of this Korean dumpling recipe for decades. They are so delicious and versatile! Hope you'll try making your own dumplings at home with this easy step-by-step mandu recipe.
Homemade dumplings are always worth the effort! We Koreans grew up with fond memories of watching our mothers make these tasty little dumplings, being a helping hand at times, and devouring them when they are cooked.
When I make mandu, I make in large quantities and freeze them for later use. My mother used to make hundreds of these at a time, and so did my my mother-in-law. It feels so good to have bags of frozen dumplings in the freezer.
They are quick and easy to cook as a delicious snack, appetizer, or a light meal!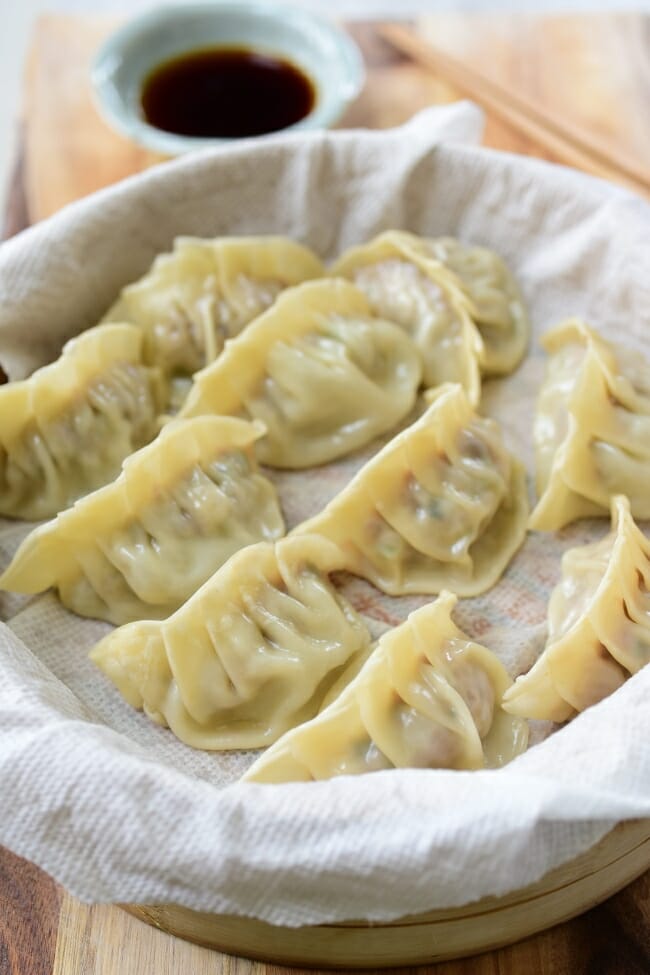 There are many variations of mandu. Depending on the filling ingredients, they are called gogi mandu (고기만두, meat as the main ingredient in the filling), yachae mandu (야채만두, vegetables), saewu mandu (새우만두, shrimp) , kimchi mandu (김치만두), and so on.
Also, depending on how they are cooked, they are called jjin mandu (찐만두, steamed), tuigin mandu (튀긴만두, deep fried), gun mandu (군만두, pan fried), or mul mandu (물만두, boiled). My favorite is steamed, followed by boiled, but my children prefer either deep-fried or pan-fried for the crispy skins.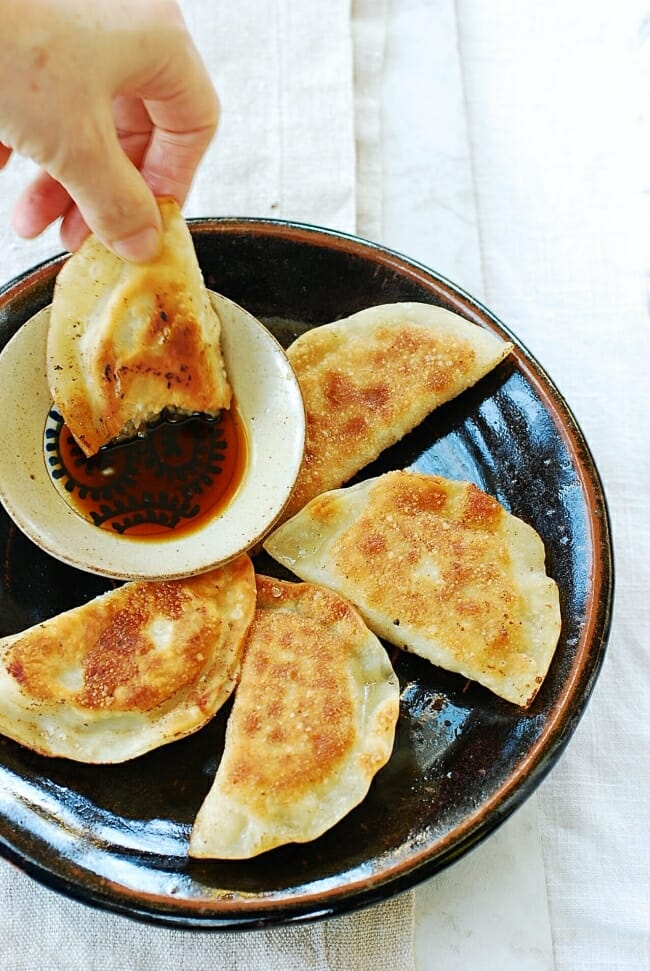 The filling
Korean dumplings are filled with a mixture of various meats and vegetables. Mandu is so versatile that you can use any type of meat you like (or none at all). I typically use two types of meat/seafood for the complexity of flavor: pork and beef or pork and shrimp.
Common vegetables for the filling include baechu (배추, napa cabbage), green cabbage, kimchi, bean sprouts, mushrooms, zucchinis, garlic chives, onions, scallions, etc. Tofu and dangmyeon (당면, sweet potato starch noodles) are also common in Korean dumplings.
I like the meat and vegetable ratio in this classic recipe. It creates a filling that is moist and juicy and has a good texture, but you can increase or decrease any ingredients to your liking.
If you want to taste the filling to make sure it's well seasoned, microwave a teaspoonful of it for 20 to 30 seconds and taste it. Adjust the seasoning as necessary by adding more salt or soy sauce, or add more ingredients if it's too salty. Season lightly if you plan to serve the dumplings with a dipping sauce.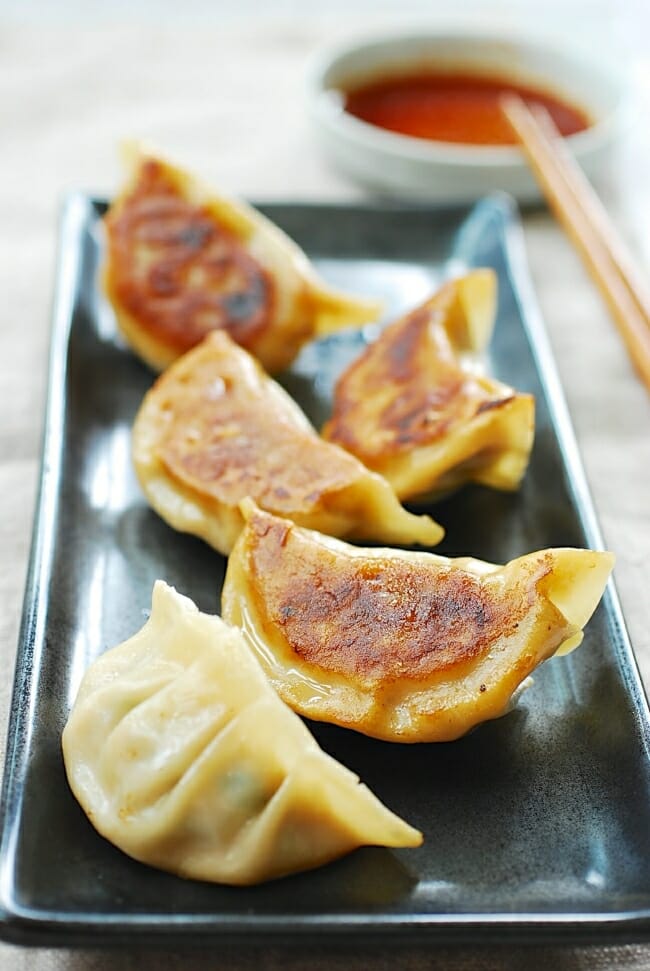 Dumpling wrappers
In this recipe, I used ready-made dumpling wrappers I bought at a Korean market. You may be able to find dumpling skins at your local grocery stores. If you want to make your own wrappers, see my saewu (shrimp) mandu recipe. The number of wrappers in a package varies widely, ranging from 20 to 50. For this recipe, you'll need about 40 to 50 round wrappers, depending on the size of the wrapper and how much filling you use for each one.
How to fold dumplings
A dumpling can be folded in many different ways. With a little bit of practice, you can add some variation of pleats. The easiest is a half-moon shape, which you can do by simply folding the dumpling wrap in half and sealing it by tightly pinching the edges together.
You will need to wet the edges of store-bought dumpling wrappers so they can be glued together, a step that is not necessary for homemade wrappers. If you're new to making dumplings, be light on the filling for easier folding and crimping.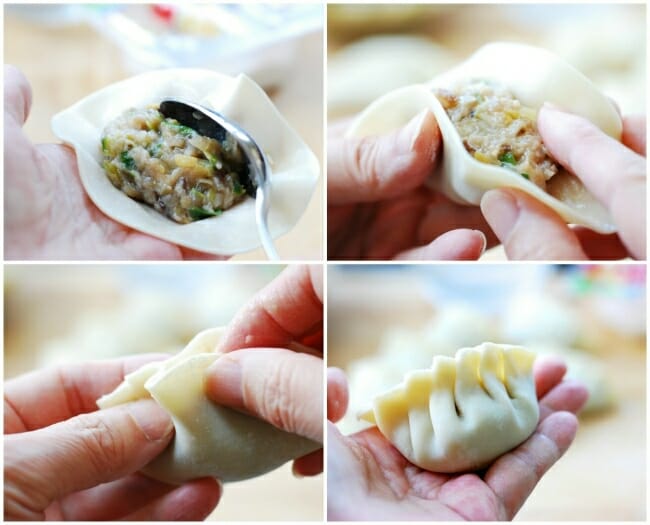 Tips for freezing dumplings
Freeze the dumplings on a tray with the pieces not touching each other for about an hour before storing them in a freezer bag. Otherwise, the mandu skins will stick together in the freezing process. You can also freeze cooked mandu the same way. Frozen mandu don't need to be thawed before being cooked; just cook a little longer.
More dumpling recipes
Kimchi mandu
Saewu (shrimp) mandu – with homemade wrappers
Hobak (zucchini) mandu – vegan
For more Korean cooking inspirations, follow along on YouTube, Pinterest, Twitter, Facebook, and Instagram.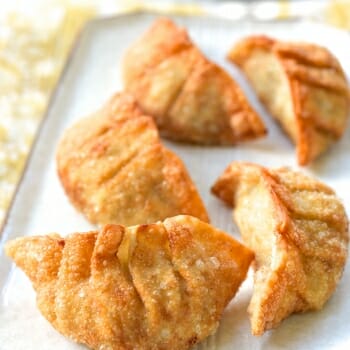 Mandu (Korean dumplings)
Appetizer, Main Course, Snack
Print Recipe
Ingredients
1

package dumpling skins/wrappers (about 40 pieces), 만두피 (mandu pi)
For the filling
8

ounces

zucchini

finely chopped

10

ounces

green cabbage

finely chopped

4

ounces

fresh mushrooms

finely chopped (shiitaki preferably)

1/2

medium onion

finely chopped

2

scallions

finely chopped

1/2

pound

ground pork

or other meat if preferred

1/4

pound

ground beef

1

tablespoon

minced garlic

1 to 2

teaspoons

finely minced ginger

or juiced

1

tablespoon

soy sauce

1

tablespoon

sesame oil

1

egg

1/4

teaspoon

salt to season the filling and more for salting vegetables

⅛

teaspoon

pepper
For the dipping sauce
1

tablespoon

soy sauce

1

teaspoon

vinegar

1

tablespoon

water

1/2

teaspoon

sugar

pinch

of black pepper

pinch

of red pepper flakes

gochugaru
Instructions
Finely chop zucchini and cabbage.

In two separate bowls, generously sprinkle salt over the chopped zucchini and cabbage and set aside (for at least 15 minutes) while preparing other ingredients. (This process will draw out water, soften the texture, and add flavor.) Squeeze out as much water as possible from the salted zucchini and cabbage by hand. Transfer to a large mixing bowl.

Prepare all the remaining ingredients and add to the mixing bowl. Mix all ingredients well with your hand.

Place one heaping teaspoonful of the filling on a wrapper. Wet the edges of the wrapper with water and seal tightly (pushing the air out with your fingers) into a half-moon shape. Repeat this process until all the filling/wrappers are used.
Gun mandu (pan fried)
Heat the pan with 2 tablespoons of vegetable oil over medium high heat. Add the dumplings, making sure they aren't touching each other. Fry for 1 – 2 minutes, until the bottoms are golden brown. Add 1/3 cup of water to the pan, and cover immediately with a lid. Reduce the heat to medium low, and steam for 4 to 5 minutes. Or cook 2 - 3 minutes on each side over medium heat until golden brown without adding water. If the dumplings are frozen, cook a little longer.
Tuigin mandu (deep-fried dumplings)
Heat a deep fryer or skillet with about 2-3 inches of canola or vegetable oil over medium-high heat to 350°F. Fry the dumplings for 2-3 minutes until golden brown.
Jjin mandu (steamed)
Steam the dumplings for about 10 minutes in a steamer (12 minutes if frozen). Make sure to line the steamer with a wet cheesecloth or cabbage leaves to prevent the mandu from sticking.
Mul mandu (boiled)
Bring a pot of water to a boil. Add mandu (stirring gently so they don't stick to the bottom of the pot) a few at a time, and cook until all of them come up to the surface. Continue to cook for another minute or two.
Notes
How to freeze dumplings: Place mandu pieces on a tray without pieces touching and freeze for about an hour before storing them in a freezer bag. Frozen mandu don't need to be thawed before being cooked. Just cook a little longer.
This mandu recipe was originally posted in September 2009. That was a long time ago! Thanks to you guys, it's been very popular! Here, I've updated it with more information, new photos and minor changes to the recipe.