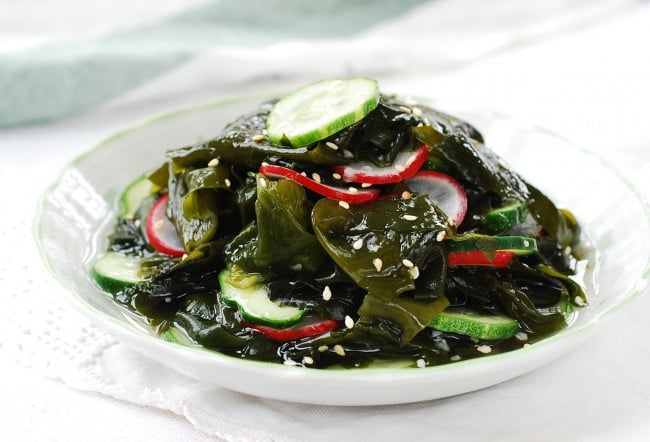 This vinegary, sweet seaweed salad isa refreshing summer side dish! Miyeok (미역), also known as wakame, is an edible brown sea vegetable that is highly nutritional. Muchim (무침) means mixed with seasonings. Seaweed contains high levels of iodine, calcium, magnesium, iron, protein, fiber, vitamins, antioxidants, and detoxifying properties. It helps improve your health related to thyroid, bone, digestive, heart, etc. More than enough good reasons to eat seaweed!
As mentioned in my miyeok guk(미역국) recipe, because of the many health benefits, new moms traditionally eat miyeok guk (soup) for the first few weeks after giving birth to help with recovery. Ancient folklore tells us that our ancestors learned from seeing whales eating seaweed after giving birth.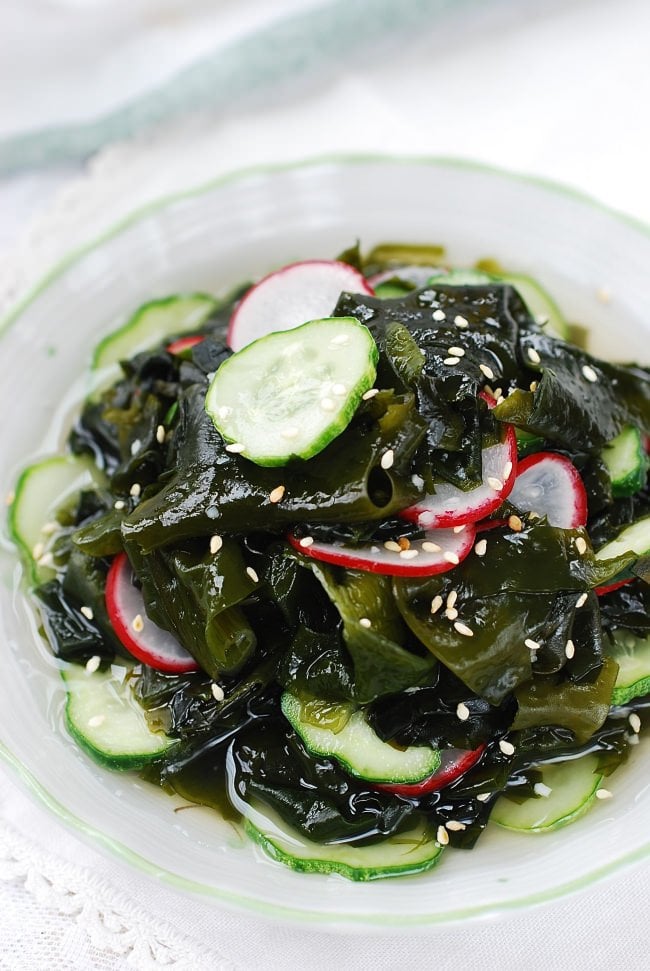 Dried miyeokis staple in Korean pantries, and used to make soups and salads year around. In the raw/fresh form, miyeok is brown. You may see brown raw/fresh miyeok sold in markets if you are in Korea. It turns green when blanched in boiling water. You can use fresh miyeok for this recipe.
Once soaked, miyeok turns green, plump, and ready to be eaten. However, blanching it briefly in boiling hot water will slightly soften the texture and brighten the color of green. It's typical to add some cucumber slices as well as Korean radish (mu), carrot, and/or onion. The vegetables add a nice textural contrast and color. I used a cucumber and a couple of red radish here. You can make this seaweed salad a little fancier by adding some boiled shrimp or squid.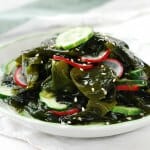 Ingredients
1

ounce

dried miyeok

미역, (a little more than 2 cups soaked)

1

small kirby cucumber

1/2 Korean cucumber, thinly sliced

2

red radishes

or equivalent amount of white radish, thinly sliced

1

teaspoon

sesame seeds
Dressing
4

tablespoons

vinegar

1-1/2

tablespoons

sugar

1/2

teaspoon

minced garlic

1/2

teaspoon

salt

1

teaspoon

soy sauce