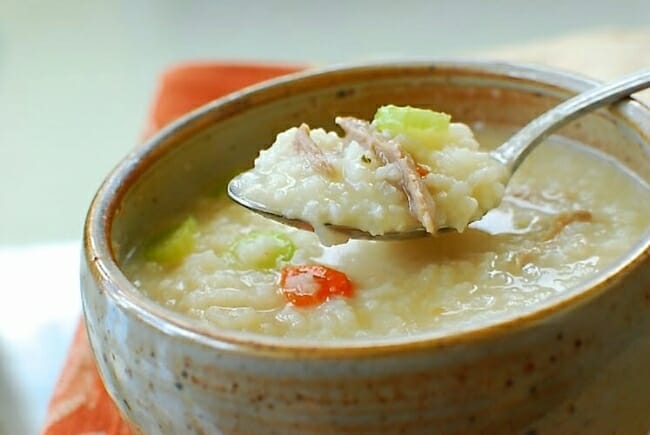 Time has passed by so quickly this fall. Between a couple of business trips and a "hot" project that I was working on at work, it's been a few weeks since I've had time for a post. That is NOT good! Then, Thanksgiving sneaked up on me. Better yet, Christmas is rapidly approaching. While this truly is the most exciting time of the year, the prospect for new posts does not look promising. Even so, I have a couple of interesting posts in mind that I am hoping to tackle while enjoying the spirit of the holidays and managing the associated stress at the same time.
The day after Thanksgiving, I made turkey stock with what was left of the turkey carcass. It has sort of become my tradition to make Thanksgiving turkey stock to use to make delicious turkey porridge and soup. I have been making a traditional Thanksgiving dinner for my extended family for many years, and throughout the years I have collected many great recipes. I hope to post some of them one day.
For now, here are my recipes for Thanksgiving turkey porridge and turkey stock.
Porridge (juk) made with leftover turkey
A simple porridge made with leftover turkey remains
Ingredients
1

cup

short grain rice

soaked for about an hour and drained

4 - 5

cups

turkey stock

see below for recipe

1

cup

turkey

cut into bite sizes1 carrot, chopped1 celery stalk, chopped

1/4

medium onion chopped

salt and pepper to taste
Turkey Stock:
Remains of roasted turkey

1

large carrot

cut into large chunks

1

large celery stalk

cut into large chunks

1

large onion

halved and peeled

1

bay leaf

3

garlic cloves

4 to 5

flat-leaf parsley stems
Instructions
Add 4 cups of the stock and rice to a medium pot and simmer, covered, for about 20 minutes. Stir occasionally (more frequently as the stock is reduced so the rice doesn't stick to the bottom of the pot). Start with medium low heat and reduce to low heat when the stock is visibly reduced.

Add the vegetables, cover and simmer for an additional 20 minutes until the vegetables are soft. At this point you can adjust the consistency of the porridge to your taste by adding more stock.

Stir in the turkey during the last few minutes of simmering. Add salt and pepper to taste at the end.
Turkey Stock:
Remove as much meat as possible from the turkey carcass and save them to use in the porridge or soup.

Put the turkey remains in a large stock pot filled three-quarters of the way with water. Break up the bones if they are too big to fit in the pot.

Bring to a boil over medium high heat and skim off any foam. Add the vegetables, reduce the heat to low and simmer, covered, for 2 to 3 hours. Cool and pour through a strainer into a large bowl.

You can use a fat separator to remove the fat or keep it in the fridge until the fat solidifies to spoon off the fat.