Simple Korean porridge made with leftover turkey! Make some stock with your roasted turkey remains and make this creamy delicious porridge.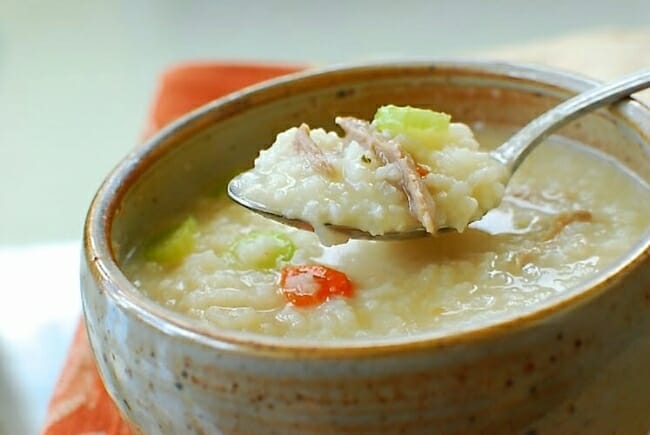 My family Thanksgiving dinner is pretty much American style. I roast a turkey and prepare traditional American side dishes and desserts. The day after Thanksgiving, I always make turkey stock with what was left of the turkey carcass. With the stock and leftover turkey, I make spicy turkey soup, similar to dakgejang (닭개장), and porridge, juk (죽).
Porridge is enjoyed as a breakfast or a light meal in Korea. It's healthy and easy to digest food, so porridge is also commonly served to the ill, elderly, and babies.
Turkey stock for porridge
After enjoying your Thanksgiving dinner, save the turkey remains to make stock later. Simply boil the bones in a pot along with some aromatic vegetables. A great use of the remains of roast birds!
What type of rice to use
Turkey porridge can be made with either short grain rice or sweet rice (aka glutinous rice, chapssal 찹쌀 in Korean). I like sweet rice as it gives the porridge a creamier texture and a sweeter taste, but it's simply a matter of preference.
Vegetable options
In this recipe, I used carrot, celery, and onions. Mushrooms, zucchini, green cabbage, potato, and garlic chives are all good options. You can chop them finely or roughly, depending on your preference. Adjust cooking time appropriately.
Have you tried this turkey porridge recipe? Please rate the recipe below and leave a comment! Stay in touch by following me on YouTube, Pinterest, Twitter, Facebook, and Instagram.
Ingredients
1

cup

short grain rice (or sweet rice, chapssal)

soaked for about an hour and drained

4 - 5

cups

turkey stock

see below for recipe

1

cup

shredded roasted turkey

1

carrot, chopped

1

celery stalk, chopped

1/4

medium onion chopped

salt and pepper to taste
Turkey Stock:
carcass of roasted turkey

1

large carrot

cut into large chunks

1

large celery stalk

cut into large chunks

1

large onion

halved and peeled

1 or 2

bay leaves

5

plump garlic cloves

4 to 5

flat-leaf parsley stems

optional
Instructions
Add 4 cups of the stock and rice to a medium pot and simmer, covered, for about 20 minutes. Stir occasionally (more frequently as the stock is reduced so the rice doesn't stick to the bottom of the pot). Start with medium low heat and reduce to low heat when the stock is visibly reduced.

Add the vegetables, cover and simmer for an additional 20 minutes until the vegetables are soft. At this point you can adjust the consistency of the porridge to your taste by adding more stock.

Stir in the turkey during the last few minutes of simmering. Add salt and pepper to taste at the end.
Turkey Stock:
Remove as much meat as possible from the turkey carcass and save them to use in the porridge or soup.

Put the turkey remains in a large stock pot filled three-quarters of the way with water. Break up the bones if they are too big to fit in the pot.

Bring to a boil over medium high heat and skim off any foam. Add the vegetables, reduce the heat to low and simmer, covered, for 2 to 3 hours. Cool and pour through a strainer into a large bowl.

You can use a fat separator to remove the fat or keep it in the fridge until the fat solidifies to spoon off the fat.