Deep fried, crispy pork rolls! Great for parties as they can be prepared ahead of time and fried right before being served.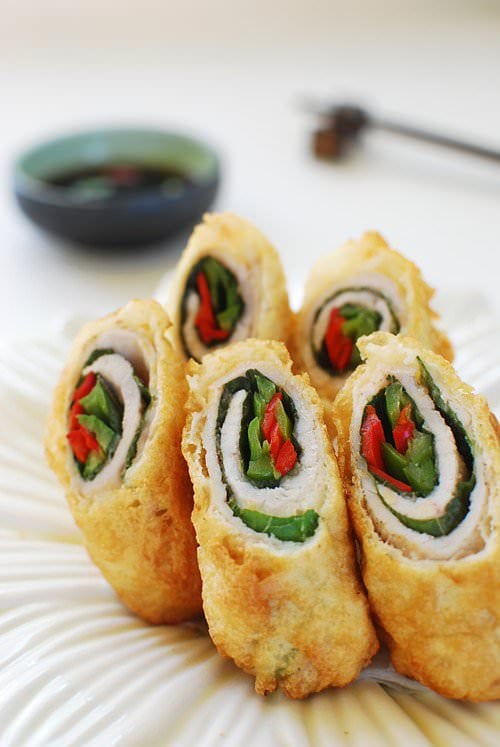 In this simple deep-fried dish, thin pork slices are rolled up with perilla leaves (kkaennip) and julienned chili peppers. They are then battered and deep fried until golden brown.
Like basil, perilla is a type of herb that belongs to the mint family. There are many varieties with distinct flavors across Asia. Korean perilla leaves tend to be large and have a unique aroma between mint and basil. I used a few perilla leaves that I picked from my container garden the other day to prepare this dish. The strong taste of the perilla leaves, nicely balanced with the sweetness of the chili peppers, gives a robust flavor to the mildly flavored pork.
Deep fried in light batter, the result is a crispy outside layer and a burst of flavor inside. These little delights are great for parties as they can be prepared ahead of time and fried right before being served. When they are cut in half diagonally, the presentation of the pork rolls certainly has a "wow" factor. Whether you serve this as an appetizer or a side dish, it is sure to be a big crowd pleaser!
Deep-Fried Pork Rolls (Dwaegi Gogi Mari Twiguim)
Print Recipe
Ingredients
8

thin pork slices

about ⅛ - inch thick

1

teaspoon

fresh ginger grated

or 1/2 teaspoon ginger powder

salt and pepper

8

Korean perilla leaves

available in Korean markets

3 - 4

green chili peppers

or 1 green bell pepper, julienned

3 - 4

red chili peppers

or 1 red bell pepper, julienned

1

cup

twiguim garu

premade tempura batter mix*

3/4

cup

ice water

1/4

cup

all-purpose flour for dredging

canola or vegetable oil for deep frying

*A premade batter mix can be found in Korean/Asian markets. If unavailable, beat 1 egg yolk in a bowl and mix in 3/4 cup ice water. Add 1 cup of flour. Mix until combined.
Instructions
Season the pork slices with ginger, salt and pepper. Set aside while preparing vegetables.Wash the perilla leaves and pat dry them. Julienne the peppers, about 4-inches long.

To put together a roll, dredge a pork slice in the flour and place it on a flat surface. Place a perilla leaf on top along with 4 or 5 pieces of each color pepper. Wrap the pork and perilla leaf around the pepper pieces, folding in the sides. Roll up to form a nice finger shape. Repeat the process with the remaining ingredients. Set aside while preparing the oil and the batter.

Heat the oil to 375 degrees (or until it barely starts to smoke). In a small bowl, mix the batter with ice water for only a few seconds just until combined. (It is okay to have some visible lumps in the mixture. Do NOT over mix.)

Roll the pork rolls in the flour to coat lightly. Shake off excess. Dip one pork roll at a time in the batter, coat well.

Carefully add to the hot oil. Fry only 4 at a time, depending on the size of the fryer. (Overcrowding the oil will lower the temperature of the oil, resulting in soggy and oily rolls.) Flip over and fry until golden on both sides, about 3 minutes. Transfer to a wire rack. Wait until the oil reaches 375 again before frying the second batch.

Serve immediately with a

sauce

.