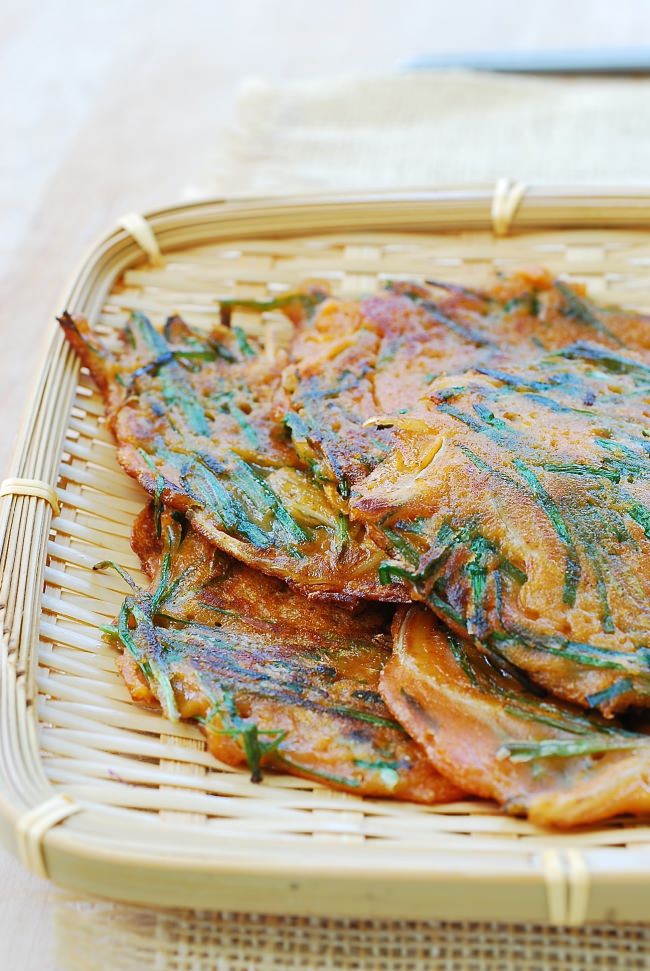 Savory pancakes are a big part of Korean home cooking. Koreans make pancakes with all sorts of ingredients — kimchi (kimchijeon), seafood and scallions (haemul pajeon), potato (gamjajeon), zucchini (hobak buchim), etc. This buchujeon (부추전) is made with buchu (부추), Korean garlic chives. It's another very common pancake at Korean homes!
Garlic chives have dark green flat leaves and a delicate garlic flavor. Korean garlic chives are thinner and tenderer than Chinese garlic chives commonly found in America. For this recipe, I used Korean garlic chives I grew in my backyard, but they are also available at Korean markets. If you can't find Korean chives, you can use the Chinese variety for this recipe. Look for ones with thin and narrow blades.
Buchujeon can be made simply with buchu, but I also added thinly sliced onions here. It adds delicious sweetness to the pancakes. Sometimes, I also add thinly sliced perilla leaves (깻잎, kkaennip) and/or chili peppers. If you like it a bit meaty, add some minced pork.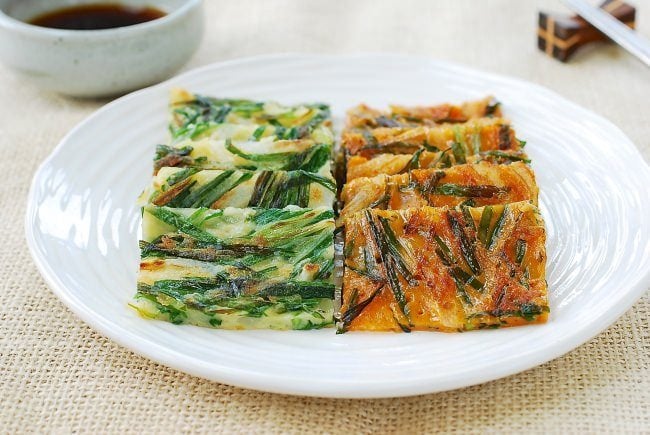 Korean pancake mix (buchim garu, 부침가루) is best to use for Korean savory pancakes. The ready made mix includes cornstarch, and/or rice powder for crispy pancakes and is flavored with garlic and onion powder and seasoned. If you can't find it, use flour and add a couple of spoons of cornstarch or rice powder and season with salt.
When savory pancakes are seasoned with gochujang (Korean chili pepper paste) and/or doenjang (Korean fermented soybean paste), they are called jangtteok (장떡), so the red version of this pancake I am showing here is actually called buchu jangtteok (부추장떡). You can simply add gochujang, doenjang or a combination. In this recipe, I just used gochujang. It adds a nice spicy kick to the pancakes.
You can make 2 large pancakes with this recipe. Cut into small pieces before serving or simply let the diners tear with the chopsticks as they eat. Or, make a few small pieces instead.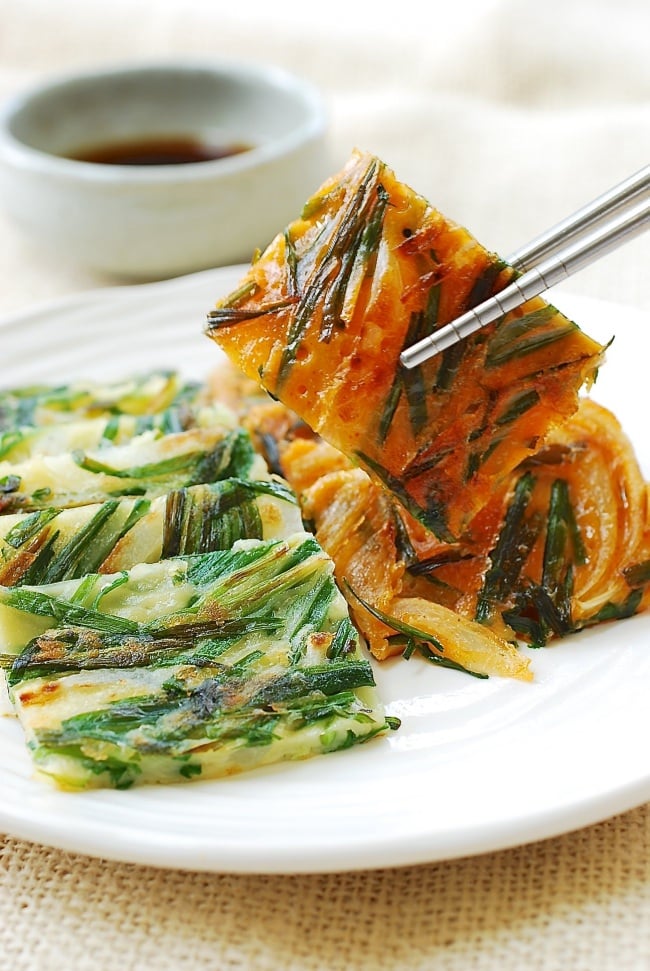 More Korean savory pancakes recipes
Kimchi jeon (kimchi pancakes)
Nokdujeon (savory mung bean pancakes)
Gamjajeon (potato pancakes)
Hobak buchim (zucchini pancakes)
Haemul Pajeon (Scallion seafood pancakes)
Have you tried this garlic chives pancake recipe? Please rate the recipe below by either clicking the stars or leaving a comment! And make sure to share your creations by tagging me on Instagram! Stay in touch by following me onPinterest, Twitter, Facebook, and Instagram.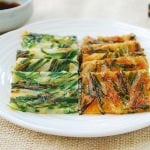 Ingredients
Makes 2 large pancakes or 6 small ones

1

cup

Korean pancake mix

buchimgaru, 부침가루

3

ounces

garlic chives

buchu, 부추

1/4

medium onion

1

teaspoon

soup soy sauce

or regular soy sauce or fish sauce
Optional Spicy Version
1

cup

Korean pancake mix

buchimgaru, 부침가루

3

ounces

garlic chives

buchu, 부추

1/4

medium onion

1

tablespoon

gochujang

Korean chili pepper paste
Diping Sauce
1

tablespoon

soy sauce

1

teaspoon

vinegar

1

tablespoon

water

1/2

teaspoon

sugar

pinch

of black pepper