Kongnamul bap is basically rice cooked with kongnamul (soybean sprouts). Simply cook the rice with soybean sprouts and other ingredients such as meat and kimchi for delicious Korean rice bowls!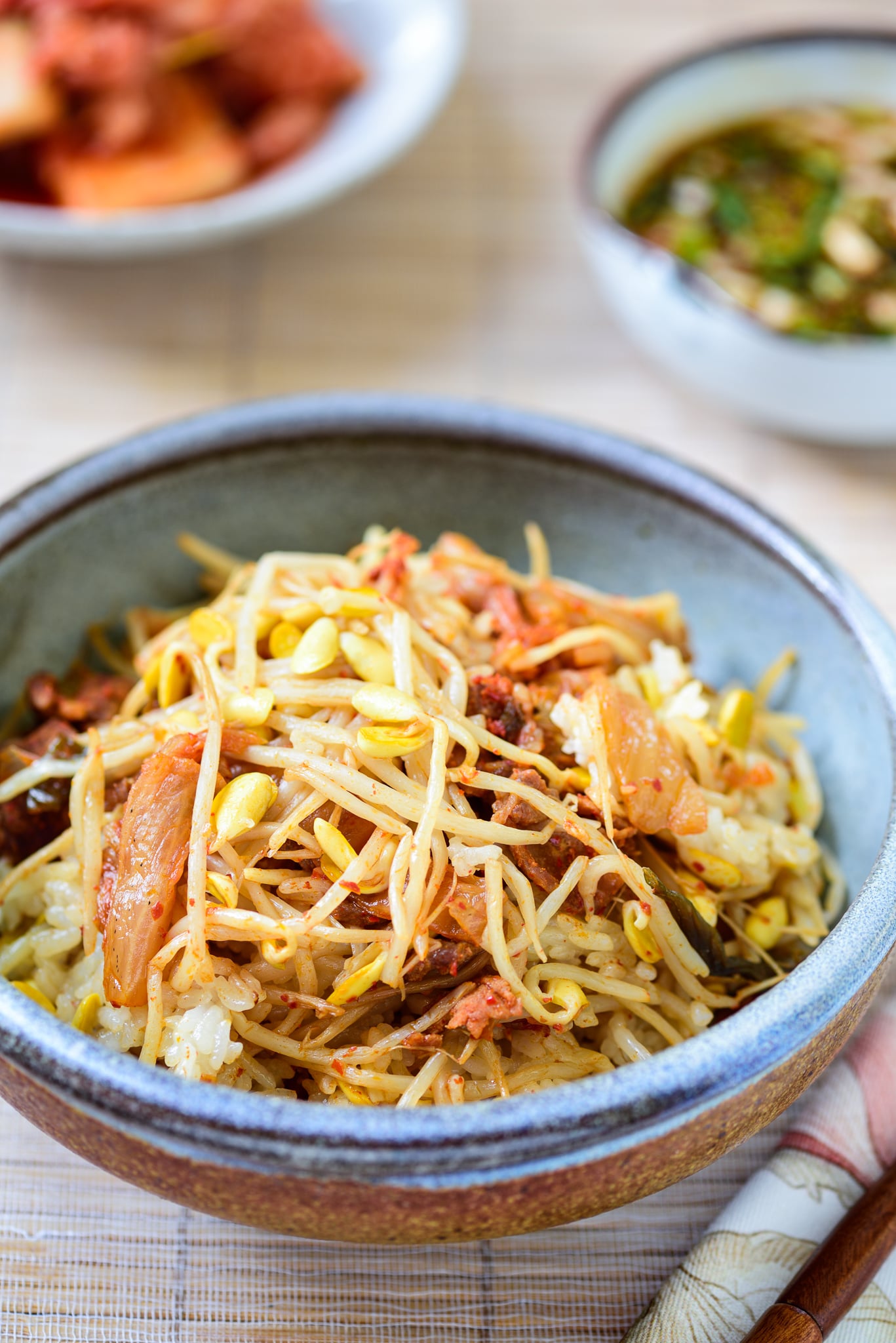 Unlike bibimbap, a better known rice bowl with various vegetable and meat toppings, kongnamul bap (콩나물밥) is basically rice cooked with kongnamul (soybean sprouts) and other ingredients. It's one of my go-to easy meals. It's adelicious meal you can put together in no time!
Simply add soybean sprouts to your rice, and cook the rice the same way as you normally do. The rice soaks up the nutty flavor of the soybean sprouts as it cooks.The same technique is very common in Korean cooking with various other vegetables, meat and/or seafood to make rice bowl dishes.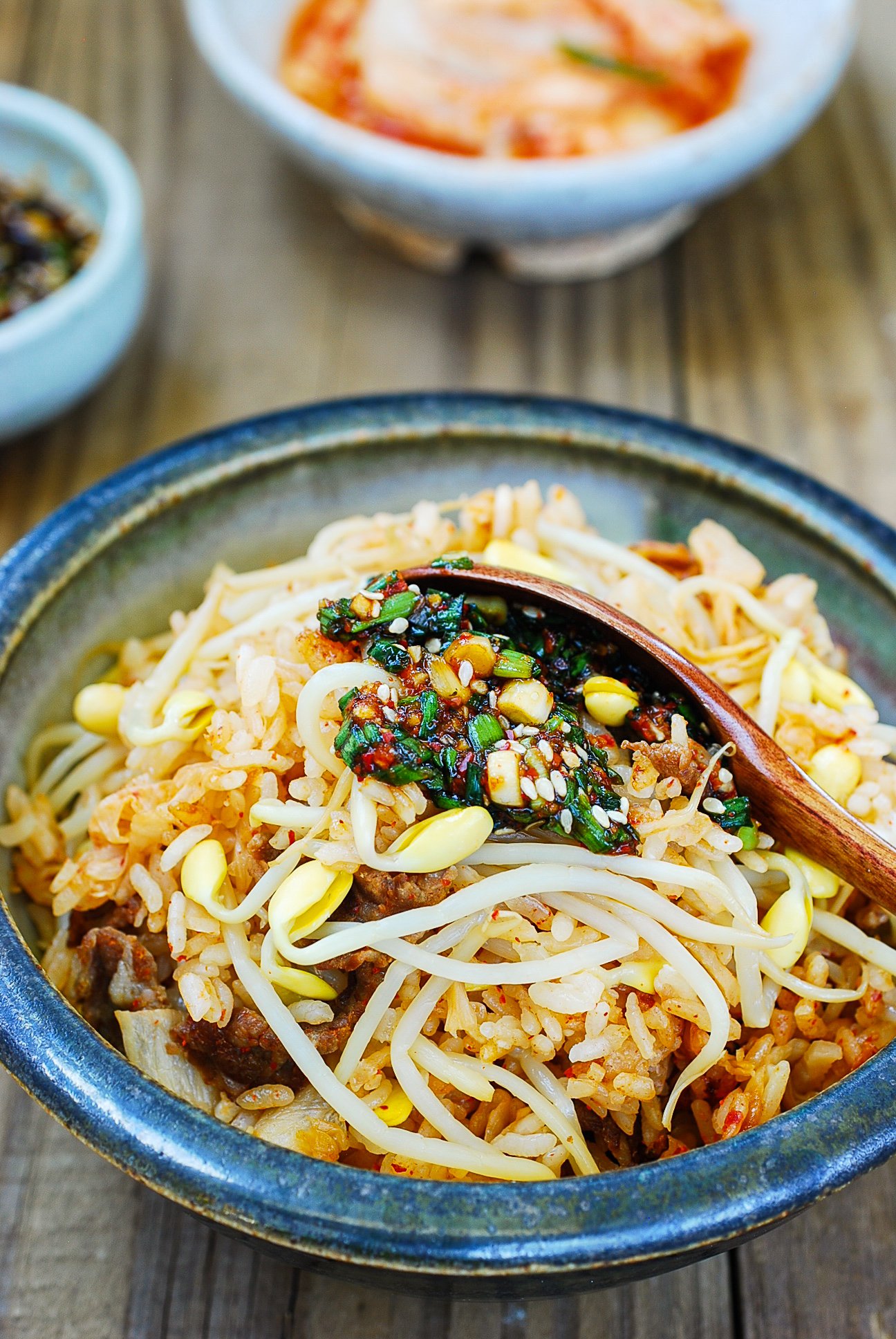 Growing up my mother always added lightly seasoned beef or pork, giving the dish another layer of flavor, while making it a more substantial dish. You can certainly use chicken if desired or simply omit the meat for a vegan option.
Another addition that my family loves is kimchi! Doesn't kimchi make everything better anyways? So, that's how I usually make this dish.
In this recipe, I precooked the kimchi and meat to develop more flavors before adding to the rice, but you can skip this step if you want.
With a delicious soy sauce-based sauce (yangnyeomjang or yangnyumjang, 양념장) mixed in, you and your family will love this tasty one-dish meal!
Tips for making kongnamul bap
It's important to use less water because soybean sprouts release some water.
Use a generous amount of soybean sprouts. The sprouts cook down significantly, and the rice bowl is more delicious with lots of them.
The sauce (yangnyeomjang, 양념장) is essential for this dish. Use lots of scallions. You can also add garlic chives (buchu, 부추) if available.
More Soybean Sprouts Recipes
Kongnamul muchim (seasoned soybean sprouts)
Kongnamul Guk (soybean sprout soup)
Kimchi kongnamul guk (kimchi soybean sprout soup)
Kongnamul japchae (soybean sprout japchae)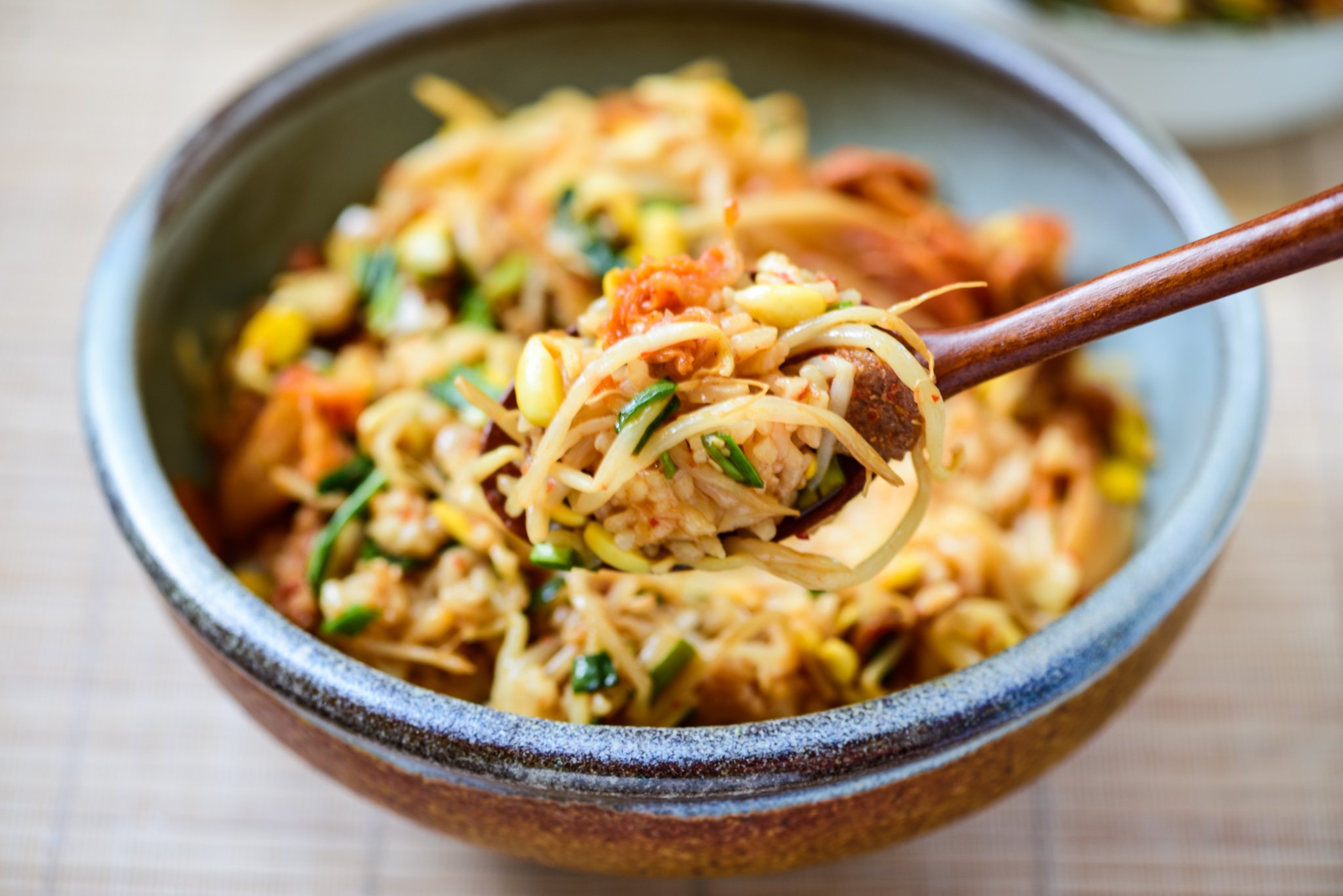 For more Korean cooking inspirations, follow along on YouTube, Pinterest, Twitter, Facebook, and Instagram.
Ingredients
Rice:
1.5

cups

short grain rice

1.5

cups

water
Vegetables and meat:
1

pound

kongnamul (콩나물), soy bean sprouts

4 - 6

ounces

beef or pork (any tender cut)

(omit for a vegan option)

1

teaspoon

minced garlic

2

teaspoons

soy sauce

1

teaspoon

rice wine or mirin

1

teaspoon

sesame oil

1

cup

thinly sliced kimchi (about 1/2 inch thick)

preferably fully fermented

2

tablespoons

juice from kimchi
Sauce (Yangnyumjang):
4

tablespoons

soy sauce

2

teaspoons

sesame oil

1

teaspoon

gochugaru, Korean red pepper flakes

1

teaspoon

sesame seeds

1

teaspoon

minced garlic

1

teaspoon

sugar

2 - 3

scallions, finely chopped
Instructions
Rinse the rice. Drain. (This is to make sure the correct amount of water is added.) Place in a pot or rice cooker and add the exact amount of water (1:1 rice to water ratio). Let sit so the rice is soaked. Wash the soybean sprouts and drain well.

Cut the meat in small pieces and lightly season with the next 4 ingredients. Cut the kimchi into thin strips (about 1/2 inch). Heat a skillet with a tablespoon of oil over medium high heat. Stir-fry the kimchi for 2 - 3 minutes, adding some juice from kimchi to intensify the flavor, if available. Add the meat and stir-fry for another minute or two. (The meat doesn't need to be cooked through.)

Spread the soybean sprouts over the rice, followed by the stir-fried kimchi and meat. Start the rice cooker, or cook over the stovetop (see below).

While the rice is cooking, prepare the sauce by mixing all sauce ingredients.

When the rice is done, gently fluff up the rice, evenly distributing the sprouts, meat and kimchi. Serve with the sauce on the side.
Stove top method:
Cover, and bring the rice to a full boil over high heat. This will take 4 to 5 minutes. Then, reduce the heat to medium. Cook for 7 minutes. Reduce the heat to low and simmer for 5 minutes.
This kongnamul bap recipe was originally posted in December 2011. I've updated it here with new photos and minor changes to the recipe.