Galbijjim (kalbijjim) is a Korean traditional braised beef short ribs dish in a rich sauce. You can make these tender, succulent short ribs at home with this easy, authentic recipe!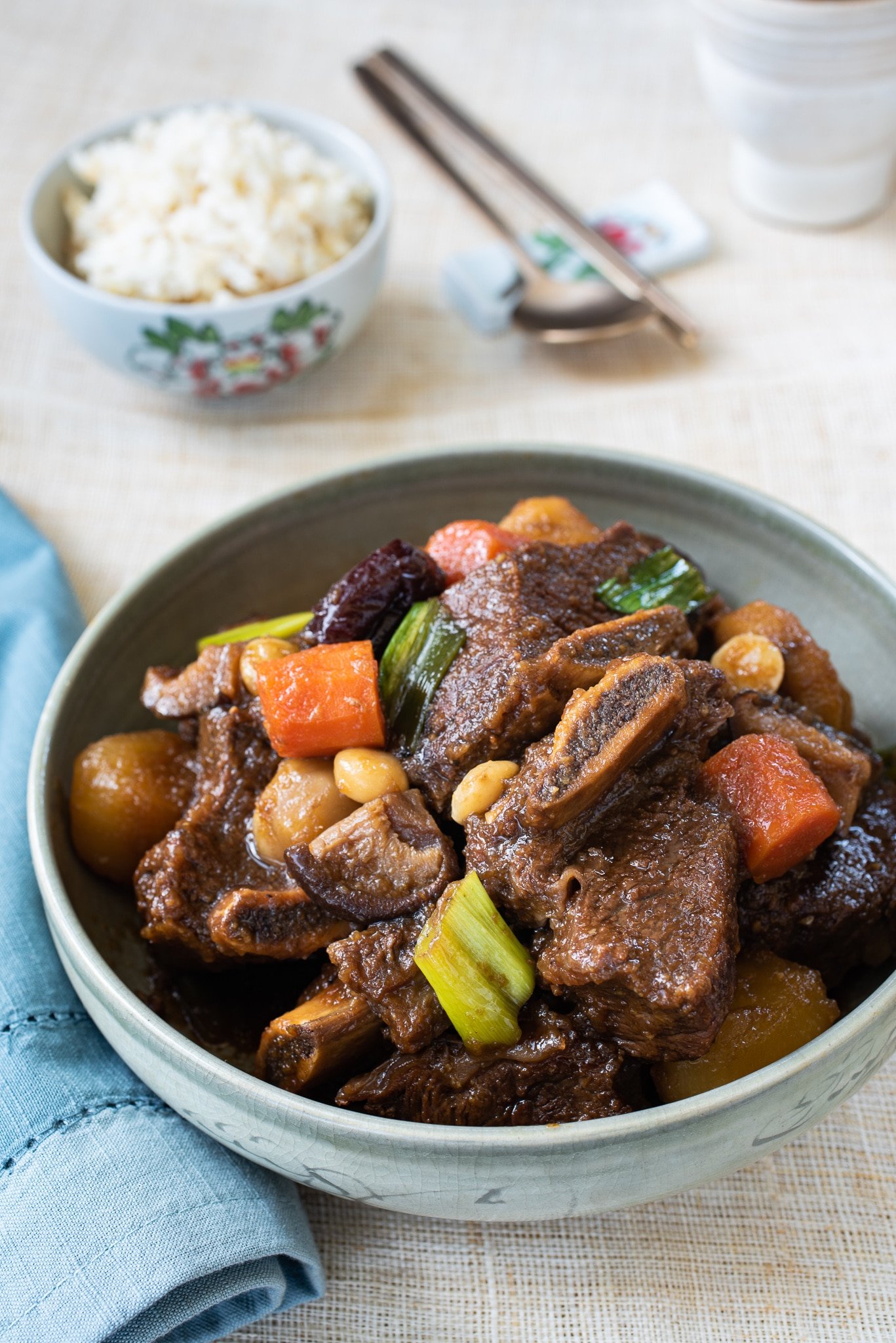 What is galbijjim
Galbijjim (or kalbijjim, kalbi jjim) is braised beef short ribs, which is typically served on traditional holidays and special occasions in Korea. I make these ribs for my family quite often, especially for my elderly parents. It's a definite favorite!
I sometimes cook them in my slow cooker or Instant Pot. Here, I'm showing you how to make this dish the traditional way on the stovetop.
Look for short ribs with the most meat and less fat. Traditionally, this dish is made with bone-in short ribs. Although meat cooked on the bone tastes better, use boneless meat if that's all you can find. Even high quality short ribs will have some fat, which is expected for short ribs. Trim off any thick layers of fat from the short rib, but do not remove the thin, tough skin that holds the ribs together.
Cooking times can vary depending on the size and thickness of the ribs.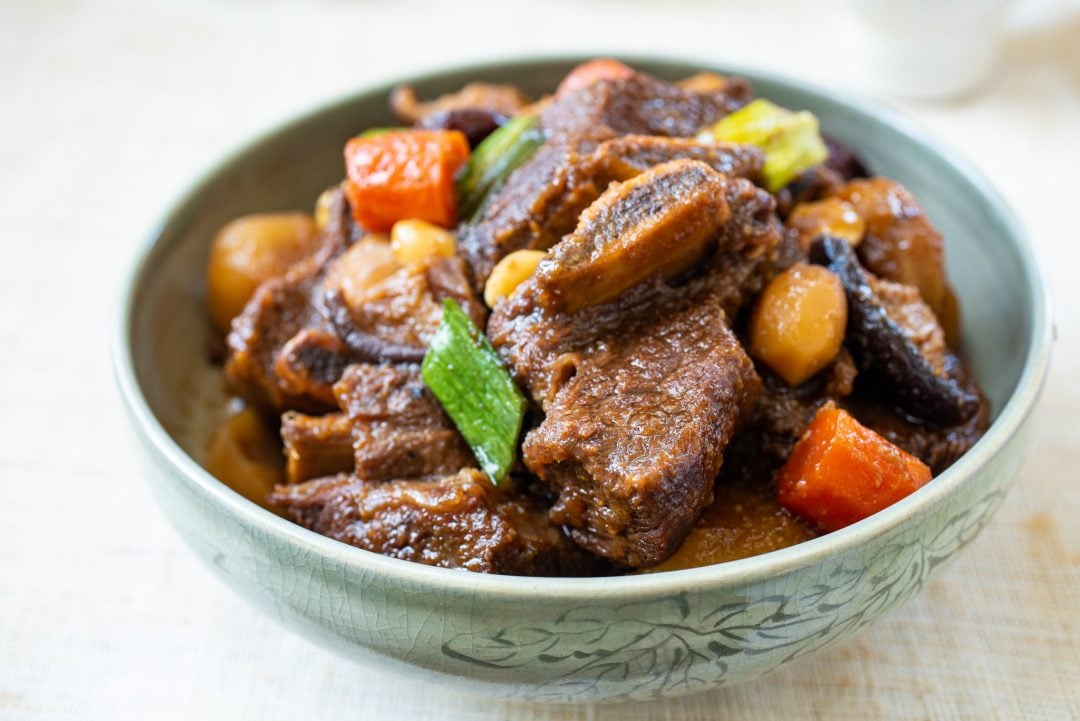 How to make Korean braised short ribs
In contrast to the braising method typical of Western cooking, Koreans traditionally do not sear the meat before braising them.
Instead, the ribs are first parboiled in water with some aromatic vegetables before being braised in sweet and savory braising liquid. Parboiling is a technique used to remove excess fat and blood from the ribs. I boil the ribs in a small amount of water and use the resulting stock in the braising liquid after removing the fat.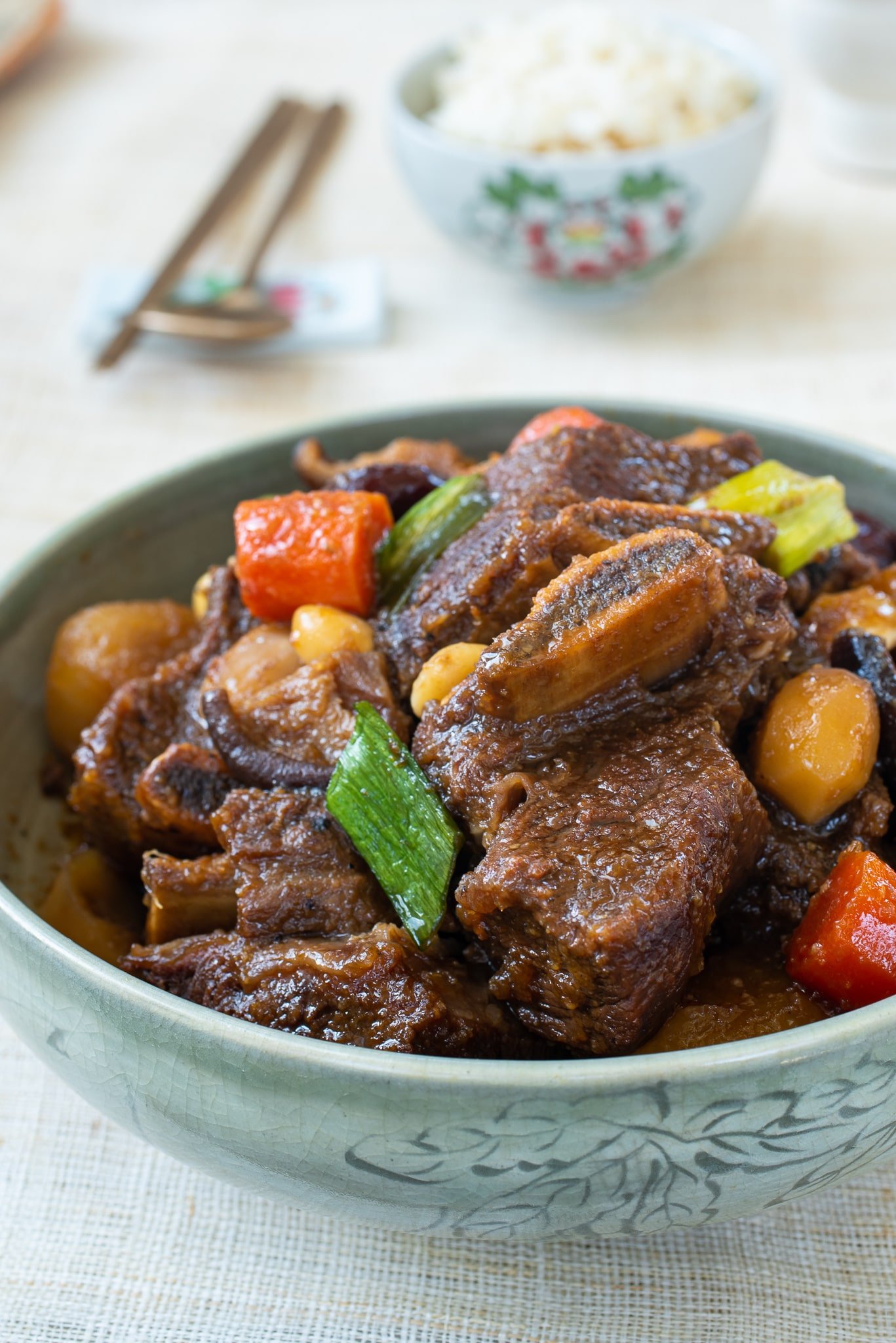 Searing, however, is commonly done in modern Korean cooking. If preferred, feel free to sear the ribs to add that rich browned meat flavor. I do it sometimes as well. The results are equally delicious in slightly different ways.
To prevent the vegetables from turning too soggy, I braise the ribs first, and then add the vegetables about halfway through.
Chestnuts, jujubes, pine nuts, and gingko nuts are customary garnishes that make this dish look very elegant, but the ribs will still be delicious without them if they are unavailable.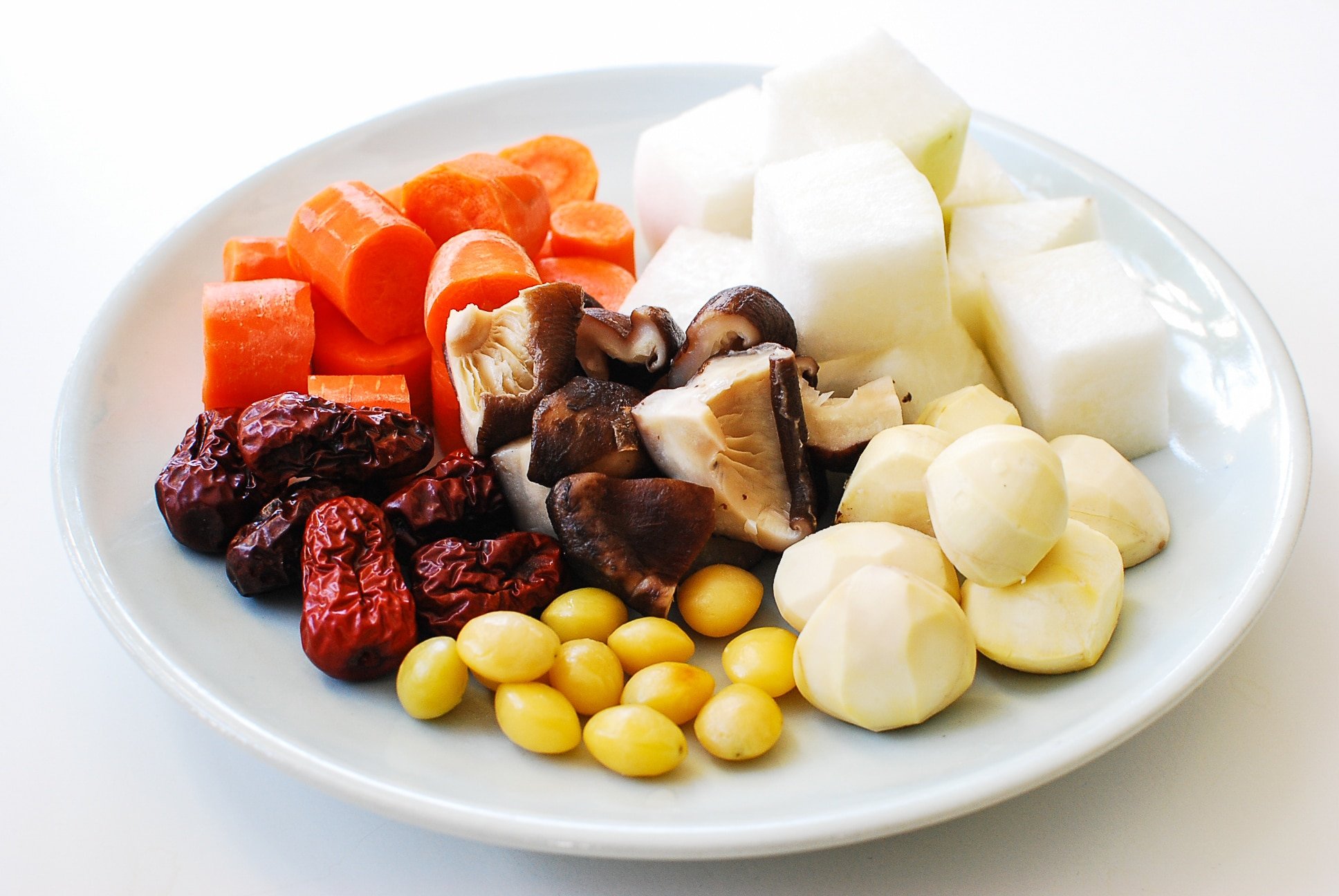 These succulent ribs, in a rich sauce, will be perfect for any of your special occasions! Then again, why wait for a special occasion to make this tasty comfort food?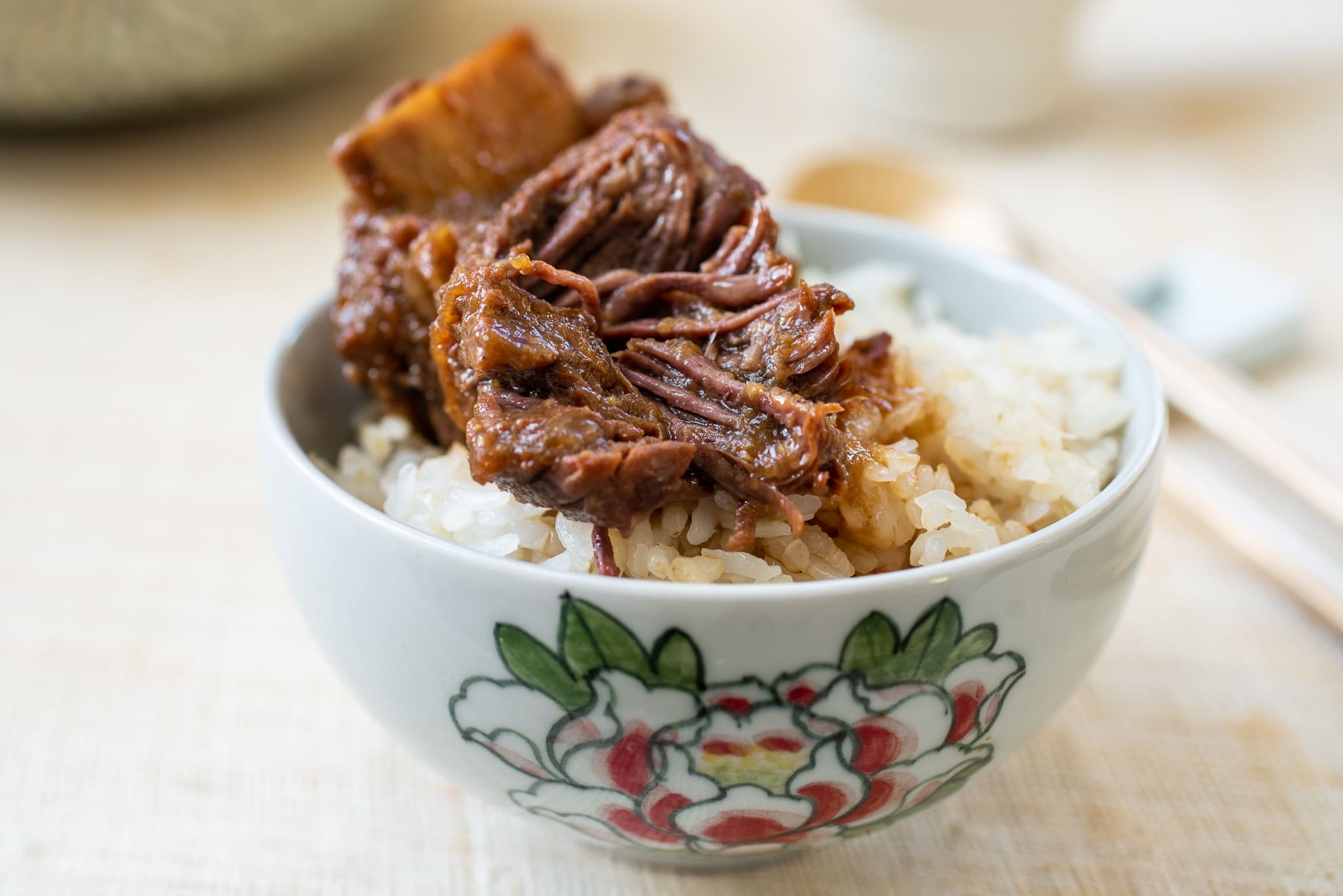 For more Korean cooking inspirations, follow along on YouTube, Pinterest, Twitter, Facebook, and Instagram.
Galbijjim (braised beef short ribs)
Main Course
Print Recipe
Ingredients
3

pounds

meaty beef short ribs

1/2

onion

3 - 4

thin ginger slices (about 1-inch rounds)

5

garlic cloves

2

white parts of scallions
Braising Liquid:
1/2

cup

soy sauce

2

tablespoons

sugar

adjust to taste

2

tablespoons

honey

1/4

cup

cooking rice wine (or Korean matsul/mirim or mirin)

1/2

medium Asian pear

grated (about 1/2 cup)

1/2

small onion grated

1

tablespoon

minced garlic

1

teaspoon

grated

1/2

teaspoon

black pepper

2

tablespoons

sesame oil
Vegetables:
10

ounces

Korean radish

cut into large chunks (about 1-1/2-inch cubes)

3 - 4

dried shiitake mushrooms

soaked and quartered

1

large carrot

cut into large chunks (about 1 inch long)

2

green parts of scallion
Optional garnishes:
6

peeled fresh chestnuts

4

to 6 dried Korean dates/jujube

10

gingko nuts

or 1 tablespoon pine nuts
Instructions
Trim off any excess fat. Rinse the ribs and let them sit in cold water for about 30 minutes to draw out excess blood. Drain.

In a large pot, bring 5 cups of water to a boil over high heat along with the onion, ginger, garlic and scallion white parts. Add the short ribs, and bring it to a boil, uncovered, skimming off the foam. Reduce the heat to medium high and cook for about 10 minutes. Remove the ribs to a plate, reserving the stock.

Strain the stock, and skim off the fat. (Refrigerating the stock will help the fat solidify for easier removal. If you have room in the freezer, the process will go faster.)

Mix together all the braising liquid ingredients, except the sesame oil. Return the ribs to the pot. Pour the braising liquid over the meat and stir. (You can prepare the ribs up to this point the day before, and finish braising when you need to serve.)

Meanwhile, prepare the vegetables and optional garnish.

Add 2.5 cups of the reserved stock to the ribs. Cover and bring it to a boil over medium heat. Continue to boil for 20 to 30 minutes, depending on the thickness of the ribs. Stir in the radish, mushrooms, and carrots. Continue to boil, covered, for about 20 minutes.

Stir in the optional garnish ingredients. Return to boil, uncovered this time, for an additional 10 minutes, or until the sauce is thicker and the meat is tender but not falling apart. Add the green parts of scallions and the sesame oil and stir gently before turning the heat off.
Notes
During the braising, adjust the heat level and cooking time, depending on how tender you want your ribs to be and how much sauce you like to have. Use medium low heat and additional time for more tender meat with more sauce. Likewise, you can increase the heat to medium to reduce the sauce quicker. Also, leaving the pot uncovered during the last 10 min gives the ribs a nice shiny look.
This galbijjim recipe was originally posted in October 2011. I've updated it here with new photos and minor changes to the recipe.