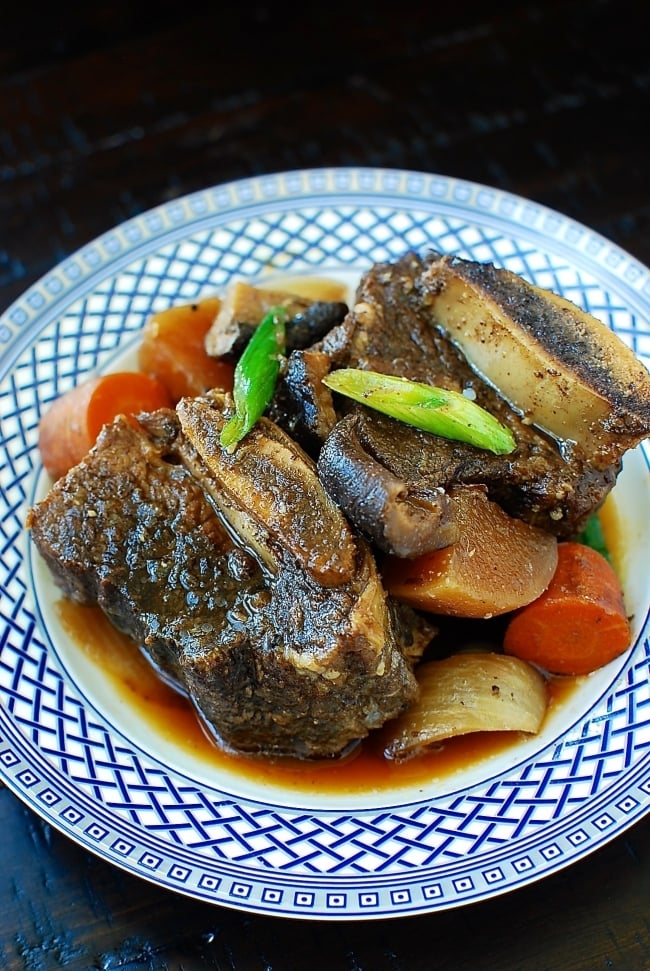 I often use it to make traditional Korean dishes for my elderly parents and parents-in-law who are living nearby. On weekends, I just throw a few things in the slow cooker early in the morning, and this frees up time to do other things I need to do. By the time I'm done with my busy schedule, a succulent, fork-tender meat dish is ready to be delivered. They all love it!
This recipe is the slow-cooker adaptation of my recipe for traditional
galbijjim
, hence the same great authentic flavor. When I use my slow cooker, I like to minimize the prep work as much as possible. So, there's no grating, mincing, par-boiling or browning in this recipe. You can do the prep work the night before.
Start the slow cooker in the morning before heading out, and come home to a delicious meal waiting for you.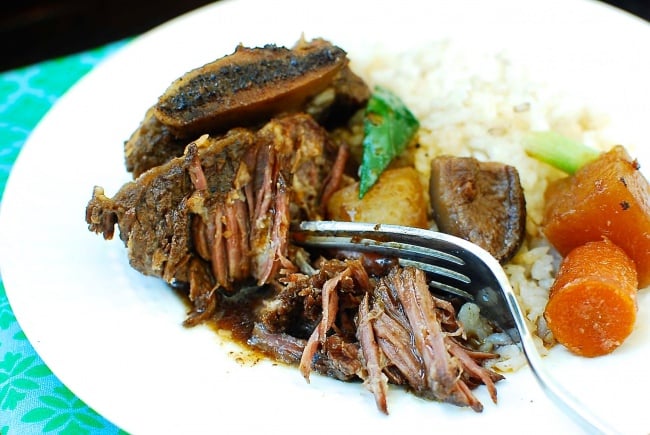 As I mentioned in my previous
galbijjim
post, traditional
galbijjim
does not involve initial browning of the ribs. But, it's totally up to you if you want to take the time to sear the ribs to add that rich browned meat flavor. I've tried both ways with the slow cooker, and the results are equally delicious in slightly different ways.
This recipe is also excellent for other cuts of beef (chuck roast, brisket, flank steak, etc.), pork ribs or roast, and chicken. Simply cut the meat into a few large pieces.
The ingredients in this recipe generate a lot of liquid, so no additional broth or water is necessary. The result is fall off the bone tender meat in a rich, slightly sweet and savory sauce!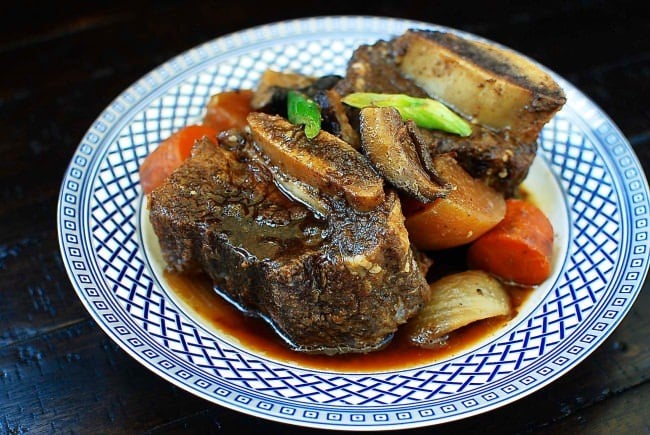 Ingredients
3 to 4

pounds

beef short ribs

1/2

medium onion

1 to 2

carrots

1/2

medium Korean/Asian pear

or 1 bosc pear or apple

7 to 8

plump garlic cloves

3 to 4

thin ginger slices

about 1-inch round

6

ounces

Korean radish

omit if unavailable

3 to 4

dried shiitake mushrooms

briefly soaked and quartered (omit if unavailable)
Sauce
1/2

cup

soy sauce

1/4

cup

rice wine

or dry white wine

4

tablespoons

honey

or sugar - adjust to taste

pepper to taste

1

tablespoon

sesame oil
Garnish
2 to 3

scallions

roughly chopped
Instructions
Trim off any excess fat. Rinse the ribs and let them sit in cold water for about 30 minutes to draw out excess blood. Drain well or pat dry with paper towels. Prepare the vegetables and pear by cutting into large chunks (about 1-1/2-inch pieces).

Place the ribs and vegetables and pear in the slow cooker. Mix together the soy sauce, rice wine, honey (or sugar) and pepper, and pour over the ribs. Toss everything to coat with the sauce. Cover, and cook for 6 to 7 hours on high or 9 to 10 hours on low. Flip the ribs over midway through the process if you're home. (Adjust the cooking time, depending on how tender you want your ribs to be.) Stir in the scallions and sesame oil.

Remove the ribs and vegetables from the slow cooker. Strain the cooking liquid into a bowl to skim off the fat. I use a fat separator. Pour the sauce over the ribs to serve. (You can also cool it in the fridge or freezer until the fat solidifies to spoon off. Reheat the sauce.)

Serve with rice.