Oiji muchim is a simple side dish made with Korean pickled cucumbers, oiji! It's crunchy, spicy and deliciously salty.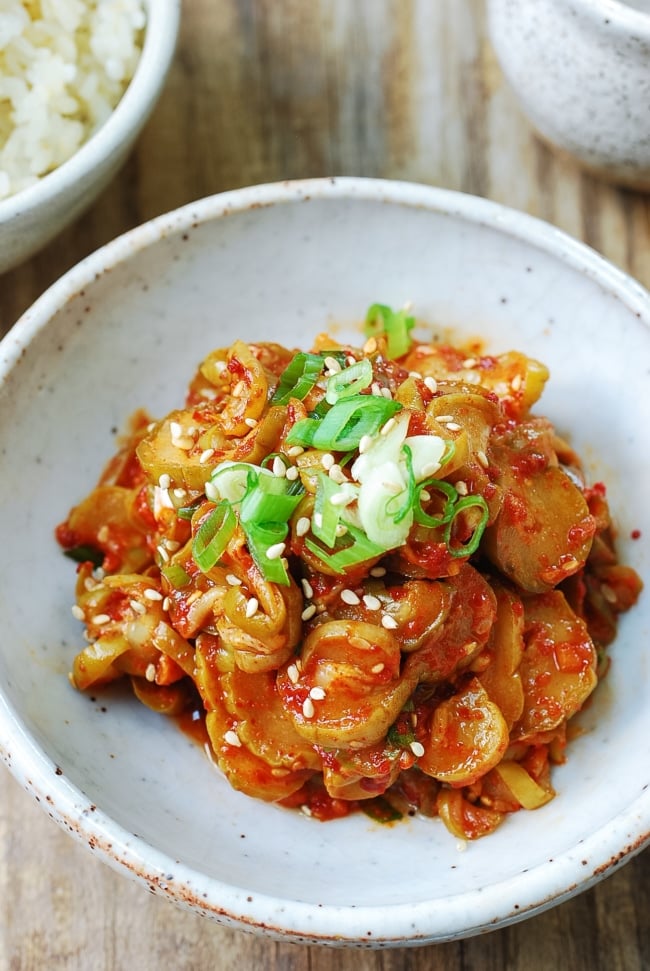 Oiji muchim (오이지 무침) is a simple side dish made with oiji, Korean cucumber pickles! Fermented simply in salt water, oiji is a traditional way to preserve cucumbers beyond their growing season. During fermentation, a deep tangy flavor develops, the color turns golden yellow, and the texture becomes crunchy and slightly chewy. Oiji is a staple in Korean cuisine.
As I mentioned in my oiji post, these traditional Korean pickles are not made to be eaten right out of the jar because they are quite salty. To make oiji less salty, we cut the pickles and soak them in fresh water before serving. Often, oiji is simply served in water used to soak the pickles to be eaten like cold soup. This oiji muchim is another common way to enjoy the crunchy pickles.
You may find commercially prepared oiji in the deli section of Korean markets.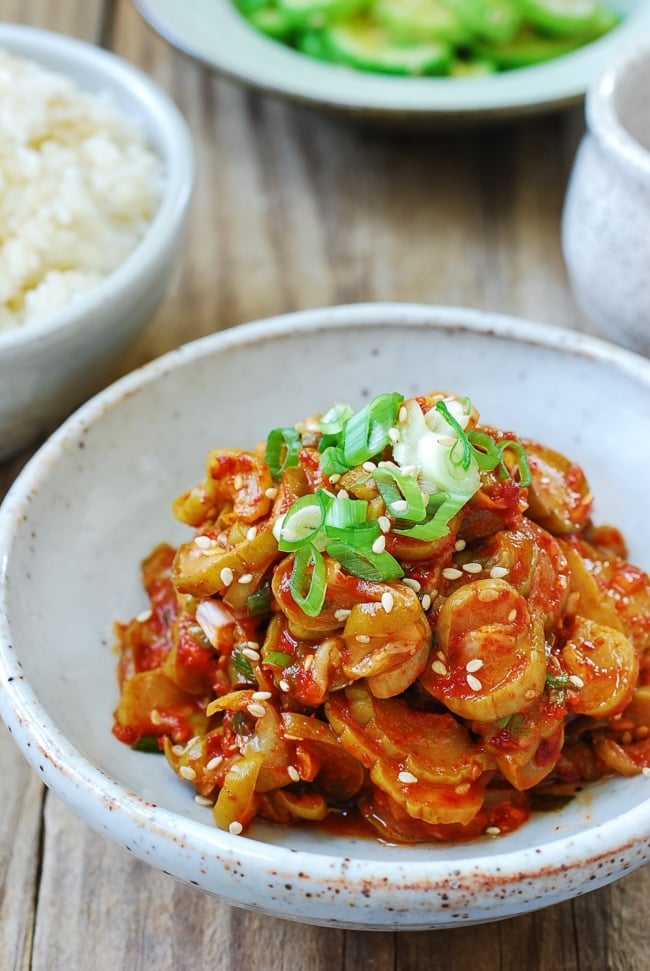 How to make oiji muchim
You need to slice the pickles thinly and soak them in water until they reach the desired salt level. It usually takes around 10 minutes, depending on your pickles. The best way to know if it's ready is to try a piece. Then, squeeze the pickle slices as tightly as you can to remove the water content. The rest is easy! Season with some gochugaru and other basic ingredients.
I find 1/2 tablespoon of gochugaru to be a good amount for 1 pickle that's made with a long Korean cucumber (2 pickles if they are Kirby cucumbers). You can, of course, use more or less gochugaru to adjust the heat level to your taste.
The key to good oiji muchim is to squeeze out the water content as much as possible for a crunchy and chewy texture Koreans describe as odeul odeul (오들오들).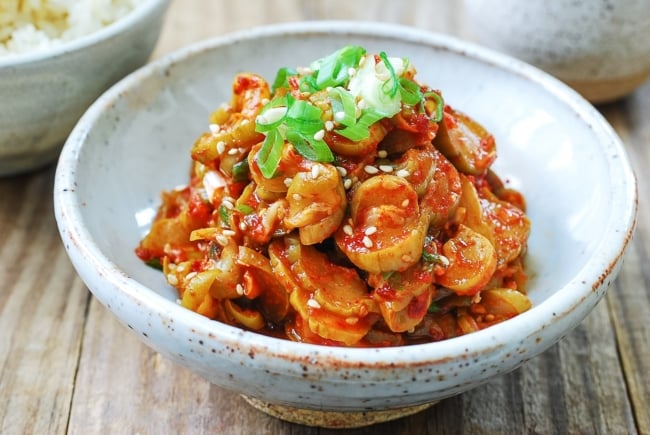 More cucumber recipes
Oiji (Korean Pickled Cucumbers)
Oi Muchim (Spicy Cucumber Side Dish)
Oi Kimchi (Cucumber Kimchi)
Oi Sobagi (Stuffed Cucumber Kimchi)
Oi Bokkeum (Stir-fried Cucumber Side Dish)
For more Korean cooking inspirations, follow along on YouTube, Pinterest, Twitter, Facebook, and Instagram.
Oiji Muchim (Spicy Seasoned Cucumber Pickles)
Side Dish
Print Recipe
Ingredients
3

oiji (Korean pickled cucumber- 6 if using short kirby pickled cucumbers

1-1/2

tablespoons

gochugaru

고추가루, Korean red chili pepper flakes

1/2

teaspoon

minced garlic

1

or 2 teaspoons

sugar

1

tablespoon

oligodang (올리고당) or maesilcheong (매실청, Korean plum syrup)

or 1/2 tablespoon honey

1

small fresh chili pepper

red or green, finely chopped - optional

1

tablespoon

sesame oil

1

tablespoon

chopped scallion

1

teaspoon

roasted sesame seeds
Instructions
Thinly slice the cucumber pickles.

Soak the pickle slices in water until oiji reaches the desired salt level, about 10 minutes depending on your pickles.

Drain and tightly squeeze the pickles between your palms to remove as much liquid as possible. You may have to squeeze them several times.

Add the remaining ingredients, except the scallion and sesame seeds, and mix everything very well until the pickles are evenly coated with gochugaru. Finish with tossing in the scallion and sesame seeds.
Notes
Oiji muchim can be kept well in the fridge for 4 to 5 days. If you want to keep it longer, don't add sesame oil until serving.