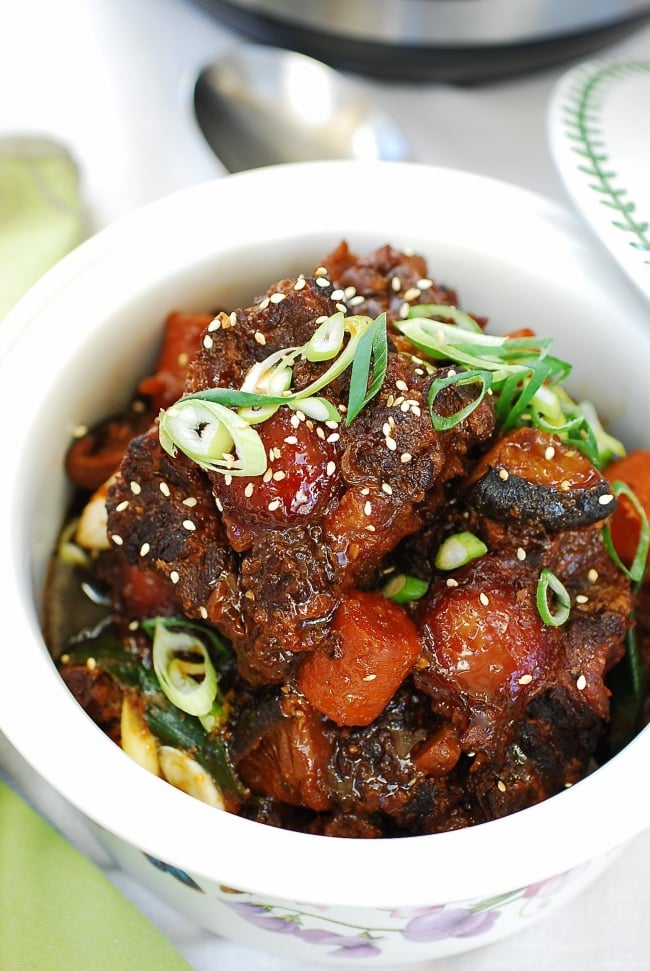 I have a new favorite kitchen appliance! Thanks to many of you who have asked for pressure cooker (or Instant Pot) recipes, I finally bought an Instant Pot, and I'm very pleased with it! The Instant Pot is a multi-function gadget that pressure-cooks, slow-cooks, steams, etc. To start out, I made this braised oxtail (kkorijjim or ggorijjim, 꼬리찜) using its pressure cooking function. Amazing!
Oxtail is a tough cut of meat that usually takes hours to bring out its tenderness, but it only takes 45 minutes in the pressure cooker. Stovetop pressure cookers may take less cooking time.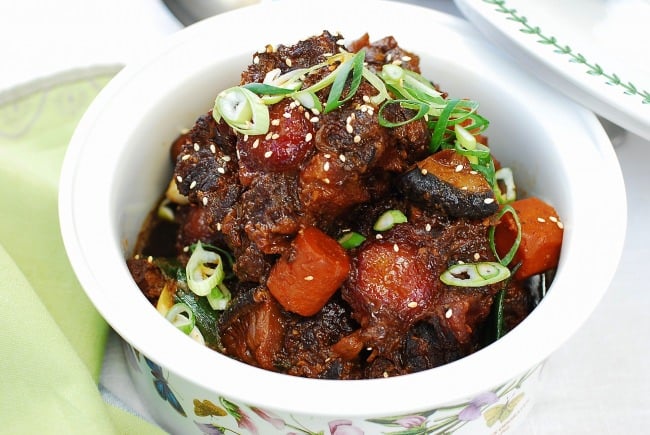 In Korea, oxtails are common but very expensive. They are typically braised (kkorijjim) or made into soup (kkori gomtang, 꼬리곰탕), both of which are extremely popular as nourishing dishes. Lucky for us, oxtails are relatively affordable around here. Look for a package with larger pieces.
For those of you who're not familiar with oxtail, it is the tail of a cow which is bony, fatty, and highly rich in connective tissues and collagen. Slow or pressure cooking breaks down the collagen into a rich, flavorful gelatin, making the dish incredibly delicious and satisfying!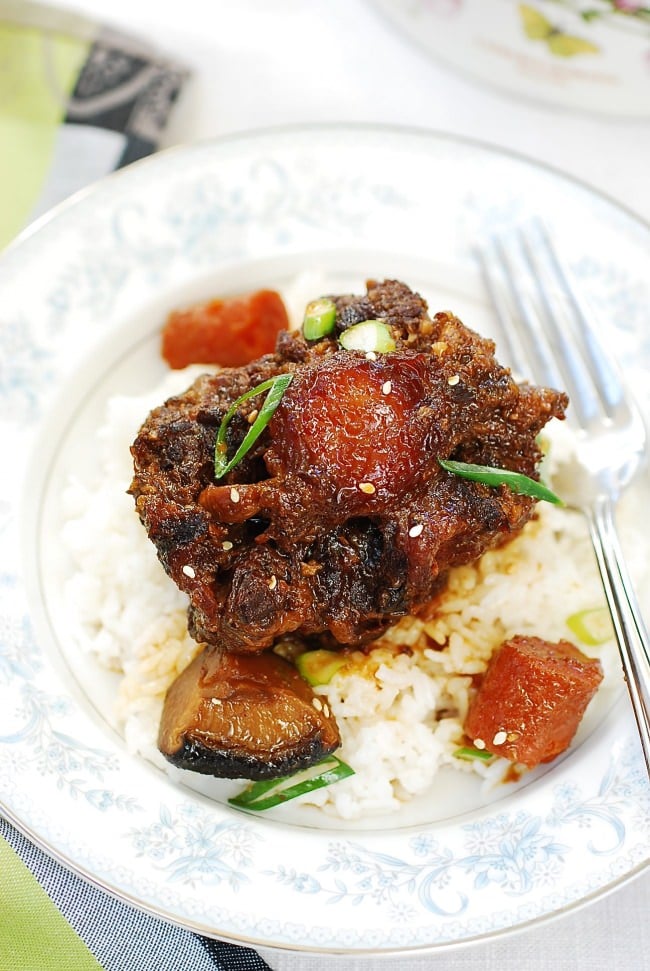 As I mentioned in my slow cooker galbijjim recipe, the Korean traditional braising technique does not involve initial searing of the meat. However, since I'm using one of the latest technology kitchen gadgets, that has the "Sauté" function, I decided to try it and sear the meat. You can skip this step if you want.
The braising liquid is similar to the one used for galbijjim (braised short ribs). As a sweetener, I like to use honey (or a combination of honey and sugar) for a richer flavor. Here, I also used a little bit of Korean green plum syrup (maesilcheong), which is a staple in modern Korean cooking as a sugar substitute. It gives the dish slightly acidic, fruity sweetness which rounds up the flavors nicely. Pineapple juice can be a good substitute, or simply use sugar and/or honey.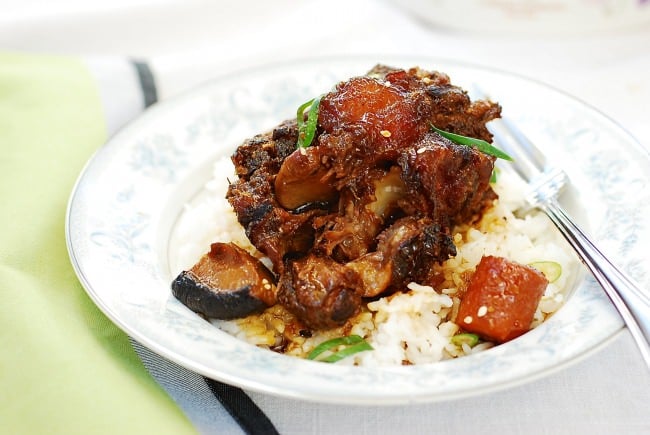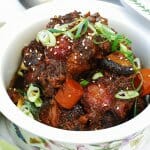 Ingredients
3 to 4

pounds

oxtail

1/2

medium onion

cut into large chunks

1 to 2

carrots

cut into large chunks

3 to 4

dried shiitake mushrooms

briefly soaked and quartered (omit if unavailable)
Braising liquid
1/2

cup

soy sauce

1/2

cup

rice wine

or mirin or dry white wine

1/2

medium Korean/Asian pear

or 1 bosc pear or apple, grated

2

tablespoons

minced garlic

1

inch

ginger

grated (about 1 teaspoon)

3

tablespoons

honey

or sugar

3

tablespoons

maesil cheong

or 1 more tablespoon honey or sugar

pepper to taste
Other additions and garnishes
1

tablespoon

sesame oil

2

scallions

roughly chopped (and some finely sliced for optional garnish)

sesame seeds - optional
Instructions
Trim off excess fat. Rinse the oxtail pieces and let them sit in cold water for 10 to 20 minutes to draw out excess blood. Drain well, and pat dry with paper towels.

Press the "Saute" button on the Instant Pot. When the pot is hot, add 1 tablespoon of canola or vegetable oil. Sear the oxtail pieces in two batches, browning all sides. You can sear the meat in a separate pan or skip this step if you want.

Mix together the braising liquid ingredients. Place the oxtail pieces in one layer in the pot, and pour the braising liquid over.

Add the vegetables.

Close the lid tightly. Press the "Meat" function, and using the "+" button, increase the time to 45 minutes. When finished, the Instant Pot will automatically turn to the "Keep Warm" mode. Leave the pressure cooker alone for about 10 minutes before opening the lid.

Stir in the scallion and the sesame oil. Remove the meat and vegetables from the pressure cooker. Strain the cooking liquid into a bowl to skim off the fat. I use a fat separator. Pour the sauce over the ribs to serve. You can also cool it in the fridge or freezer until the fat solidifies to spoon off, and then reheat the sauce. Garnish with the optional scallions and sesame seeds.