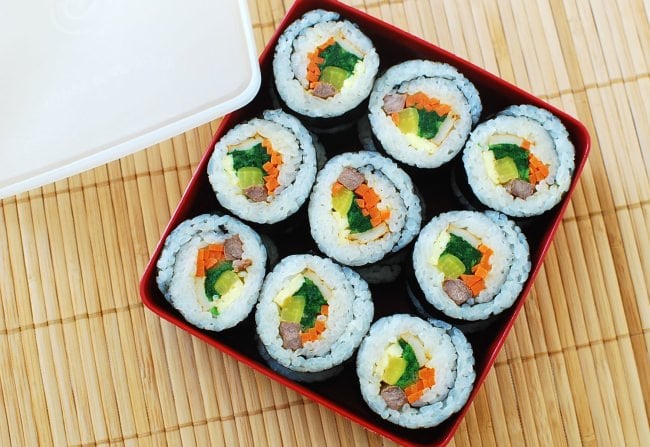 Remember the meatballs from World on a Plate last month? This time, we are going on a picnic! When it comes to picnics, the first thing that comes to every Korean's mind is gimbap (also spelled kimbap). We all grew up on these rice rolls. They were a must (no exceptions) for our school field trips and outdoor activities as well as family road trips! Whether it's the anticipation the night before or watching the early morning preparation by mom to pack these in lunch boxes, there is no other dish that takes me back to my childhood like gimbap. Today, gimbap is the most popular on-the-go meal in Korea. They are practically sold everywhere.
To make gimbap, the rice is rolled in seaweed with various fillings. Traditionally, the rice is lightly seasoned with sesame oil and salt. The fillings are individually seasoned and cooked, yielding an interesting combination of textures and flavors. Everything is well seasoned, so gimbap is not served with sauce. There are many variations these days, but the best gimbap to me is the traditional version my mother used to make for us on our field trip/picnic days. So, here is how to make gimbap the traditional way! It takes some time to prepare the individual fillings, but the process is easy. How hard is the rolling process? You'll find it much easier with your second roll. I hope you make some gimbap soon and go on a picnic to enjoy the beautiful spring weather!

Update: The gimbap below includes seasoned burdock (우엉), which is commonly used in gimbap. You can usually find packages of burdock pre-prepared for gimbap next to yellow pickled radishes (danmuji).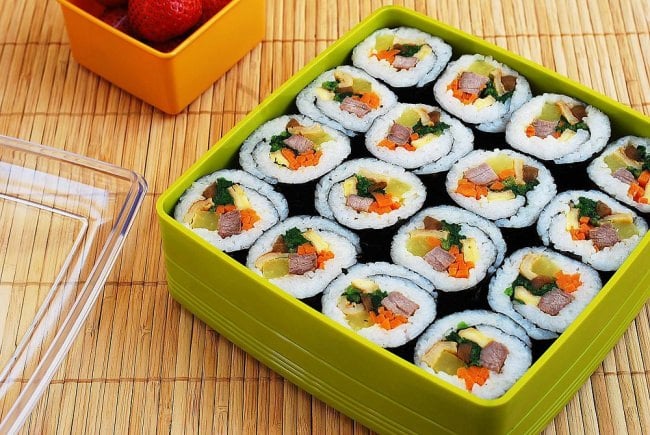 Gimbap (Korean dried seaweed rice rolls)
2016-01-30 17:27:41
Easy to follow traditional gimbap recipe
Ingredients
2 cups (standard measuring cup not the cup that comes with a rice cooker) uncooked short grain rice
1 tablespoons sesame oil
salt to taste (start with 1/2 teaspoon)
For the beef
8 ounces lean tender beef, cut into 1/2 inch-thick long strips
(You can also use thin bulgogi meat or ground beef)
2 teaspoons soy sauce
1 teaspoon rice wine (or mirin)
1 teaspoon sugar
1 teaspoon sesame oil
1/2 teaspoon minced garlic
For the vegetables
1 bunch spinach (about 8 ounces)
1 teaspoon sesame oil
salt to taste - about 1/4 teaspoon
2 medium carrots, julienned (or 1/2-inch thick long strips)
5 yellow pickled radish (danmuji) strips (1/2-inch thick)
For the fish cake
1 sheet fish cake - eomuk
1 teaspoon soy sauce
1/2 teaspoon sugar
1/2 teaspoon sesame oil
2 eggs
5 gim (aka nori) sheets
Instructions
Bring a large pot of water to a boil over high heat and prepare an ice bath. Blanch the spinach, place immediately in the ice bat, then squeeze out water. Season with the sesame oil and salt.

Korean Bapsang https://www.koreanbapsang.com/