Haemul pajeon is a popular Korean savory pancake made with scallions and seafood. With this easy scallion pancake recipe, you can enjoy your restaurant favorite at home.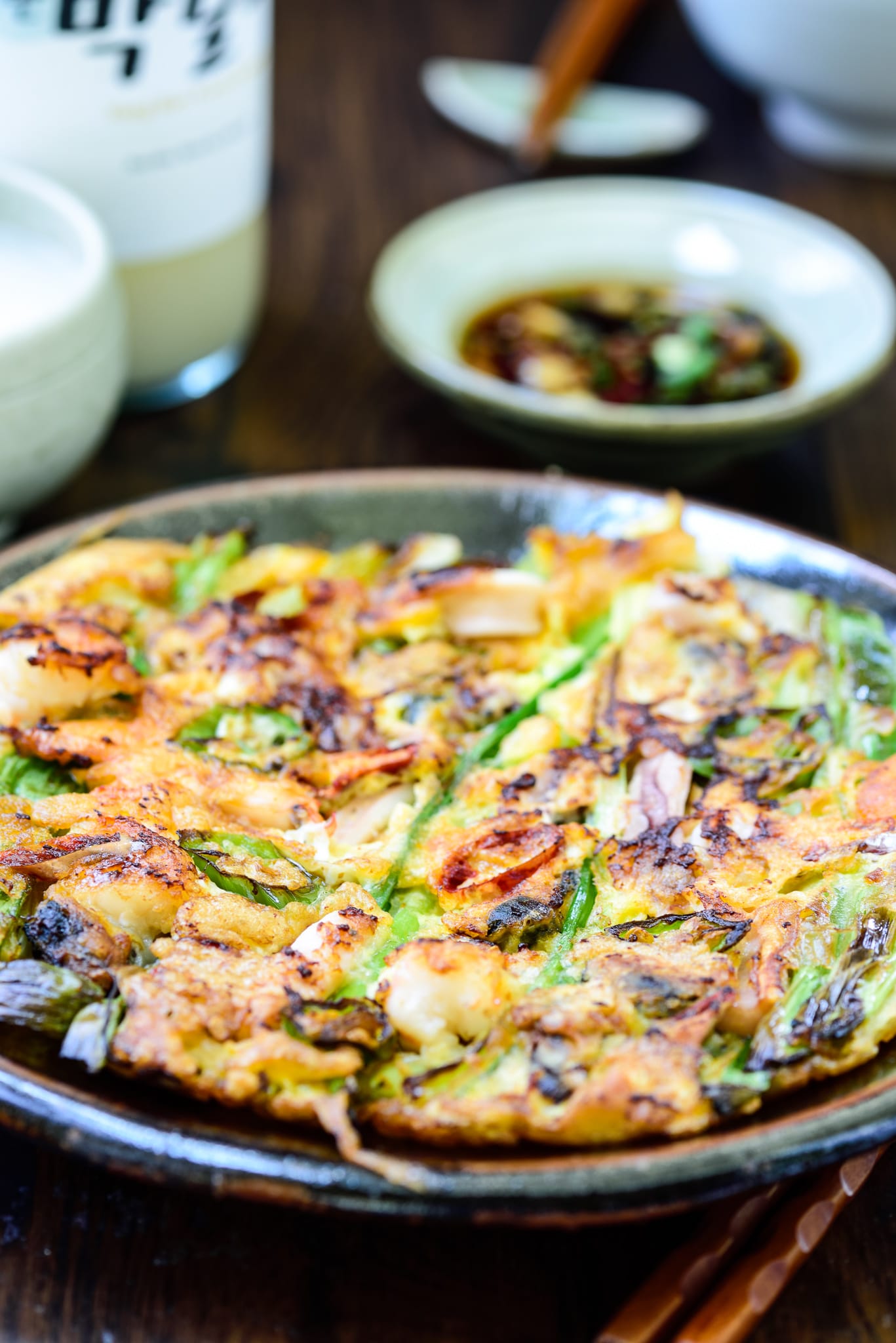 Pajeon is a Korean savory pancake made with scallions. Pa means scallion, and jeon means pan-fried battered food. The most popular variation is made with seafood (haemul), hence the name haemul pajeon. Along with other savory pancakes such as kimchi jeon, buchjeon, and nokdujeon, it's one of Korea's favorite snacks or appetizers.
In Korea, haemul pajeon is often paired with makgeolli (Korean milky rice wine). Koreans also say that when it rains outside, just stay home and enjoy some jeon (savory pancakes). Pajeon is a popular choice.
How to make Korean pancake batter
Commercially available pancake mix (buchim garu, 부침가루) is a pantry staple in Korean homes. The mix is seasoned and typically includes wheat flour and other ingredients such as corn starch, rice flour and sometimes baking powder. Koreans look for a slightly chewy and crispy texture in savory pancakes.
Sometimes, Korean home cooks combine pancake mix with frying mix (twuigim garu, 튀김가루) for extra crispy pancakes. Frying mix typically contains more rice flour and baking powder for a crispy result. Try it if you have a bag of frying mix (1:1 ratio).
Don't have a bag of pancake mix? Not to worry! You can simply use all purpose flour. For a chewy and crispy texture, you can basically create your own mix similar to the commercial version by adding rice flour and/or corn starch along with a little bit of baking powder. Regardless, season it with salt, and add some minced garlic (or powder).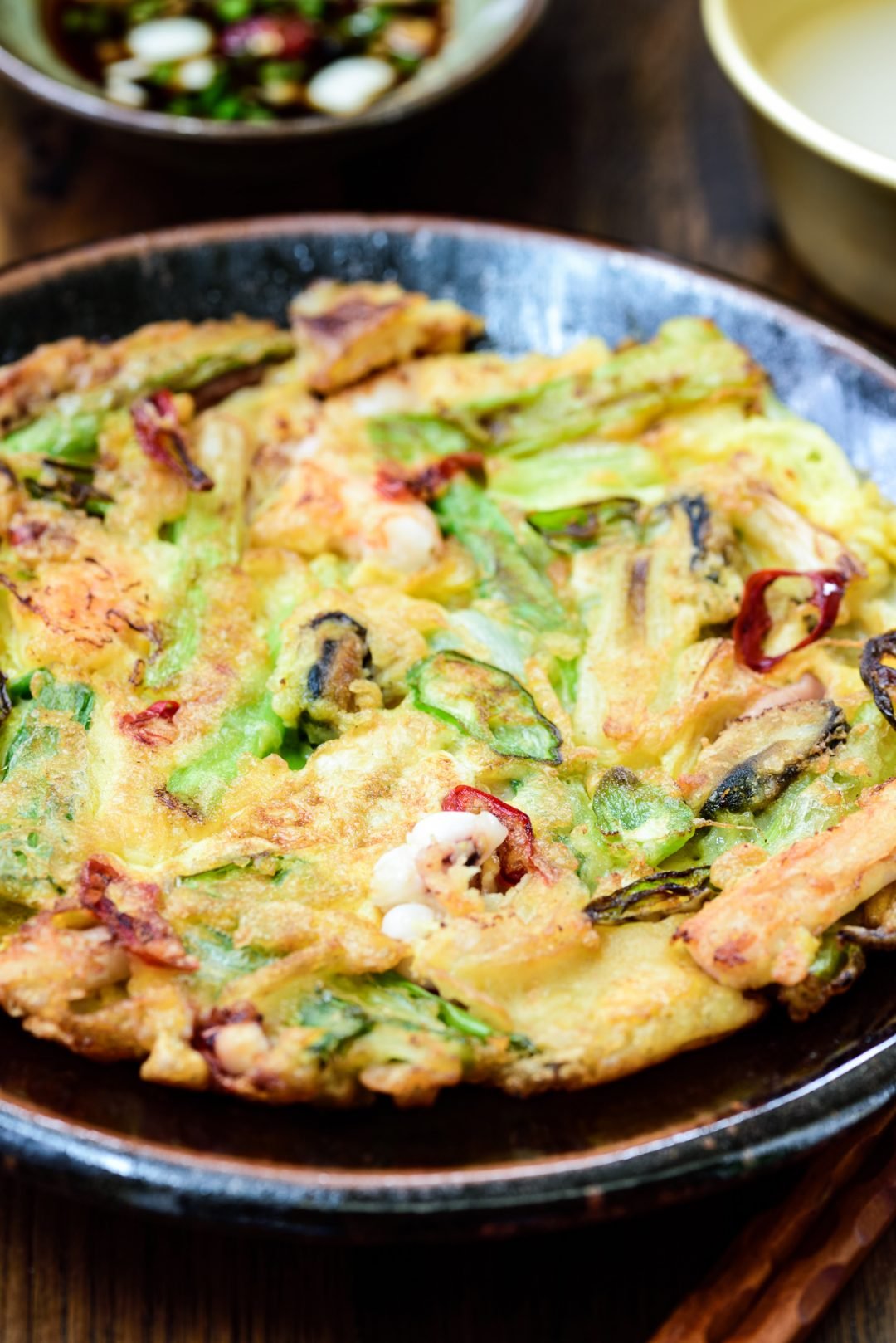 How to make seafood scallion pancake
Look for thin scallions for making pajeon. If the white parts are thick, cut in half lengthwise.
Usually, a combination of seafood, such as squid, shrimp, mussels, oysters and clams, is used, but you can simply use any one (or two) of them. Fresh seafoods are always good, but a bag of frozen seafood mix works well for this recipe.
There are different ways to pan fry scallion pancakes. Sometimes, I combine everything together in the mix before pan-frying. Other times, I only mix the seafood in the batter and then later add the scallions on top when frying. Some people put the scallions first in the pan to crisp up and then spread the batter and the seafood on top. Try these different techniques and see which one you like.
Flipping the pancake is somewhat intimidating for a lot of people. The key is to wait until the bottom is nicely golden brown and flip it fast with confidence. And flip only once! You can also make the pancake smaller for easier flipping.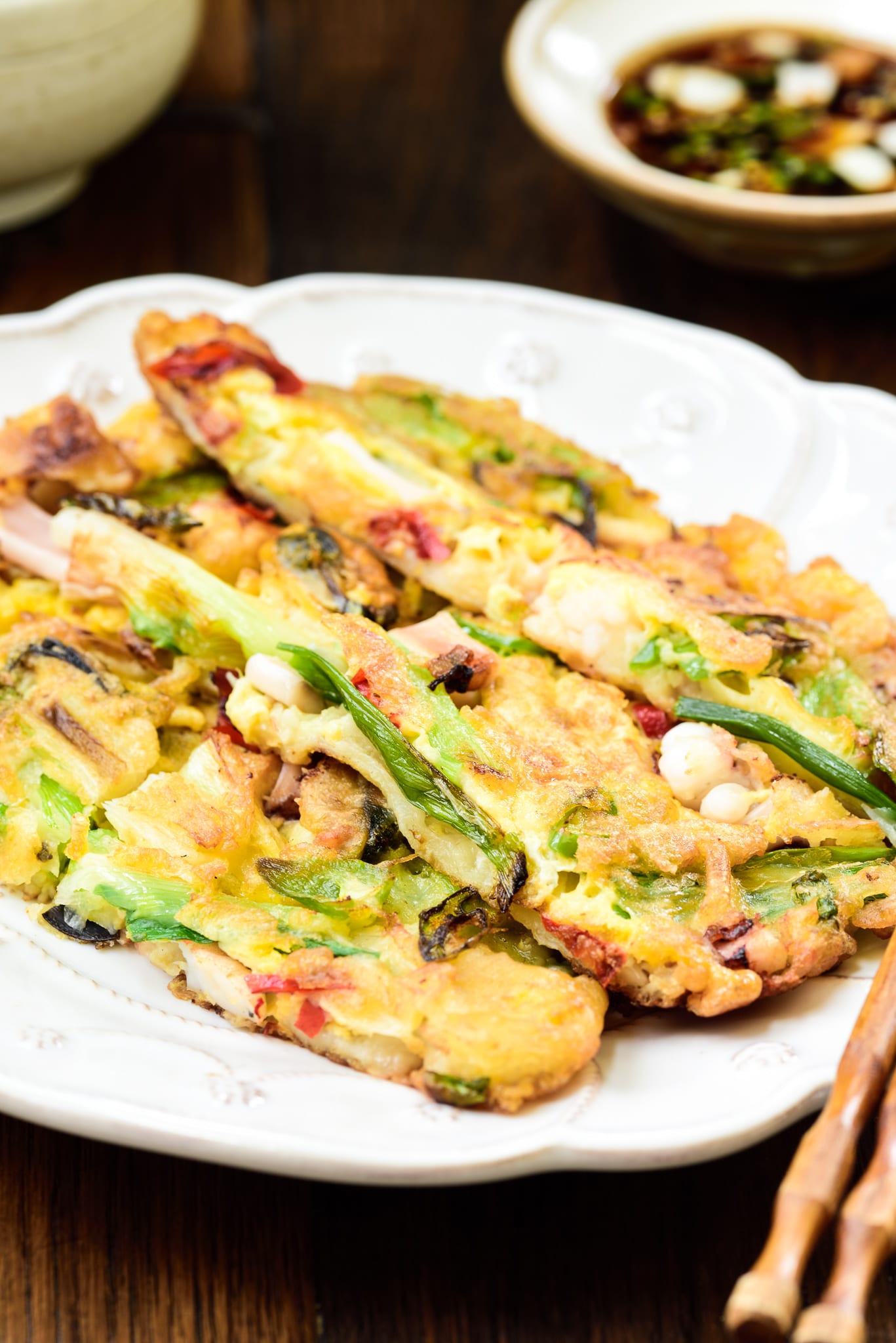 Tips for making crispy pajeon
The most frequently asked question I receive from the readers is how to make pajeon extra crispy. Here are a few things you can do for crispy pancakes.
Drain the scallions and seafood well to remove excess water.
Add corn starch and/or rice powder to wheat flour if making the pancake mix from scratch.
Try mixing pancake mix (buchim garu) with frying mix (twiguim garu) – 1:1 ratio.
Use icy cold water to make the batter.
Use a generous amount of oil. If you want it extra crispy, use more oil for a deep-frying effect.
More Korean savory pancakes recipes
Buchujeon (garlic chives pancakes)
Kimchi jeon (kimchi pancakes)
Nokdujeon (savory mung bean pancakes)
Gamjajeon (potato pancakes)
Hobak buchim (zucchini pancakes)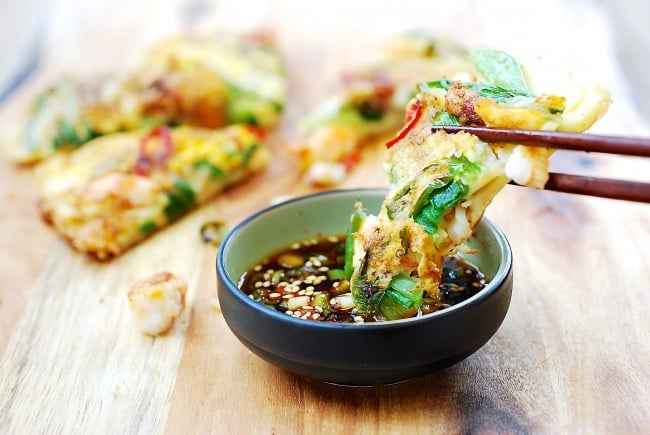 Watch how to make it
For more Korean cooking inspirations, follow along on YouTube, Pinterest, Twitter, Facebook, and Instagram.
Haemul Pajeon (Seafood Scallion Pancake)
Appetizer
Print Recipe
Ingredients
1-1/2 to 2

cups

assortment of seafood

squid, shrimp, mussels, oysters, clams, etc., cut into bite sizes

1

tablespoon

sesame oil

1 or 2

bunches scallions

1

red chili pepper - optional

1

egg

lightly beaten - optional
Batter - makes 2 large (about 7 to 8-inch) pancakes
1

cup

Korean pancake mix, buchim garu, 부침가루

(or all purpose flour or gluten free flour with 1/2 teaspoon salt - See note)
Dipping Sauce
1

tablespoon

soy sauce

2 to 3

teaspoons

vinegar

1

tablespoon

water

pinch

of black pepper

pinch

of gochugaru

Korean red chili pepper flakes

1/2

teaspoon

sugar - optional

1

tablespoon

chopped scallion - optional

1

tablespoon

Diced onion - optional
Instructions
Prepare the seafood, scallions and optional pepper, draining excess water. (Wet ingredients will make pajeon soggy.) Cut the scallions in half crosswise. Cut the white part of the scallions lengthwise if thick. Mix the seafood with the sesame oil.


In a large bowl, mix the pancake mix with 3/4 cup icy cold water. You may need a couple more tablespoons but add one tablespoon at a time. The batter should be thinner than a Western breakfast pancake batter and thicker than a crepe batter. (For a crispy pajeon, the batter should be relatively thin.) Mix in 1/2 of the seafood.


Heat 3 to 4 tablespoons of vegetable oil in a non-stick pan over medium high heat, ladle 1/2 of the mixture into the pan and spread it evenly into a thin round shape.


Arrange the scallions in a single layer on top of the batter, pressing them down into the batter. Add 1/2 of the remaining seafood and a few slices of the optional pepper.


Spoon one half of the optional lightly beaten egg on top. Cook until the bottom is golden brown (3 – 4 minutes). Reduce the heat to medium if the pancake is browning too fast.

Turn it over, adding more oil (2 to 3 tablespoons) around the edges. Cook for another 3 – 4 minutes. Repeat the process with the remaining batter and ingredients. Serve hot off the pan with dipping sauce.

Optional method
Cut the scallions shorter, 2 to 3-inch lengths. You can mix everything with the batter, except the egg. Drizzle the egg over on top, and follow the direction above for pan-frying.

Notes
Use 1/2 cup buchim garu and 1/2 cup frying mix, if available. for extra crispy pancakes.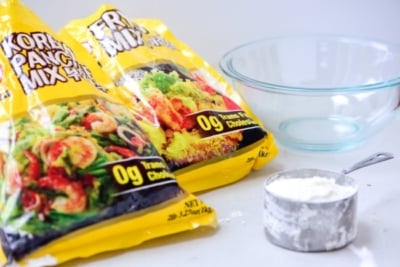 You can also simply use all purpose flour or gluten free flour, or recreate your own pancake mix similar to commercial premix by mixing 3/4 flour, 2 tablespoons rice flour, 2 tablespoons potato (or cornstarch), 1 teaspoon minced garlic (or powder), and 1/2 teaspoon salt. Also, try different ratios of the mix to find your favorite.
This seafood pancake recipe was originally posted in October 2009. I've updated it here with new photos, more information and minor changes to the recipe.