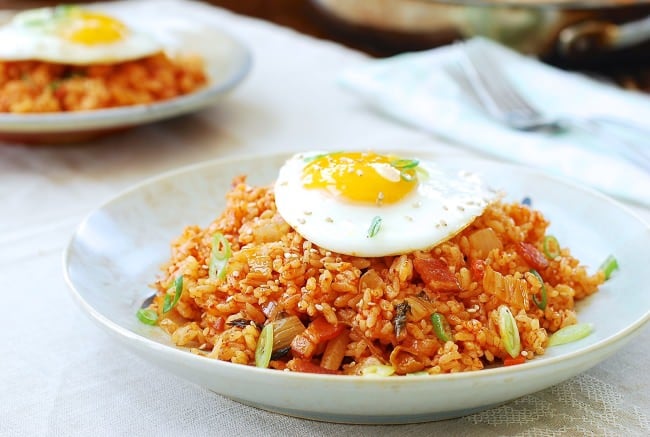 I had been using up leftovers this whole weekend, so I decided to make this
kimchi
fried rice as a nice change from all of the Thanksgiving inspired dishes we had been eating.
Kimchi
fried rice is a humble dish made basically with old
kimchi
and leftover rice. Since Korean homes almost always have these two staples,
kimchi
fried rice is a favorite go-to meal whenever there seems to be nothing to eat at home. It is especially popular among young people who are living on a low budget. It is a quick-fix meal that is inexpensive to prepare. This is probably why my son makes this dish quite frequently.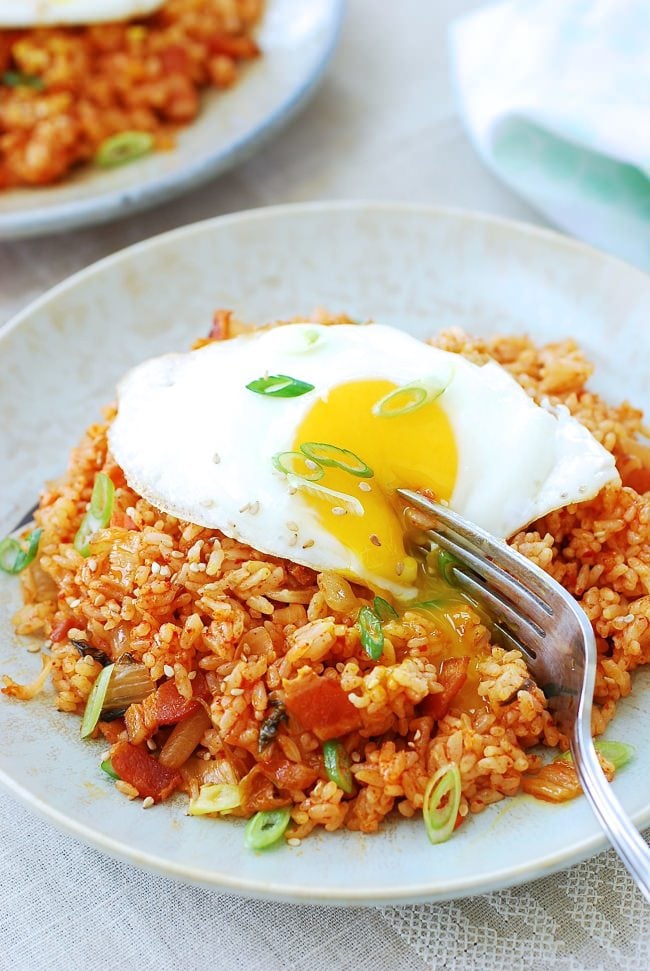 As I mentioned in my previous posts, when you cook with kimchi, it is best to use well fermented kimchi for the rich and robust flavor it develops. No exception here. If you want to get even more flavor, add some meat – preferably fatty meat. Popular meat additions by Koreans include pork, bacon, beef, ham or spam. This time, I used a little bit of bacon just enough to give the dish a slight smoky flavor. Serve the dish with a fried egg on top if desired. If you like kimchi but have not had this dish, I encourage you to try and make it. I guarantee you will want to have it more often.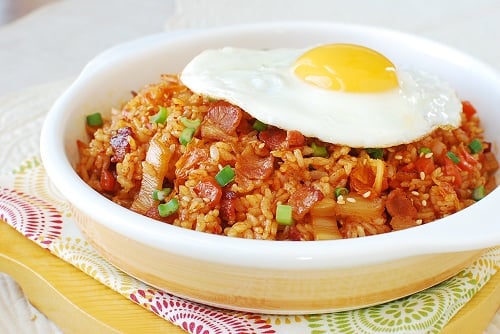 Kimchi Fried Rice (Kimchi Bokkeum Bap)
2016-01-31 21:32:50
Serves 2
a simple fried rice made with kimchi
Ingredients
2-1/2 cups cooked short grain rice - see note 1
3 - 4 strips of bacon, diced - see note 2
3/4 cup diced kimchi
1/4 small onion, diced
1 small carrot, diced
3 - 4 tablespoons juice from kimchi
1 tablespoon soy sauce
1 - 2 tablespoons Korean chili pepper paste (gochujang)
vegetable or canola oil for stir-fring
1/2 tablespoon sesame oil
salt and pepper to taste
Optional
1 teaspoon sesame seeds
1 scallion, chopped
2 eggs, fried
Instructions
Heat a lightly oiled large skillet over medium heat. Add the bacon pieces. Cook just until the bacon is slightly browned but not crisp. If you don't want all the rendered fat, remove the fat from the pan leaving about a tablespoon.

Add the kimchi, onion, carrots, juice from kimchi, soy sauce and gochujang. Stir fry until the kimchi turns soft and deep in color, 5 - 6 minutes. Take the time to do this step so the rich flavors develop.

Add the rice along with a tablespoon of oil, if you have removed the bacon fat.

Stir constantly until everything is well incorporated and the clumped up rice is broken up, about 5 minutes. Add salt and pepper to taste. Scrape up the flavorful brown bits from the pan while stirring. Mix in the sesame oil and the optional sesame seeds at the end.

Top with the optional fried egg, and garnish with the optional sesame seeds and chopped scallion and to serve.
Notes
1. Day old rice is the best. If the rice is hard after being in the fridge, heat it up in the microwave to soften it a little. If you need to make fresh rice for this dish, use a little less water than called for to make the rice slightly drier than usual.)
2. If using fresh raw meat (about 4 oz), season it with salt and pepper and set aside while preparing other ingredients. You can also add a small amount of garlic and/or ginger to flavor the meat. Coat the skillet with oil before cooking the meat.)
Korean Bapsang https://www.koreanbapsang.com/