This bulgogi rice bowl is an easy one-dish meal! The recipe adds extra veggies and sauce to make it a well balanced one-dish meal.

What is deopbap?
Literally meaning "covered rice," deopbap (덮밥) basically is a bowl of rice topped with some sort of topping. It's a casual one-dish meal that can be prepared with any dishes or ingredients that are enjoyed with rice. The full name of the dish is determined based on the main topping, such as ojingeo (squid) doepbap, dubu (tofu) deopbap, jeyuk (spicy pork) deopbap, etc.
As is the case in many other Asian cuisines, there are many types of rice bowls in Korea. Bibimbap is similar in concept, i.e., toppings on a bowl of rice, but it gets the name from the way it's eaten – mixing everything with a sauce.
While there are exceptions, doepbap generally is a rice bowl type where a little bit of saucy toppings is eaten with a spoonful of rice without being completely mixed like bibimbap.
Bulgogi deopbap is a common deopbap dish in Korea. This recipe has a full bulgogi recipe, but you can easily make this with leftover bulgogi simply by adding more vegetables and sauce for a well balanced one-dish meal.

How to make a bulgogi rice bowl
When you cook bulgogi, it will naturally release some delicious sauce. Try not to cook it off by lowering the heat.
I add a little bit more sauce when cooking the marinated meat, depending on how much sauce you want mixed in your rice. Anchovy broth or dasima broth is great for that extra sauce, but you can simply use water if you like. Make sure to season the broth/water not to dilute the seasoning of the meat.
When the rice absorbs that slightly sweet and savory sauce from the bulgogi, it's incredibly tasty!
You can use the same concept to make deopbap with dak bulgogi (chicken) or jeyuk bokkeum (spicy pork bulgogi).

Vegetable options
You can add some of your favorite vegetables while cooking bulgogi and make it a perfectly balanced meal. I added mushrooms and carrots in the recipe. Bok choy is another favorite of mine. Green cabbage, chili peppers, broccoli, bell peppers are all good options as well.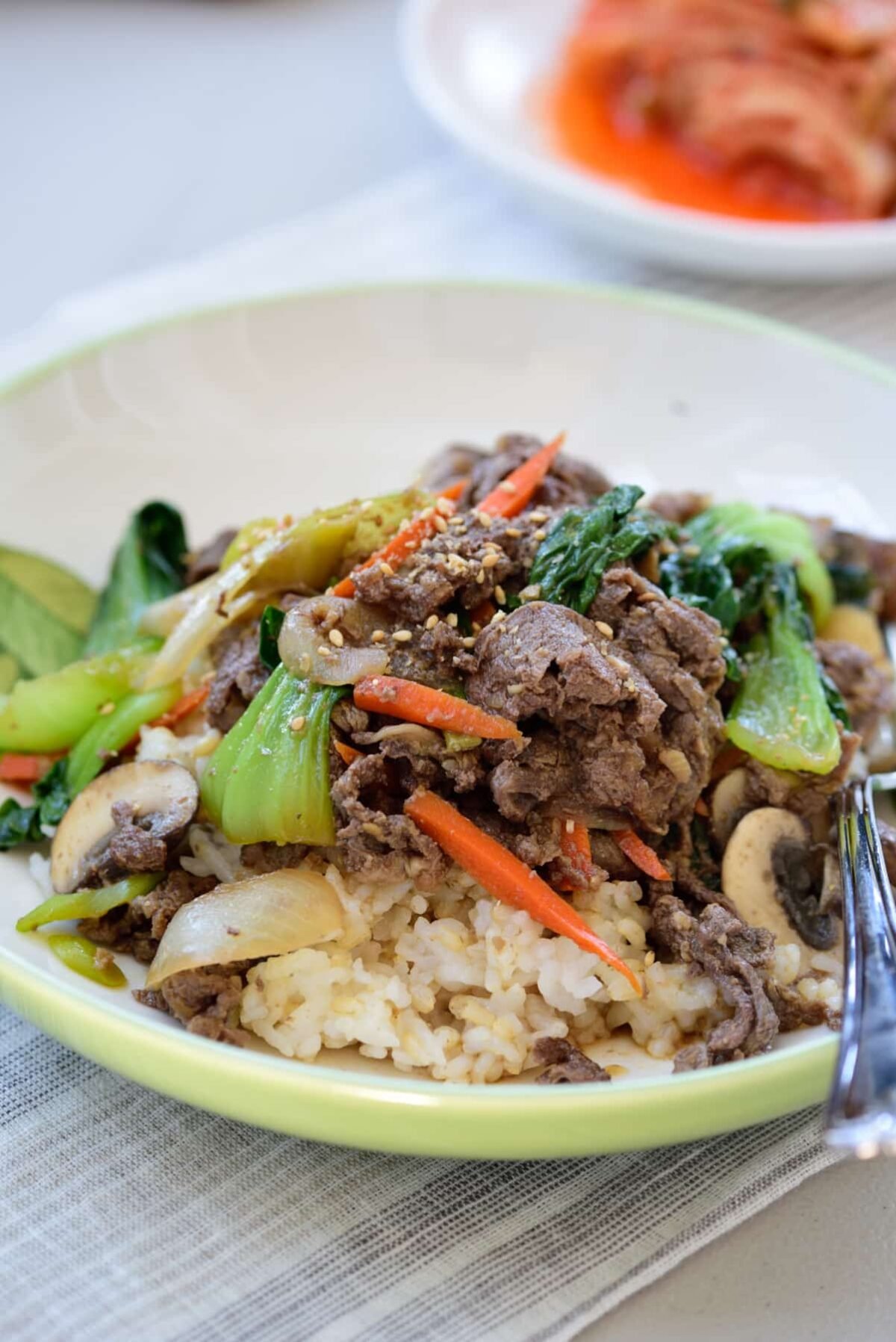 For more Korean cooking inspirations, follow along on YouTube, Pinterest, Twitter, Facebook, and Instagram.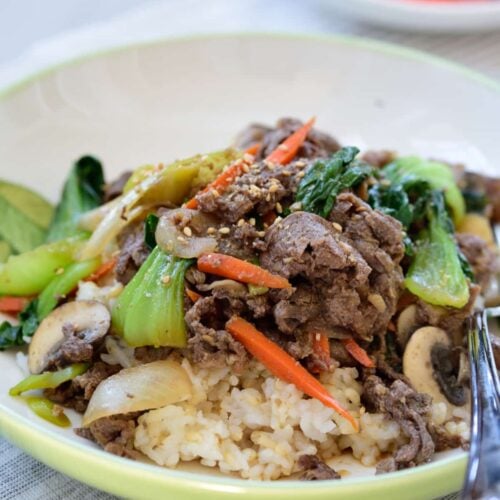 Ingredients
1

pound

thinly sliced beef (rib eye, top sirloin, chuck tender, etc.)

Note 1

2

scallions cut into 2-inch pieces

1/2

small onion thinly sliced

4

servings of cooked rice
Marinade
3

tablespoons

soy sauce

2

tablespoons

water

2

tablespoons

sugar

(or replace 1 TB with honey)

1

tablespoon

rice wine (mirin or mirim)

or mirin

1

tablespoon

minced garlic

1

tablespoon

sesame oil

1

teaspoon

sesame seeds

2

tablespoons

grated Asian pear (you can use more)

optional

⅛

teaspoon

pepper
Sauce
1/2

cup

water (or anchovy, dasima, or vegetable broth)

Note 2

1

teaspoon

soy sauce

1

teaspoon

sugar (omit for less sweet dish)
Vegetables (Note 3)
4

ounces

mushrooms (white, crimini, or shiitaki, oyster, etc.), thinly sliced

1

small carrot, thinly sliced
Instructions
Mix all the marinade ingredients in a large bowl.

If using packaged pre-sliced meat, separate the slices. Add the meat, onion, and scallions to the marinade. Toss gently, with hands, to mix everything well. Marinate for 30 minutes to an hour in the fridge.

Heat a skillet over medium high heat. Add the meat along with any remaining marinade. Cook the meat for about a minute. Try not to cook off the sauce by lowering the heat if needed. Then, add the vegetables and the sauce. Stir-fry for an additional 2 - 3 minutes until the meat and vegetables are cooked. Serve over rice.
Notes
Pre-sliced bulgogi meat is sold at Korean markets. Pay a little more to get good quality meat. If cutting the beef at home, partially freeze for about an hour to firm it up for easier slicing. Cut across the grain into about

⅛

- inch thick slices.
Recipes: anchovy broth or dasima or vegetable broth.
Bok choy, green cabbage, chili peppers, broccoli, and bell peppers are all good options as well.
This recipe was originally posted in December 2011. I've updated it here with more information, new photos, and minor changes to the recipe.