This chicken stir fry is made with chicken breast and baby bok choy. The sauce is light yet rich in flavor, which goes well with chicken breast. It's quick, easy and versatile!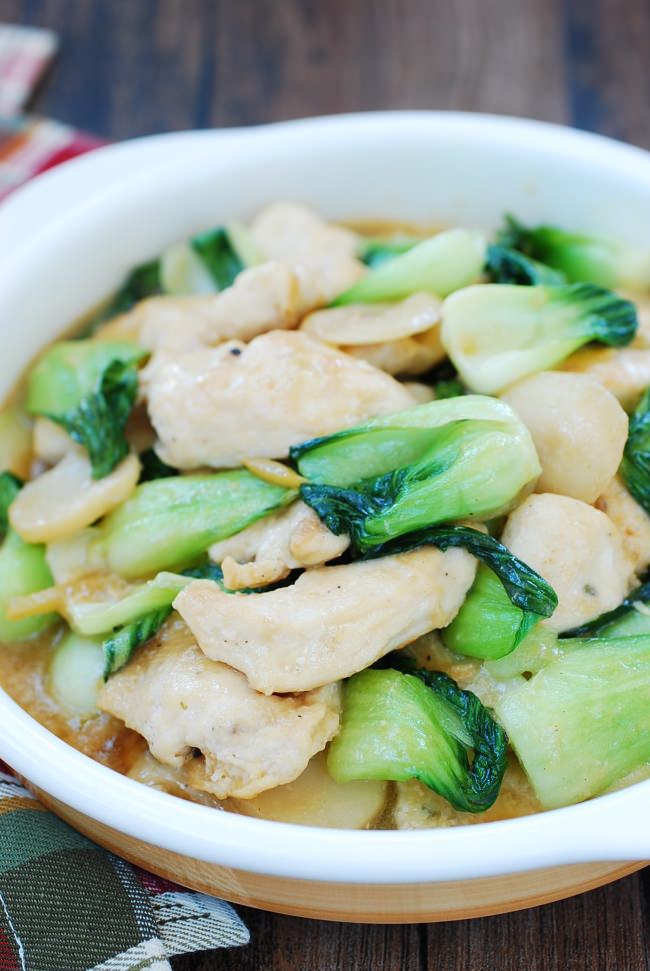 This Chinese-style stir-fried chicken with baby bok choy (cheong-gyeong-chae, 청경채) is perfect for a quick weeknight meal! If you make a larger batch, it's also great for a dinner party. Quick, easy, and versatile!
The Korean name of the dish is dak cheonggyeongchae bokkeum (닭청경채볶음). Bokkeum refers to dishes that are stir-fried or sautéed in oil and/or a sauce. Chinese-style stir-fried dishes are popular in Korea as part of Korean-Chinese cuisine. If you learn a few techniques, you can easily create various stir-fried dishes with different meats and vegetables.
How to make chicken stir fry with bok choy
First, coat the bite sized chicken breast with cornstarch and egg white. This keeps the chicken moist and tender, and gives a nice sheen. Then, the chicken is quickly pan-fried before the actual stir-frying happens with the sauce and vegetables.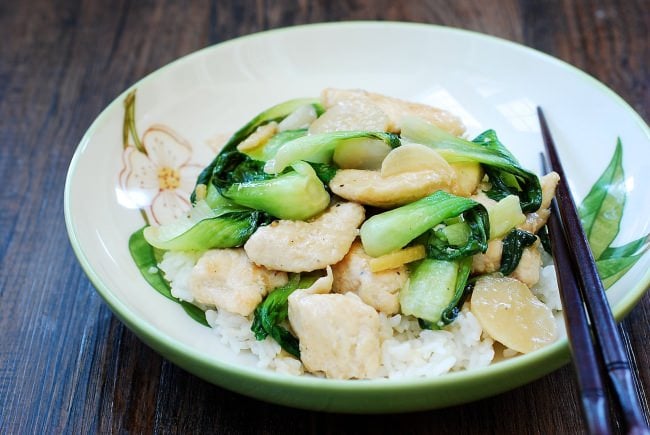 For chicken breast, I like the sauce to be light yet rich in flavor. I used store-bought good quality chicken broth as a sauce base, but you can simply use water. I flavored the sauce with a little bit of oyster sauce. You can use soy sauce instead if you don't have oyster sauce.
You can also substitute the bok choy with broccoli, asparagus, kale, or other green leafy vegetables if you like. If you use one of these alternative vegetables which takes longer to cook, blanch them in salted boiling water before stir-frying. Be sure to drain the vegetable well before using in the stir-fry, so it won't dilute the sauce. I added optional canned water chestnuts in this recipe. Canned bamboo shoots or baby corn will be nice compliment to the dish as well.
The stir-frying process goes very quickly, so prepare all of your ingredients before you begin.
More chicken stir fry recipes
Chicken stir fry with kale and mushrooms
Stir-fried chicken and summer vegetables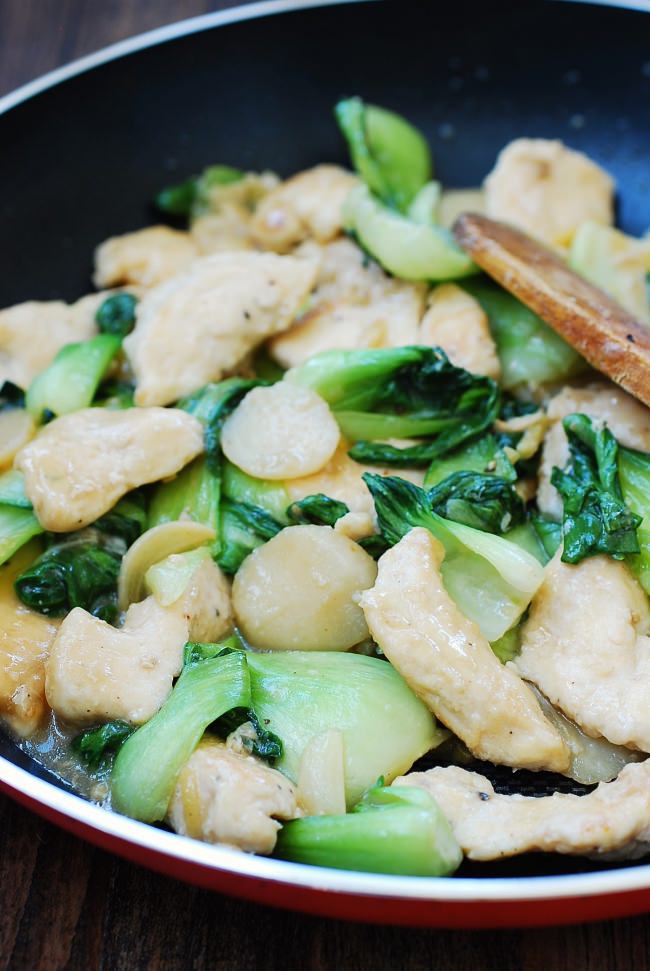 For more Korean cooking inspirations, follow along on YouTube, Pinterest, Twitter, Facebook, and Instagram.
Ingredients
1

chicken breast

10 to 12 ounces

salt and pepper

1

tablespoon

cornstarch

1

egg white

10 to 12

ounces

baby bok choy

or regular bok choy cut into small pieces

2 - 3

ounces

of water chestnut

drained - optional

2

tablespoons

canola or vegetable oil for frying

divided
Sauce:
2

plump garlic cloves

1

inch

chunk ginger

1

tablespoon

rice wine

or mirin

1/2

cup

chicken broth or water

1/2

tablespoon

oyster sauce

or soy sauce with 1/4 teaspoon sugar

1

tablespoon

cornstarch mixed in 2 tablespoons water

starch slurry

salt and pepper

1

teaspoon

sesame oil
Instructions
Cut the chicken into thin bite size pieces against the grain (about 1/4-inch thick).

Season the chicken with salt (about 1/4 teaspoon) and pepper, and then mix well with the cornstarch and egg white until the chicken is well coated. Let it sit while you prepare the other ingredients.

Separate the leaves by cutting off the stem of each bok choy. Rinse them a couple of times, and drain well.

Thinly slice the garlic, and julienne the ginger.

Heat a large non-stick skillet or wok over high heat. Add a tablespoon of oil. Add the chicken pieces in one layer and cook until they are no longer pink, about a minute each side. The chicken does not need to be cooked through at this point. Transfer the chicken to a plate.

Reheat the skillet over high heat. Add a tablespoon of the oil. Stir in the garlic and ginger, and cook just enough to infuse the oil with flavor. Add the rice wine, and cook for a minute. Pour in the chicken broth (or water), add the oyster sauce (or soy sauce and sugar), and boil for a couple of minutes.

Return the chicken to the skillet, and add the bok choy and optional water chestnut. Stir-fry everything together, for one or two minutes, until the bok choy is wilted. Taste the sauce, and sprinkle with salt and pepper to taste. Drizzle the starch slurry over and quickly stir everything together until the sauce is well incorporated. Add the sesame oil, and give it a quick stir.

Serve hot with or over steamed rice.