In late fall, Korean homes make enough kimchi to last through the winter and early spring. By this point in spring, the kimchi has aged and tastes pretty sour. While old kimchi is great for dishes such as kimchi jjigae, kimchi jjim, kimchi jeon, etc., we crave fresh kimchi. This makes a salad-like kimchi, called geotjeori (겉절이), a popular spring dish.
Geotjeori is made in a small amount for immediate consumption without fermentation. Geot means outer or outside, and jeori means salted or pickled, so the name, geotjeori, implies that the vegetables are lightly salted unlike normal kimchi, which is fermented.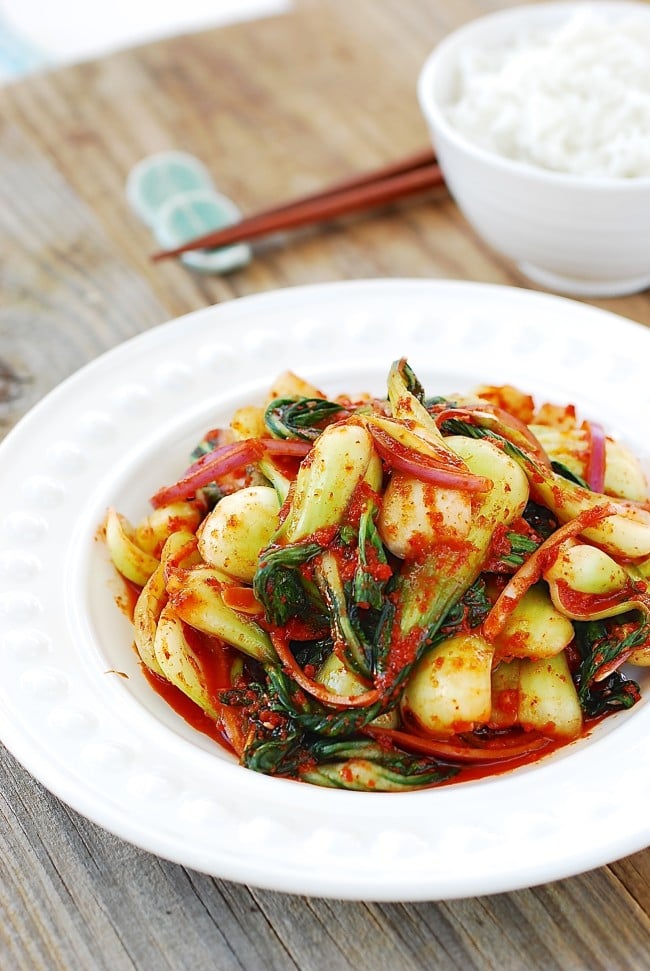 Geotjeori is typically made with napa cabbage or other varieties of cabbages such as young cabbage called putbaechu or spring cabbage called bomdong (봄동). Here, I made it with tender baby bok choy. In Korea, bok choy is called cheongyeongchae (청경채), so the name of this dish is cheonggyeonchae geotjeori.
Typical kimchi seasoning is used to make geotjeori. Every household makes it a little differently. My mother adds sesame oil to her geotjeori, and some of my friends even add a little vinegar.
So, here's a quick and easy recipe when you need to whip up a kimchi substitute or when you want fresh kimchi.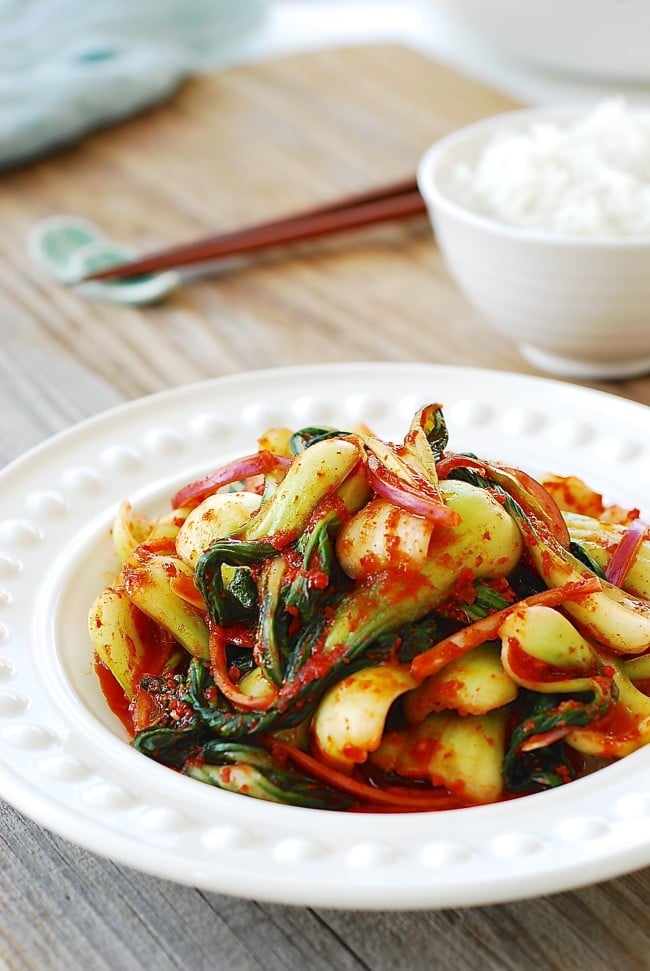 Baby Bok Choy Kimchi Salad (Geotjeori)
2015-04-06 03:37:49
Serves 6
A quick and easy kimchi salad made with baby bok choy
Ingredients
1 pound baby bok choy
1-1/2 tablespoons salt
1/2 red onion, thinly sliced
2 scallions, roughly chopped
Seasoning ingredients
2 tablespoons gochugaru (Korean red chili pepper flakes)
1 tablespoon fish sauce
1 teaspoon saeujeot (salted shrimp), finely chopped (or use more fish sauce)
1 teaspoon sesame oil
1/2 teaspoon sesame seeds
2 teaspoons sugar (or corn syrup or Korean rice syrup)
2 teaspoons minced garlic
1/4 teaspoon grated ginger
Instructions
Place the bok choy in a large bowl, sprinkle with the salt, and toss well to coat evenly. Leave it for 30 to 40 minutes until softened, flipping over once halfway through.

Korean Bapsang https://www.koreanbapsang.com/