Fresh green chili peppers seasoned with doenjang (Korean fermented soybean paste) make for a simple summer side dish that goes especially well with Korean BBQ.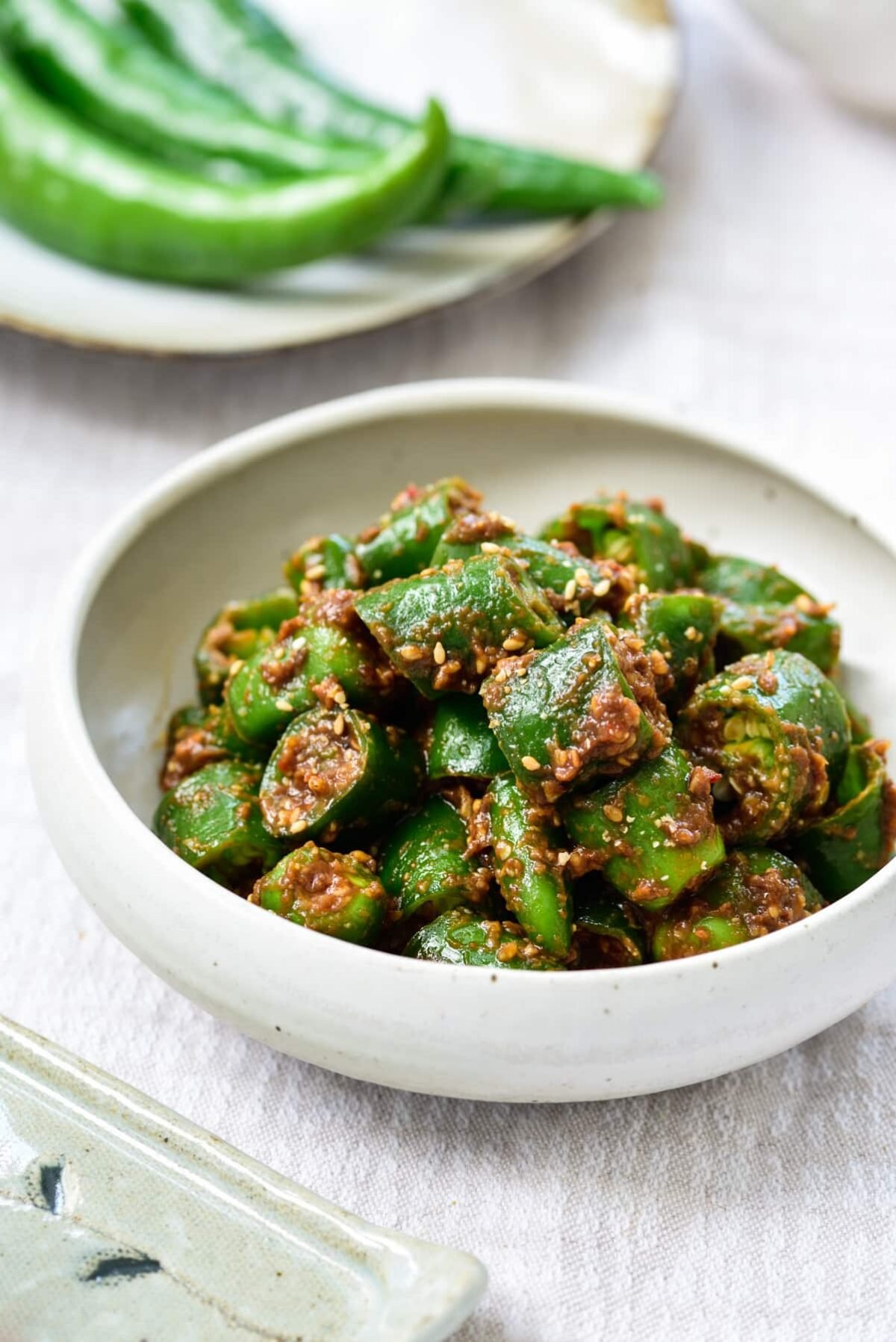 Koreans often enjoy fresh green chili peppers dipped in ssamjang, a doenjang (된장, Korean fermented soybean paste) based sauce. This recipe offers a different take on how you can enjoy chili peppers with a similar sauce. If you're growing Korean chili peppers in your backyard, this dish is an excellent garden-to-table option that showcases the freshness of the vegetable and the savory flavor of doenjang.
The vegetable dishes seasoned with doenjang are called doenjang muchim (된장무침). When made with gochu (고추, chili peppers), it's called gochu doenjang muchim (고추된장무침). In Korea, doenjang muchim is very popular with various vegetables such as putbaechu (풋배추, young napa cabbage), bok choy, spinach, etc. The green leafy vegetables are blanched and then seasoned.
This dish made with chili peppers is quick (less than 10 minutes) because you just mix fresh chili peppers with a doenjang mixture, similar to ssamjang.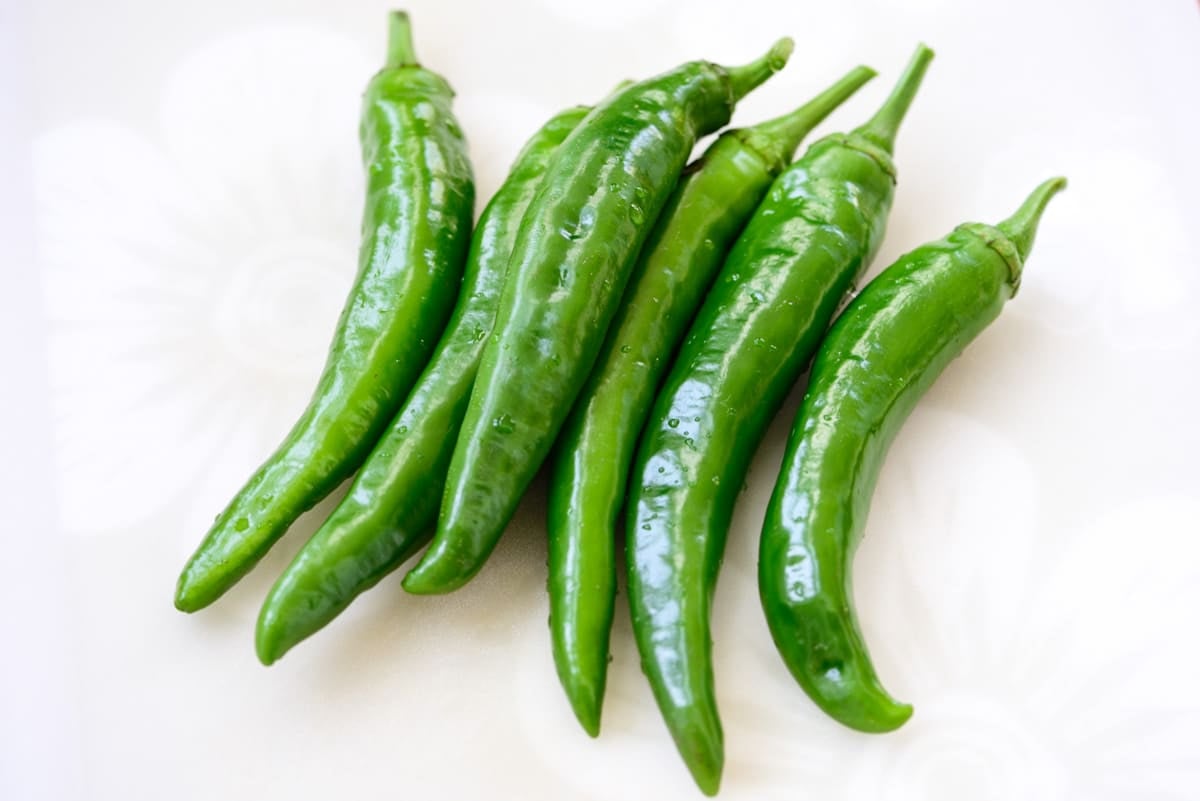 Which chili peppers to use
While you can use any mild green chili peppers with a thin to medium thick skin, Koreans usually make this dish with a mild variety called asagi gochu (아삭이고추). These peppers are long and plump, have a crunchy texture and taste slightly sweet. The word "asag" means crunchy in Korean. Oi gochu (오이고추) is another name for them, because they are refreshingly sweet and crunchy, much like cucumbers.
There are several other types of Korean chili peppers, each with its own flavor and heat level. Putgochu (풋고추) is the general term used to refer to young green chili peppers, mild or spicy. The most common types of Korean chili peppers mature into red chili peppers (honggochu, 홍고추), and their primary use is to create gochugaru. Cheongyang gochu (청양고추), green or red, is a very spicy type that's used in various dishes, but too spicy for this dish.
Fortunately, asagi gochu is available in Korean markets near me, so I can still make this dish until my homegrown peppers are ready. You might see them simply labeled as "Korean chili peppers."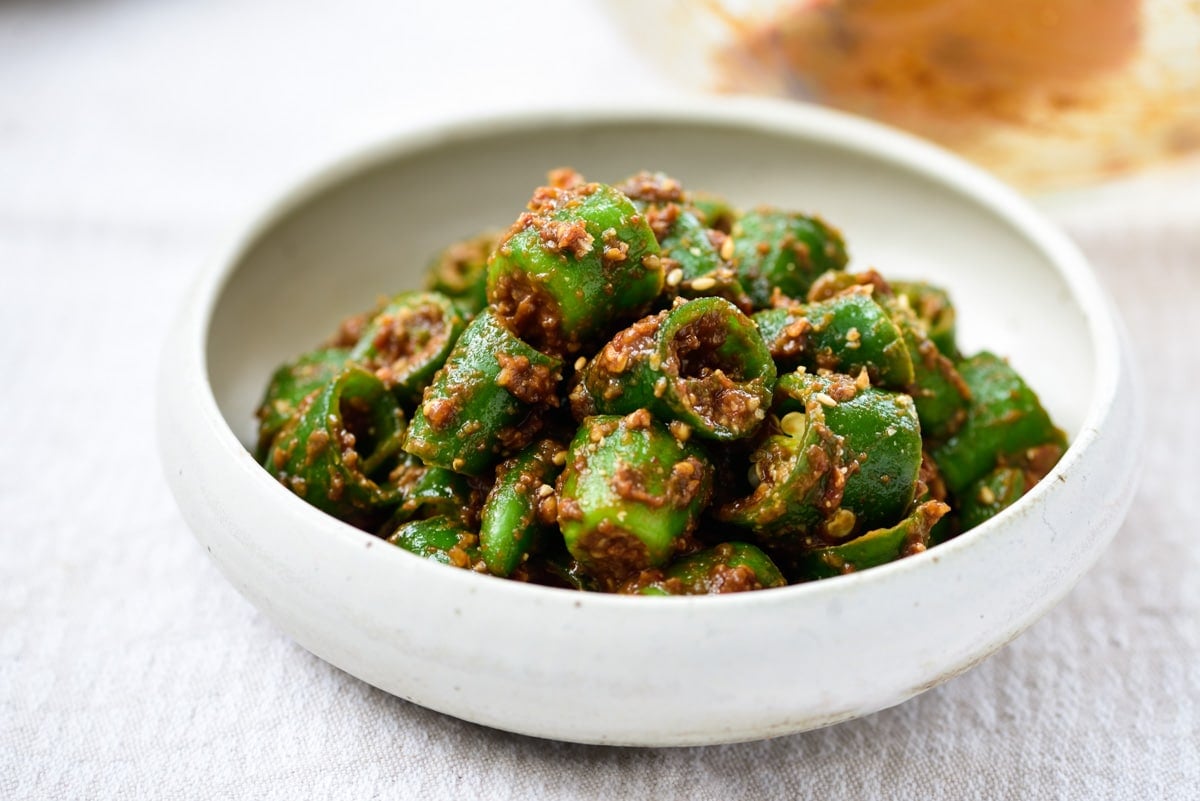 The doenjang sauce
Although the dish is primarily seasoned with doenjang, I highly recommend adding some gochujang (Korean red chili pepper paste) as well for an added layer of flavor. If you prefer, you can substitute gochujang with a bit of gochugaru (Korean red chili pepper flakes) or just use doenjang.
The salt level in doenjang and gochujang varies depending on the brand. Adjust the amounts to your taste by using more or less than the recipe calls for.
A generous amount of sesame oil and sesame seeds will complete the dish perfectly. Don't skip!
Storage
As mentioned above, the freshness is a highlight of this dish. Eating it on the same day is ideal. You can keep the dish in the fridge for 2-3 days, but the peppers will release water because of the salt content in doenjang.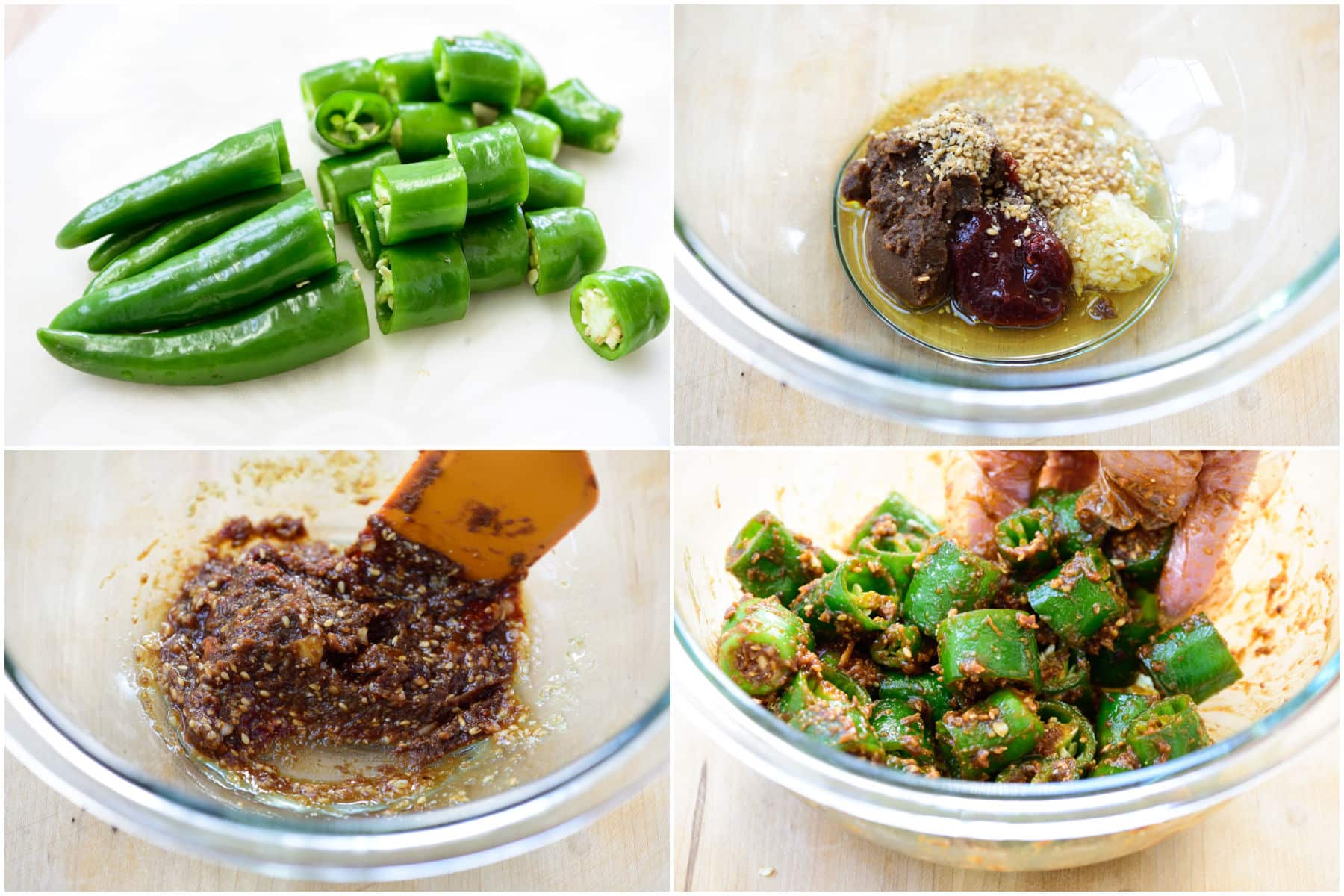 For more Korean cooking inspirations, follow along on YouTube, Pinterest, Twitter, Facebook, and Instagram.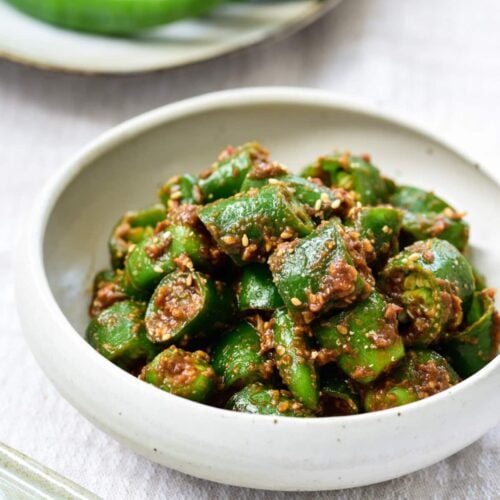 Gochu doenjang muchim (green chili peppers seasoned with doenjang)
Side Dish
Print Recipe
Ingredients
5

ounces

mild green chili peppers (Korean asagi gochu, 아삭이고추)

6 to 8, depending on the size

1.5

tablespoons

doenjang 된장 (Korean feremented soybean paste)

1/2

tablespoon

gochujang, 고추장 (Korean red chili pepper paste)

or 1 teaspoon gochugaru (Korean red chili pepper flakes)

1

teaspoon

minced garlic

1/2

teaspoon

sugar or 2-3 teaspoons maesilcheong 매실청 (Korean plum syrup)

or any other sugar substitute of your choice

2

teaspoons

sesame oil

2

teaspoons

crushed sesame seeds
Instructions
Trim off the stems, and rinse the peppers. Cut them into one-inch pieces.

In a bowl, combine doenjang, gochujang, garlic, sugar (or substitute), sesame oil and sesame seeds and mix well.

Add the peppers and toss everything well with a spoon or by hand until each piece is well coated with the sauce. Adjust the seasoning to taste by adding more doenjang or gochujang (or gochugaru).