For you Korean drama and food lovers, let's take a close look at the dishes featured in some of the popular K-dramas. This first of my K-drama food series is Itaewon Class!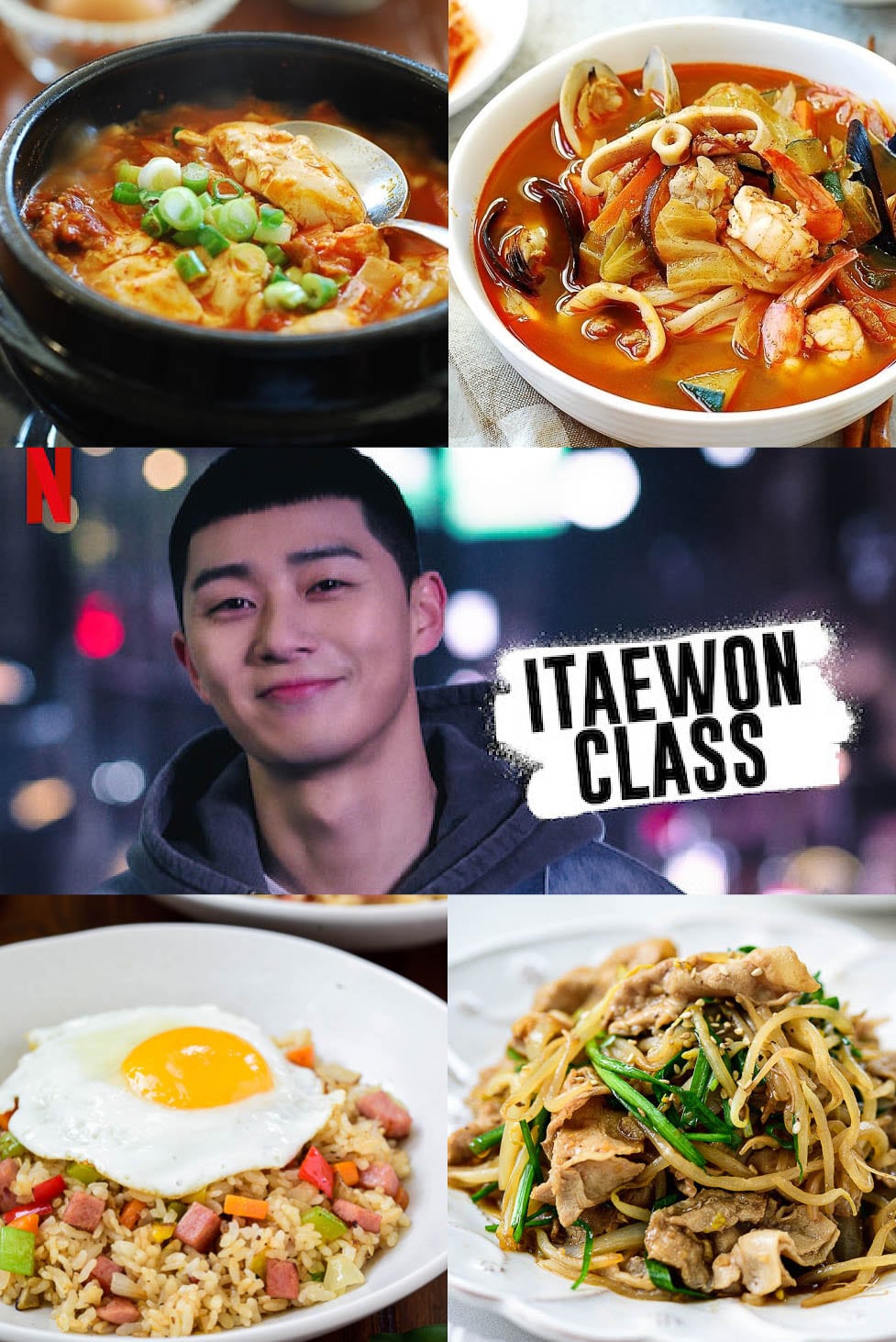 Have you indulged in a Korean drama yet? Or, are you a K-drama addict like me? Korean dramas have taken the world by a storm, especially during the pandemic. These highly addictive TV series, without fail, draw you into the dramatic twists and turns, leaving you laughing, crying, angry, happy, swooning and hungry. They are masterfully crafted to elicit emotions about love, family, wealth, crime, culture and yes FOOD!
Every single K-drama is peppered with scenes of eating. You'll definitely see Koreans' love for food and gathering around the table with family and friends. To me, it's always the icing on the cake when my favorite dramas are loaded with mouth-watering food scenes.
As you watch the dramas, you will inevitably be left with hunger pains and massive cravings. If you've watched a few, you probably even recognize some recurring dishes such as instant ramyeon noodles, jajangmyeon, kimbap, chimaek, and samgyupsal.
In my new Korean drama series, we'll take a close look at the dishes featured in some of the popular dramas, one at a time. Let's start with the award-winning series, Itaewon Class!
ITAEWON CLASS
This popular K-drama is about an ex-con who sets out to conquer the trendy night food scene and avenge his father's death by opening a pub (pocha, 포차 in Korean) called Danbam (meaning sweet night). Of course, this is a gross oversimplification of the multiple story lines that drive this series.
Aside from food, which is the natural backdrop to this story, this award winning series intertwines family strife, death, vengeance, comedy and love. If that's not enough of a reason to watch, this k-drama has received many accolades for breaking stigmatized barriers and distinguishing itself from other k-dramas by tackling difficult topics with complex and interesting characters.
Here is the list of "food" characters that make a meaningful appearance in Itaewon Class. I know you'll be inspired to make some of these dishes after watching the drama.
Fried Rice – Episode 1
Saeroyi (the main character who's a high school kid at this point) prepares breakfast for himself and his father. The presence and importance of food in this drama series starts early. Saeroyi uses bell peppers, onions, zucchini, carrots and Spam to make his fried rice.
This is a great dish to improvise with whatever hearty vegetables you have in the fridge. Saeroyi cuts his vegetables and Spam into small dices, stir-fry them before adding rice. If you need more on the basic techniques for making fried rice, see my Omurice, Kimchi Fried Rice, and Egg Fried Rice.
The fried rice is complemented by Kongnamul Guk (soybean sprout soup). Saeroyi receives praise for his culinary skills in making the fried rice but his father has a very humorous comment for his Kongnamul Guk.
As a side note, Yeonguen Jorim and Maneul Jangajji appear as extras on this breakfast table.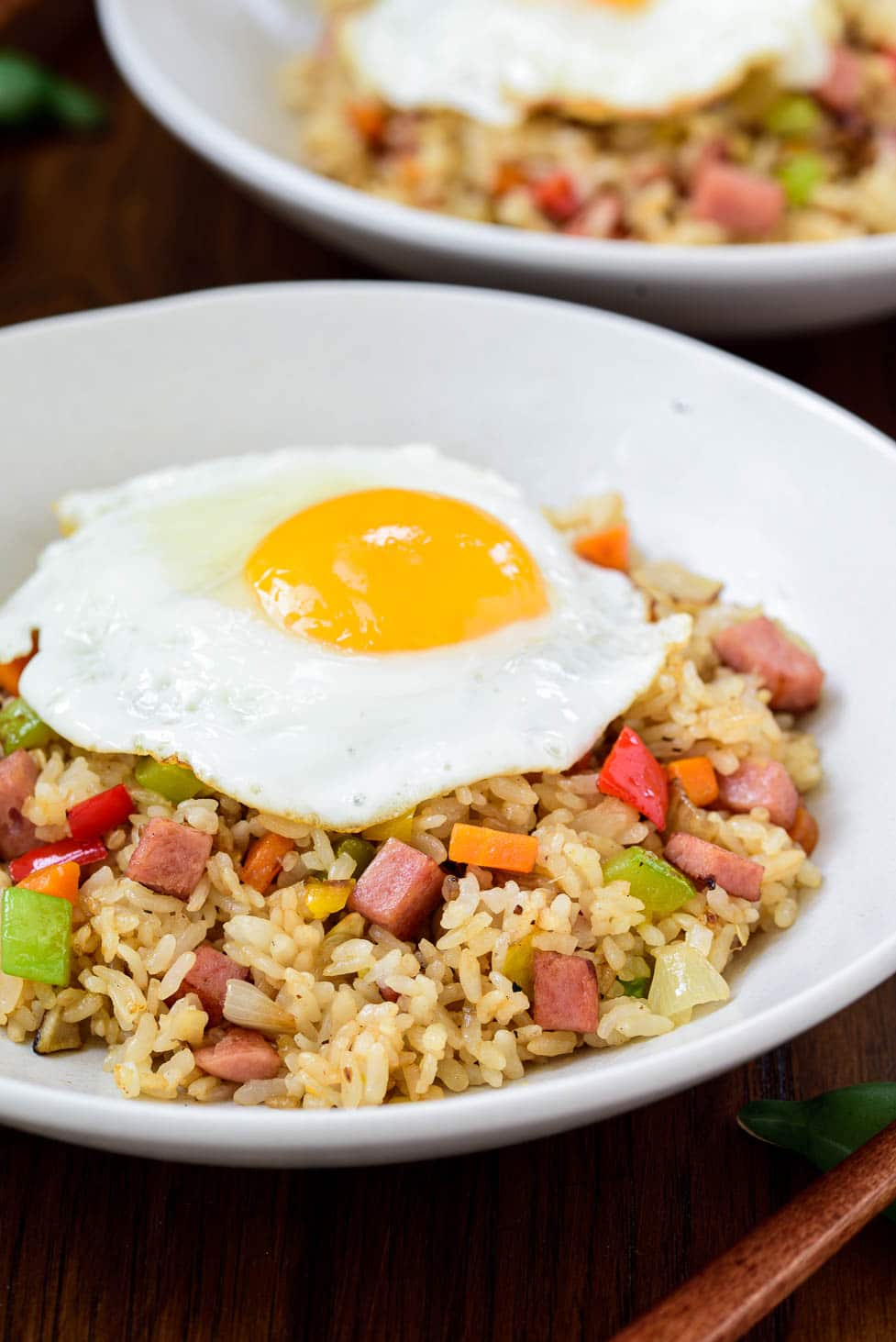 Sundubu Jjigae –Episode 5, 7 and 16
This dish is a prominent one in this series. It makes an appearance during some of the most pivotal scenes in the drama, especially the ending, which I won't give away.
In episode 5, the pub staff eat Saeroyi's Sundubu Jjigae after the close of business. One of his employees makes a comment it's the best sundubu he's ever had.
Sundubu Jjigae makes a star appearance in Episode 7 and 16 which symbolically is the beginning and the end. The second scene is so riveting it will be hard to pull your eyes away even if you have not seen the entire series. I guarantee after watching this scene you will want to go back and watch the whole series.
Saeroyi describes sundubu as a dish that on a cold day spreads warmth throughout the body. Next time it's a cool night try making Sundubu Jjigae to warm your body and your soul. Then again, this bubbling hot, deliciously comforting food is good any time of year.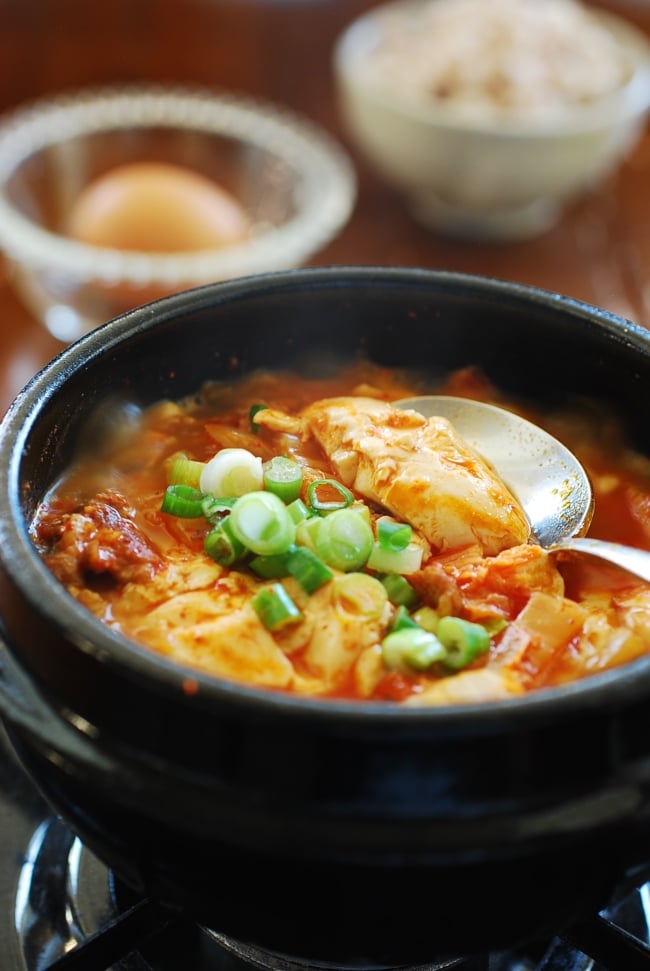 Sukju samgyup bokkeum (Stir fried pork belly with bean sprouts) – Episode 7
In Episode 7, Saeroyi's rival makes an unexpected visit to Danbam and asks for the restaurant's best stew and best stir fried dish. Sundubu jigae is presented along with Sukju samgyup bokkeum (Stir fried pork belly with bean sprouts).
The stir-fried pork belly with bean sprouts is popular as anju (drinking snack) in Korea. It's a quick and easy dish that's equally great as a side or main dish. I'll share my recipe soon. Meanwhile, jeyuk bokkeum (spicy stir-fried pork) is also on Danbam's menu, which appears in Episode 5.
Saeroyi serves these two dishes with kongjang (braised black soybeans) and stir-fried julienned potato side dishes.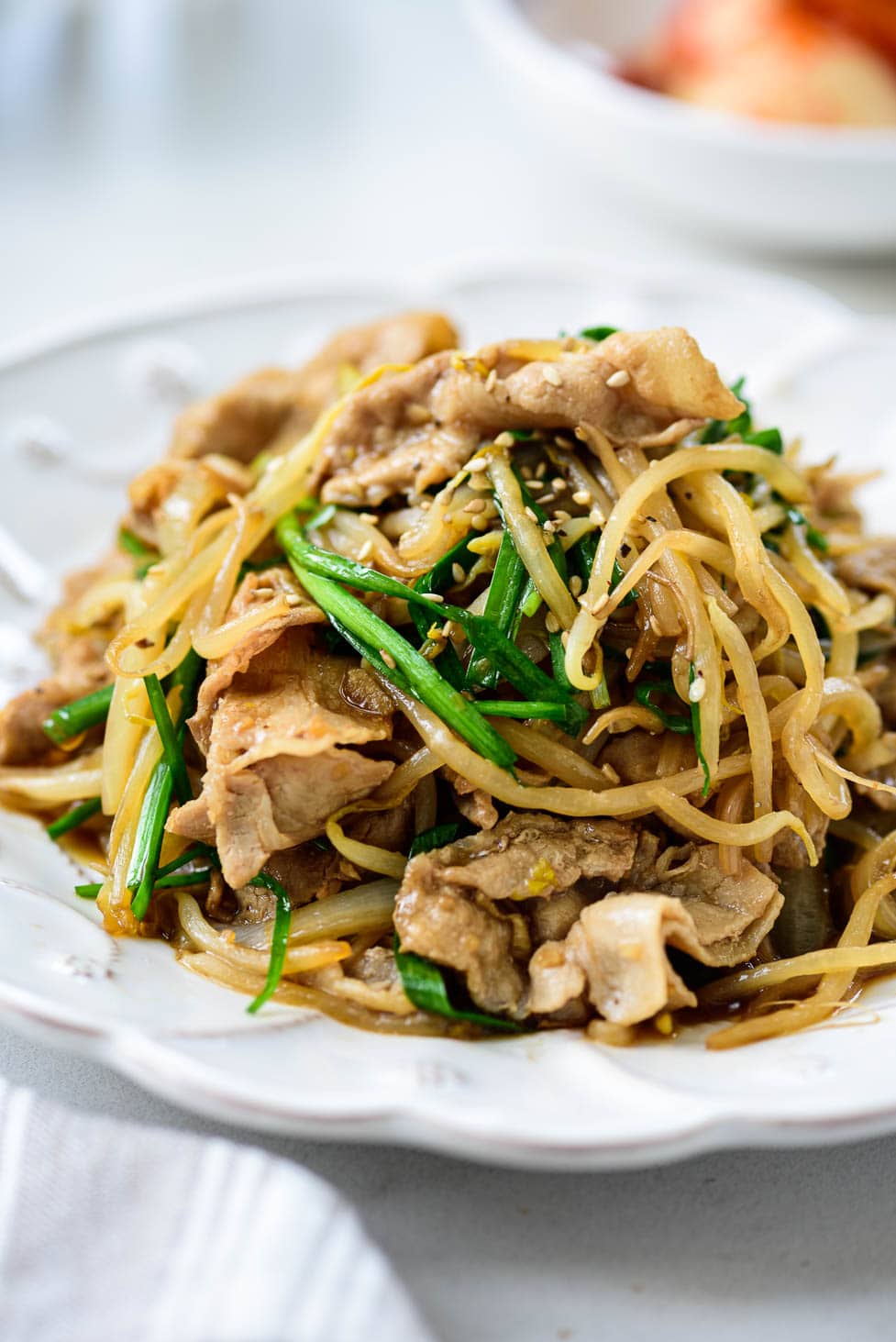 Jjamppong (Spicy Seafood Noodle Soup) — Episode 5 and 7
Ma Hyun-yi is hired as the chef at Danbam but fails with her mediocre food that leaves Danbam in danger of losing business. Instead of firing her, Saeroyi gives her a chance to prove herself, despite receiving opposition from Danbam's manager. In this scene, the viewer starts to understand that Saeroyi wants to give opportunities to individuals who don't always get a fair chance.
Hyun-yi makes several rounds of Jjamppong (also spelled jjambbong) before finally receiving acknowledgement from the same manager who wanted her to be fired.
The final bowl of Jjamppong is filled with fresh seafood and is drool worthy. You don't have to go through as many rounds as Hyun-yi did to make a perfect bowl of Jjambbong because I've made a recipe that anyone can follow!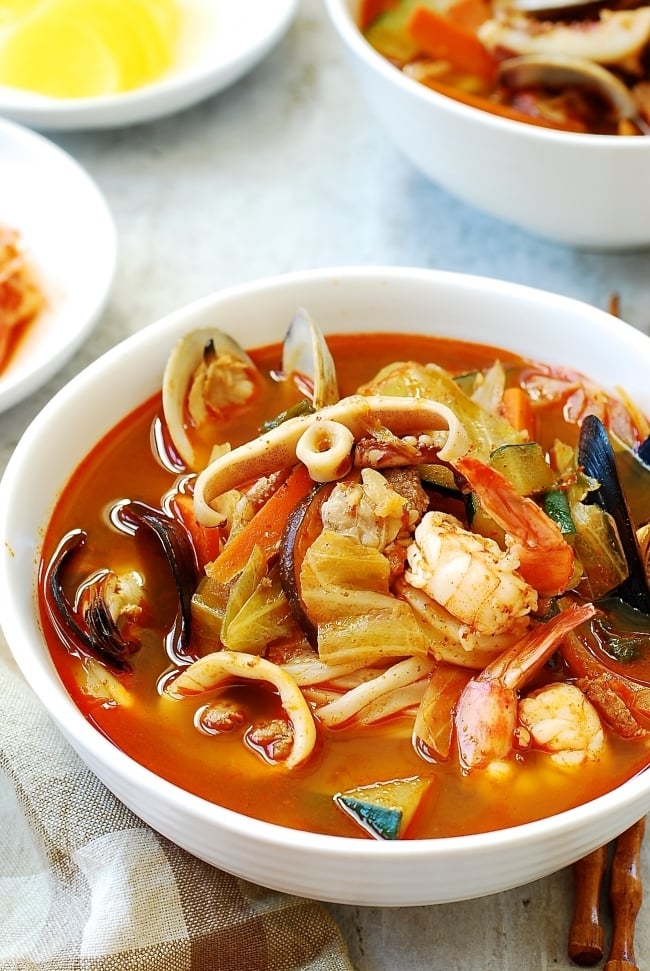 Are you inspired to make some of these dishes appeared in Itaewon Class or watch the drama if you haven't? I'd love to hear what you think of this inaugural Korean food drama series post.