Manduguk is a Korean soup made with mandu (dumplings). You can make this soup with any variation of dumplings, including pre-made store-bought ones and any flavorful broth including store-bought.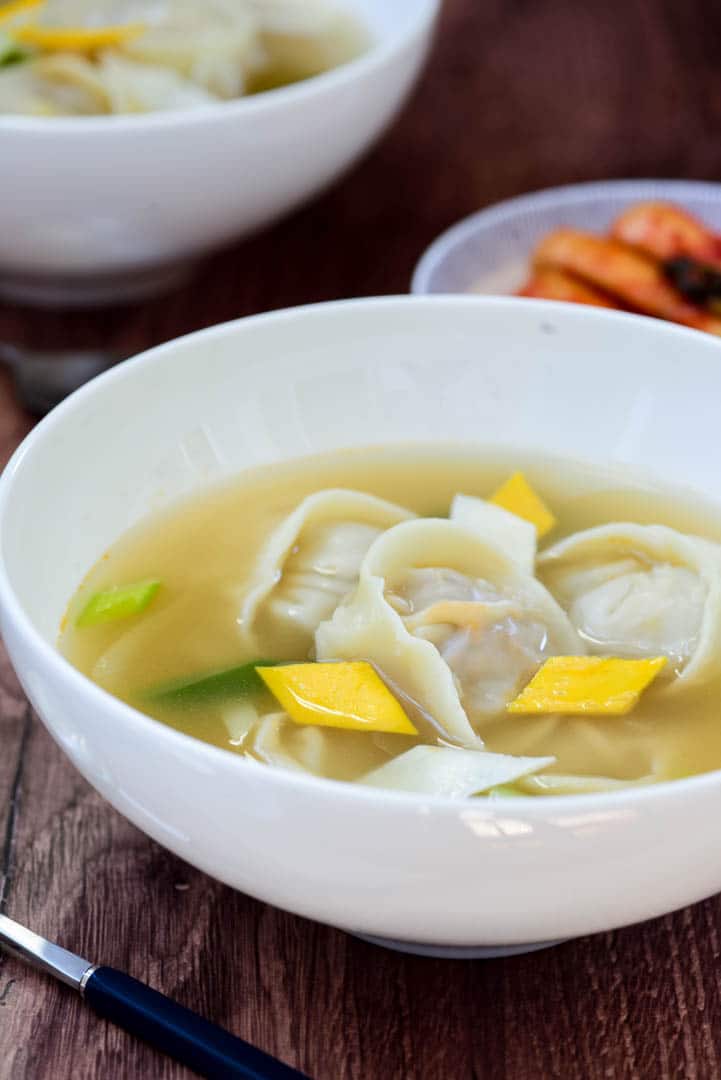 The most iconic Korean New Year's food is tteokguk (떡국, rice cake soup)! It's very common to add mandu (Korean dumplings), in which case the soup is called tteok-mandu-guk (or tteokmanduguk, 떡만두국). However, in the north (now North Korea), manduguk (or mandu guk, 만두국), which is made only with dumplings, is a New Year tradition.
Because the climate and land are not suitable to grow rice, this variation without rice cakes is popular in the north. Manduguk is the soup my husband grew up eating because his parents are originally from the north (prior to the division of Korea). They were among the millions who were separated from their families as they fled to the south during the Korean war (1950 – 1953).
Manduguk is a warming and comforting bowl of soup you can easily make at home!
I've already covered how to make tteok guk and tteok manduguk with beef broth. You can make mandu guk the same way using one of those recipes. In this updated manduguk post (originally posted in January 2011), I'll show you some other variations (or ideas) so you can easily make a delicious dumpling soup at home.
Mandu (dumplings)
You can make manduguk with any variation of Korean dumplings, including pre-made store-bought ones. If you want to try making dumplings at home, try my kimchi mandu or classic mandu without kimchi. Homemade dumplings are totally worth the effort! Keep them in the freezer. They will come in handy when you want to make some warming, comforting soup.
For convenience, you can also use store-bought dumplings to make this soup. They usually come in frozen and most likely pre-cooked. You can simply add the frozen dumplings to boiling broth to make a soup.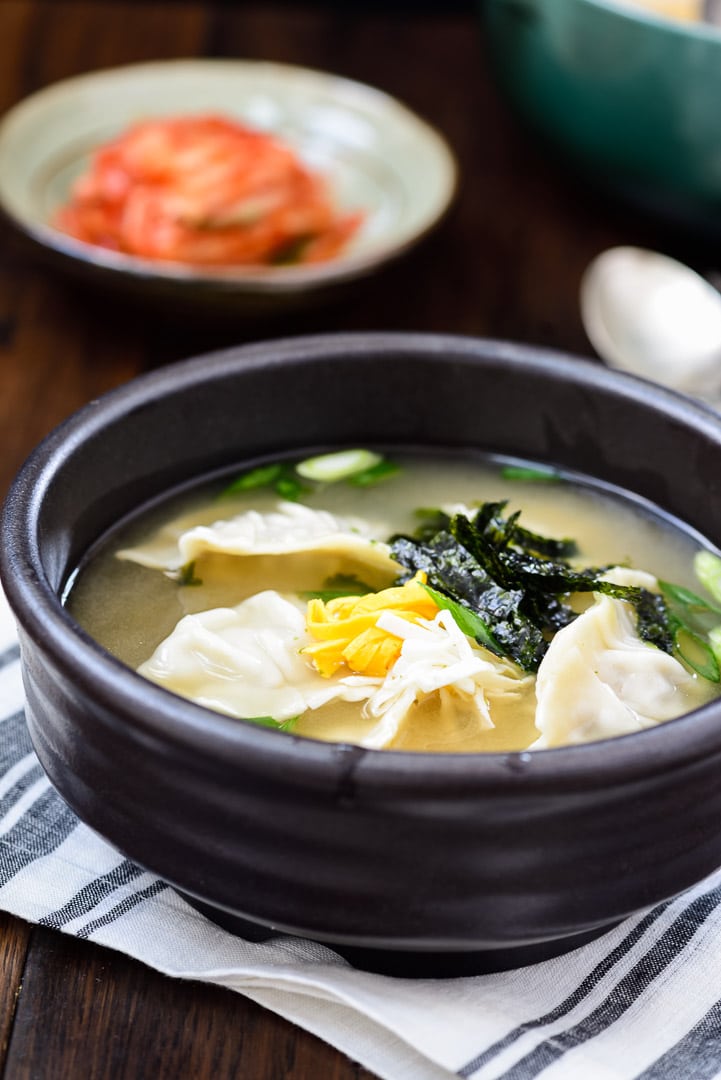 Manduguk soup base
As mentioned above, beef broth is classic for this type of soup. In Korean homes, it's also common to use milky beef bone broth, known as sagolguk (사골국), sagoltang (사골탕), or seolleongtang (설롱탕). I often make a large batch and freeze some for later use. It really makes a delicious soup base for many Korean soups such as this mandu guk. You can also find pre-cooked, commercially packaged milky bone broth at Korean markets or on-line.
Sometimes, I like to make this soup in a simple anchovy broth for a nice clean taste. Or, I simply grab store-bought chicken broth from the pantry to make a quick meal. Of course, you can use any type of your favorite store-bought broth.
For a vegan option, use vegan dumplings with vegetable broth.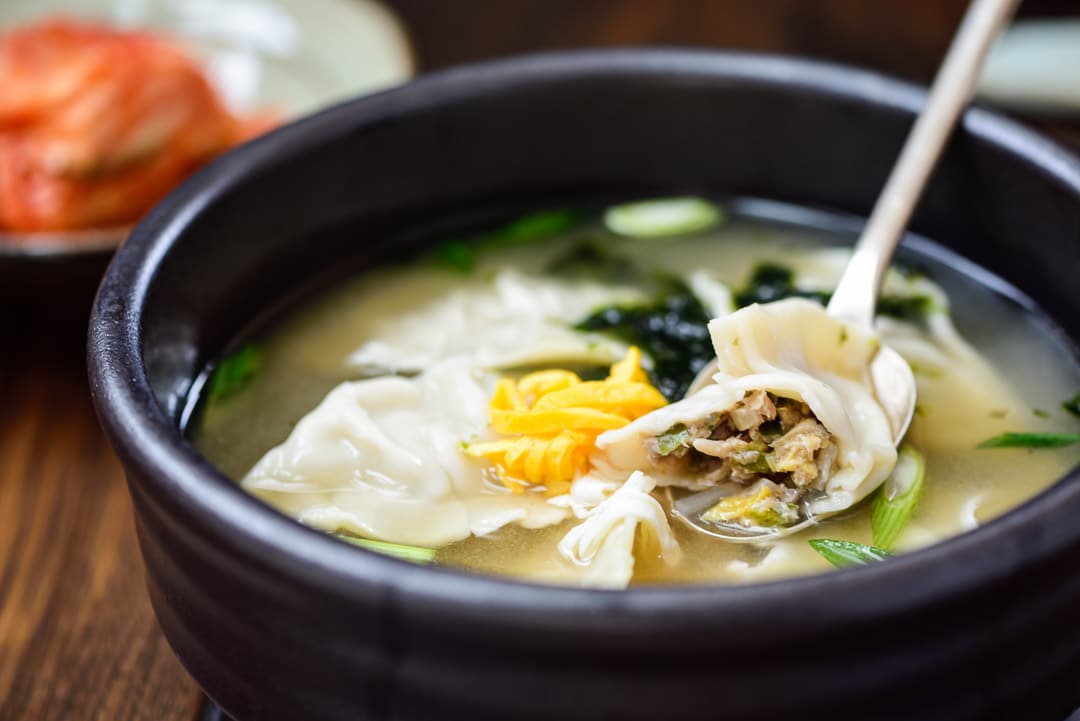 For more Korean cooking inspirations, follow along on YouTube, Pinterest, Twitter, Facebook, and Instagram.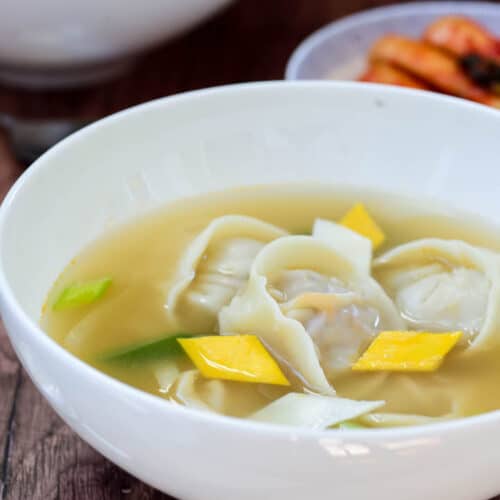 Ingredients
10

pieces

mandu (dumplings) - adjust to your serving size

See note 1
Broth:
5

cups

chicken broth (or other flavorful broth such as beef broth, anchovy broth, vegetable broth, etc.)

See note 2

1

tablespoon

guk ganjang (soup soy sauce)

or fish sauce (or omit and simply season with salt)

Salt and pepper to taste

2

teaspoons

minced garlic

1

scallion
Garnish (optional):
1

egg

1/2

sheet

gim (김), seaweed sheet (aka laver, nori)

roasted and crusted
Instructions
In a medium size pot, add 5 cups of chicken broth (or broth of your choice). (See note below.) Bring it to a boil over medium high heat.

Stir in the garlic, soy sauce, and salt and pepper to taste. Add the mandu pieces, stirring gently so they don't stick to the bottom of the pot. Boil until all of them float, and reduce the heat to medium and boil for an additional minute or two.

Slice the scallion into thin strips. Cut the thin egg omelette (see below) into strips and then into diamond shapes or roll it and slice into thin strips.

Ladle the steaming soup into bowls and garnish with the scallion and optional egg jidan and/or gim.
How to make jidan - egg garnish (Optional)
Beat the egg. You can separate the egg if you want and gently whisk each part. Heat a lightly oiled small nonstick skillet over medium heat and pour the egg mixture (or each egg part if separated) into a thin layer, tilting the skillet (similar to making crepe). Cook each side until no visible egg liquid remains. (Do not brown the egg.)