This cold noodle dish is perfect as a pot luck dish or an accompanying dish to your Korean BBQ.
It's a beautiful dish you can easily create with your choices of vegetables and proteins.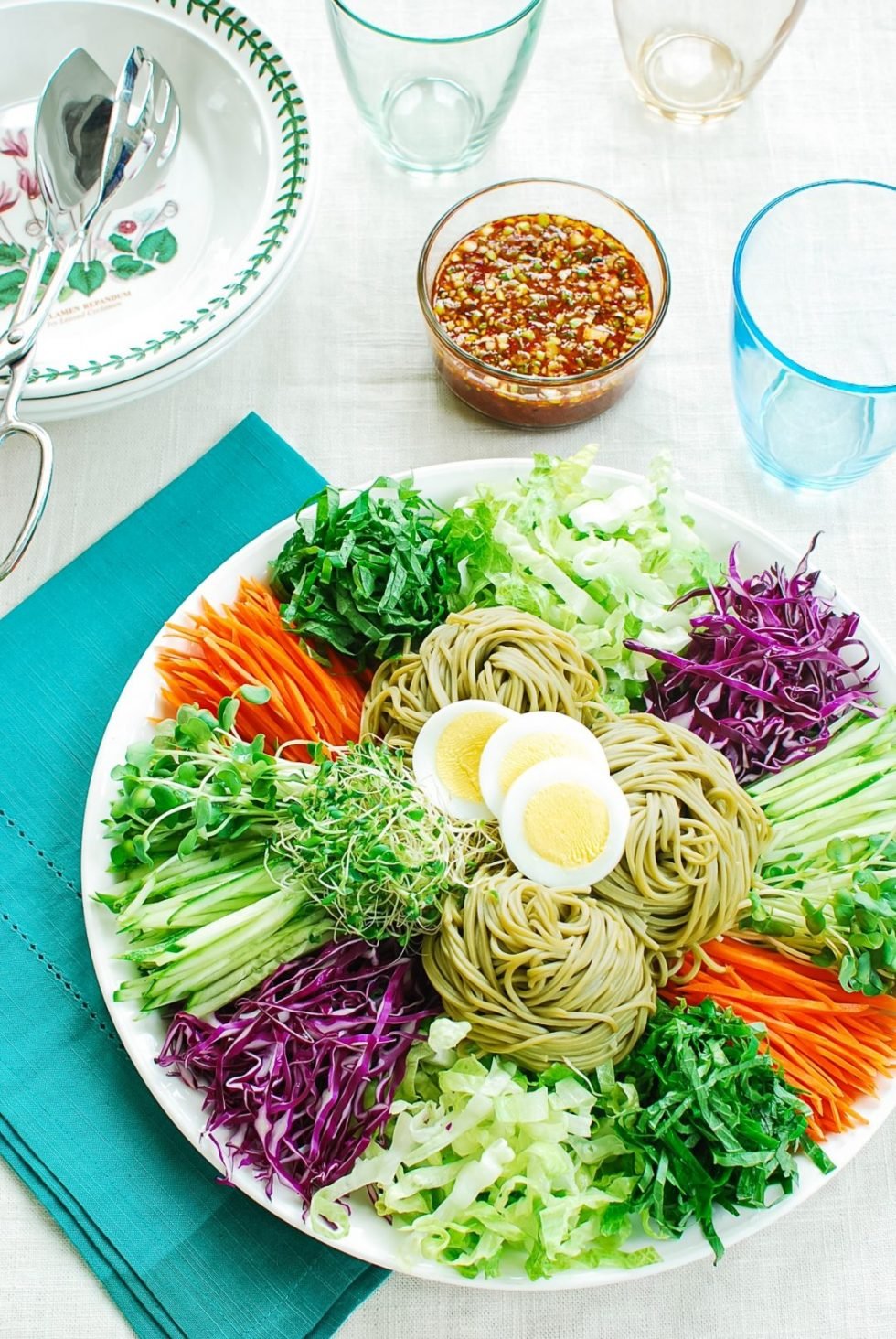 This year, the summer solstice arrived with a record-breaking heat wave
in the U.S. East Coast
. It's only June, and we had temperatures near 100 degrees last week. It's cooled down a bit for the weekend, but we all know the hot days of summer are definitely here to stay. You've probably been thinking about cold salads lately! Well, we've had it on our minds
!
For Koreans, summer is time for cold noodles. Jaengban guksu (쟁반 국수), which is a cold noodle dish served in a large platter with lots of fresh vegetables. Jaengban means a large platter/tray in Korean, and guksu means noodles.
There are so many varieties of cold noodles such as
Naengmyeon
,
kong guksu
,
bibim guksu
, and
dongchimi guksu
to name a few. Each of these also has several variations. Some are made with cold broth, and others are typically dressed with a spicy sauce.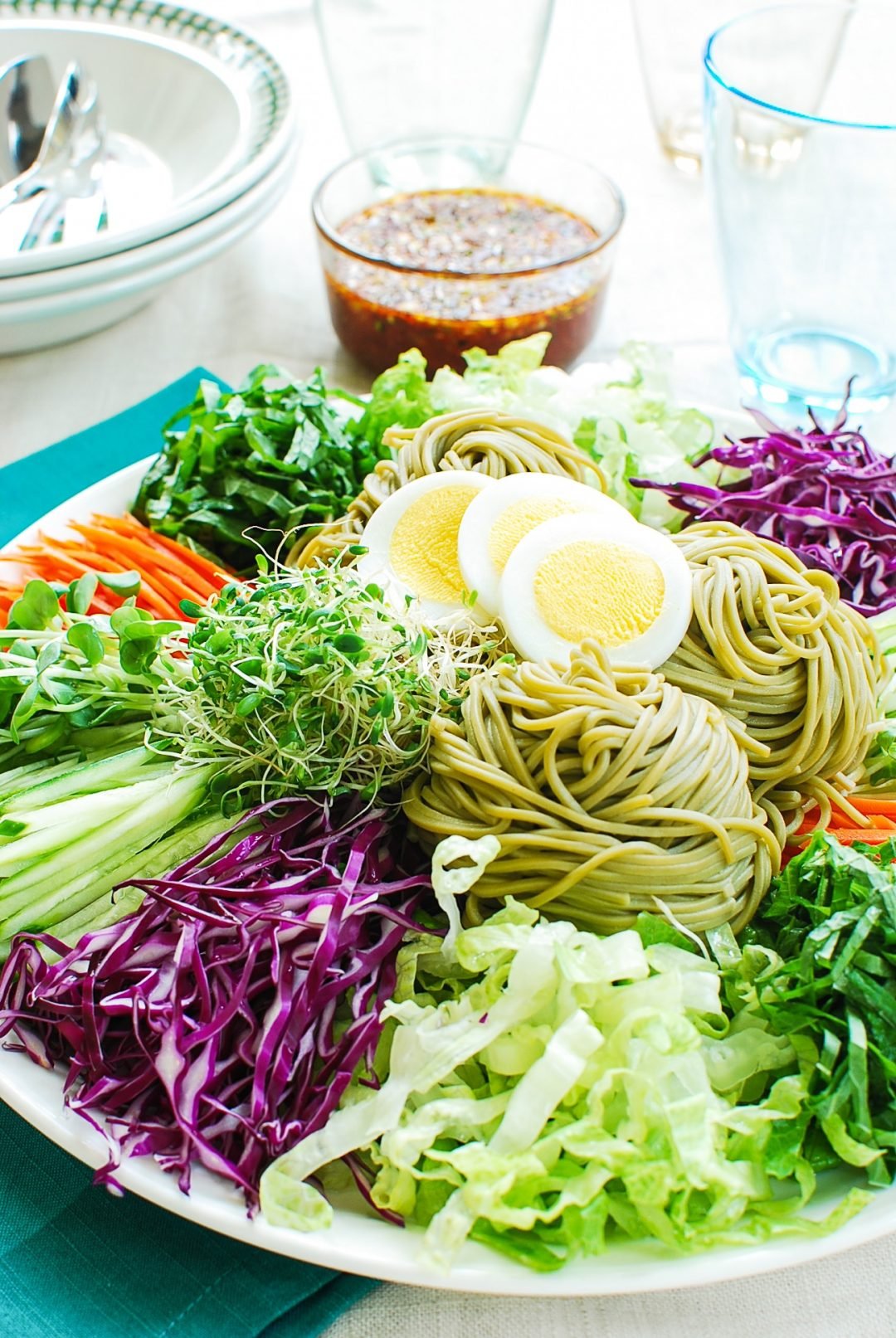 Jaengban guksu is usually for more than one serving and meant to be shared at the table. Each person takes a desired portion from the platter, just like taking a portion of salad from a salad bowl. It is a type of
bibim guksu,
so the noodles are mixed with a tangy spicy sauce before eating.
Buckwheat noodles are typical for this dish, but you can use any noodles. I used green tea noodles here.
It's common to add some cooked meat. If you have left over grilled chicken or beef, it will be a perfect addition to this dish. Shrimp would be a great addition as well.
This noodle dish is also perfect as a pot luck dish or an accompanying dish to your Korean BBQ. Imagine sitting down at the table, with your family or friends, in front of this beautifully refreshing platter! It will be a nice conversation starter no matter whom you're sharing it with!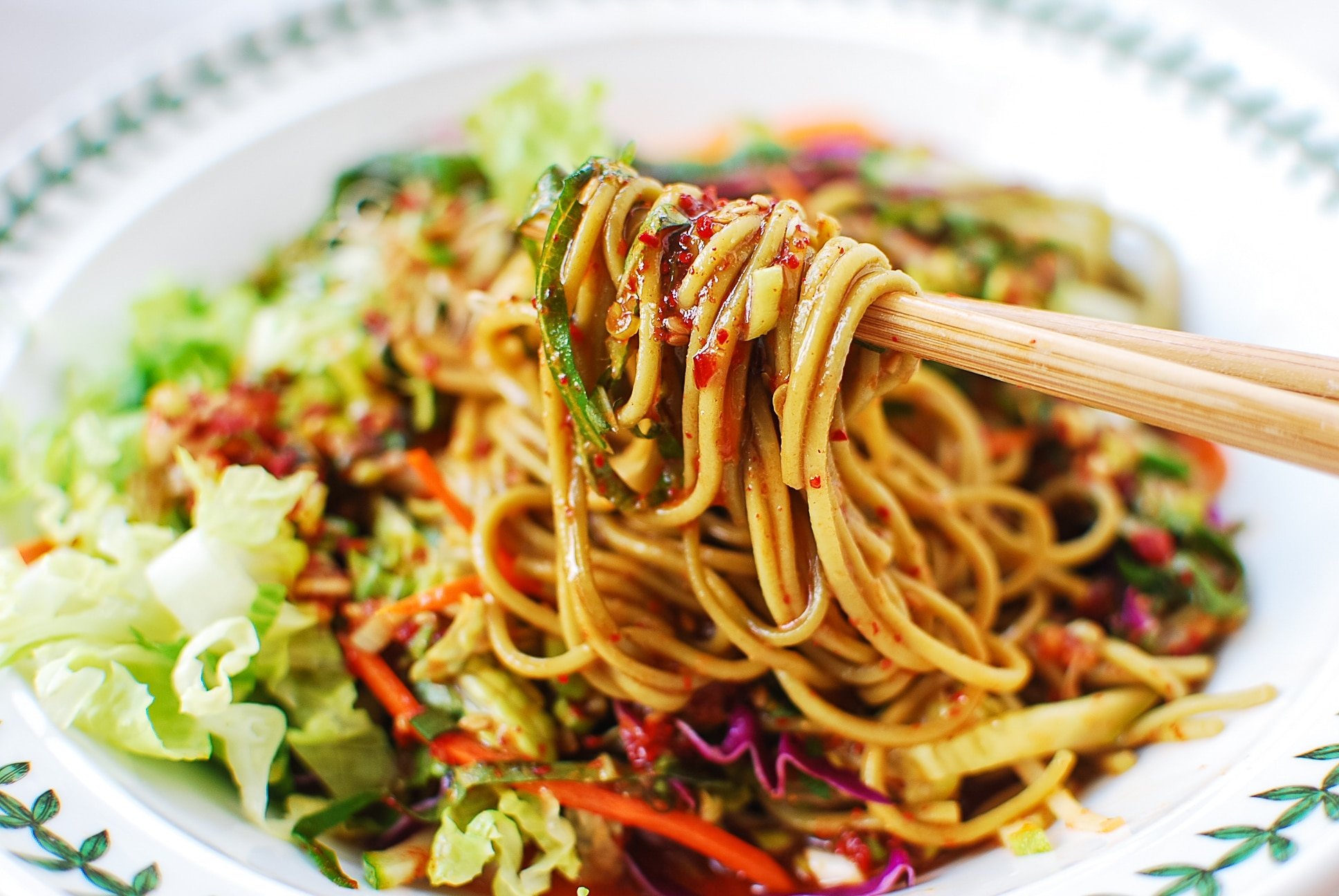 For more Korean cooking inspirations, follow along on YouTube, Pinterest, Twitter, Facebook, and Instagram.
Jaengban Guksu (Platter of Cold Noodles and Vegetables)
Main
Print Recipe
Ingredients
6 to 8

ounces

buckwheat (memil guksu/soba, green tea noodles or somyeon/somen)

1

small cucumber, julienned

1

medium carrot, julienned

3 to 4

red cabbage leaves, julienned

3 to 4

Romaine lettuce leaves, thinly sliced

6 - 8

perilla leaves (kkaennip), thinly sliced

2 - 3

ounces

Alfalfa and/or radish sprouts

1

boiled egg, thinly sliced - optional
Sauce
3

tablespoons

soy sauce

2 - 3

teaspoons

gochugaru (Korean red chili pepper flakes) -

adjust to taste

2

tablespoons

sugar

3

tablespoons

orange juice or apple or any other fruit juice

2

tablespoons

vinegar

adjust to taste

1

teaspoon

hot mustard powder, gyeoja,

mixed with 2 teaspoons water (optional)

1

teaspoon

minced garlic

1

tablespoon

sesame oil

1

tablespoon

sesame seeds

pinch

pepper
Instructions
Mix all sauce ingredients and keep it cool in the fridge.

Prepare the vegetables and keep them cool in the fridge or in ice water (drain well before using).

Bring a medium pot of water to a boil. Cook the noodles according to the package instructions (5 - 6 minutes). Drain quickly and shock in cold water to stop cooking. Drain and rinse in icy cold water until the noodles are very cold. Make two or three mounds. Place the mounds in a colander to drain.

Place the noodles in the middle of a large platter, and arrange the cold vegetables nicely around the noodles. At the table, you can toss everything together with the sauce or let each person take his or her portion and then mix it with the sauce to taste.

You can practically use any salad vegetables you like, including colorful bell peppers, onions, bean sprouts, watercress, and spring mix.