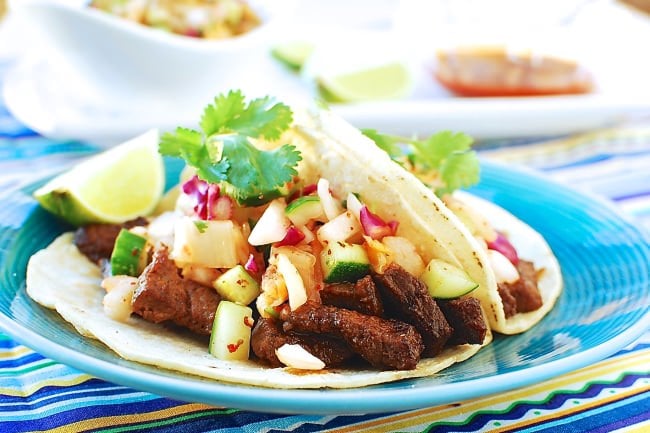 Today, I'm guest posting for Biren over at Roti n Rice while she's visiting her parents in Malaysia. I've been a big fan of Biren's blog for quite some time, so I was very excited to receive the invitation.Her blog is full of delicious Asian andWestern recipes.Biren asked if I could share a Korean beef recipe. After some thinking, I decided to share Korean-style tacos made with my signature galbi recipe (Korean BBQ short ribs).
As you might know, Korean-style tacos were made famous by a food truck (Kogi – Korean BBQ-To-Go) in Los Angeles over 3 years ago. Since then, food trucks selling Korean tacos have become a nation-wide trend.
Unfortunately, I've never had tacos from "Kogi" truck, but the idea is to place Korean BBQ meat on a Mexican corn

tortilla

topped with a mix of Korean and Mexican flavors.
Here, I
turned Korean BBQ short ribs into my version of a popular Korean/Mexican fusion dish.
I paired the meat with a refreshing salsa made with kimchi, Korean pear and other crunchy vegetables. I used good amounts of cilantro and lime juice to incorporate Mexican flavors.
For the taco sauce, I used somegochujang (Korean red chili pepper paste) to give the tacos extra heat, but you can use any of your favorite taco sauce.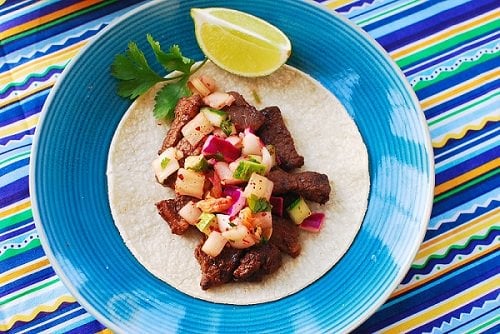 For galbi (BBQ short ribs):
3 pounds beef short ribs (flanken cut)
1/2 cup soy sauce
1 cup water
1/4 cup sugar
2 tablespoons honey (or use more sugar)
1/4 cup rice wine (or mirin)
2 tablespoons sesame oil
1/4 cup (about 1/4 of a large) Korean/Asian pear grated
1/4 cup (about 1/4 of large) onion grated
3 scallions thinly sliced (optional)
2 tablespoons minced garlic
1 teaspoon minced ginger
1/2 teaspoon black pepper
Kimchi salsa:
1/2 cup dicedkimchi
1/2 cup diced cucumber
1/2 cup diced onion
1/2 cup diced red cabbage
1/2 cup diced Korean/Asian pear
1/2 teaspoon minced garlic
2 tablespoons chopped cilantro (more for garnish)
juice from 1 lime (about 1-1/2 to 2 tablespoons)
salt (about 1/4 teaspoon) and pepper to taste
Gochujang sauce:
1 tablespoon gochujang (Korean red chili pepper paste)
1 tablespoon Tabasco sauce (or your favorite hot sauce)
1 teaspoon soy sauce
1 teaspoon sugar (or to taste)
1 tablespoon ginger ale (you can use other soda or water instead)
10 – 12 4-inchcorntortillas


Mix all marinade ingredients well. Rinse the meat to wash off bone dust. Pound the meat slightly with a meat tenderizer. Marinate the meat for at least 6 hours or longer (overnight for best results). For making tacos, grill the meat turning only once, 2 – 3 minutes on each side, until nicely caramelized, and then cut into small pieces. Or, cut the marinated meat into small pieces first and grill in a pan.
In a large bowl, toss all the salsa ingredients well.
In a small bowl, whisk together all the sauce ingredients until the sugar is dissolved and the sauce is smooth.
Heat the tortillas in a skillet over medium heat, about 30 seconds each side.
To assemble, place the meat on a tortilla and top with a spoonful of kimchi salsa and cilantro. Serve with the sauce on the side.