A classic chilled soup made with cucumber and seaweed (miyeok). It's a refreshingly tangy soup that's perfect for hot summer days!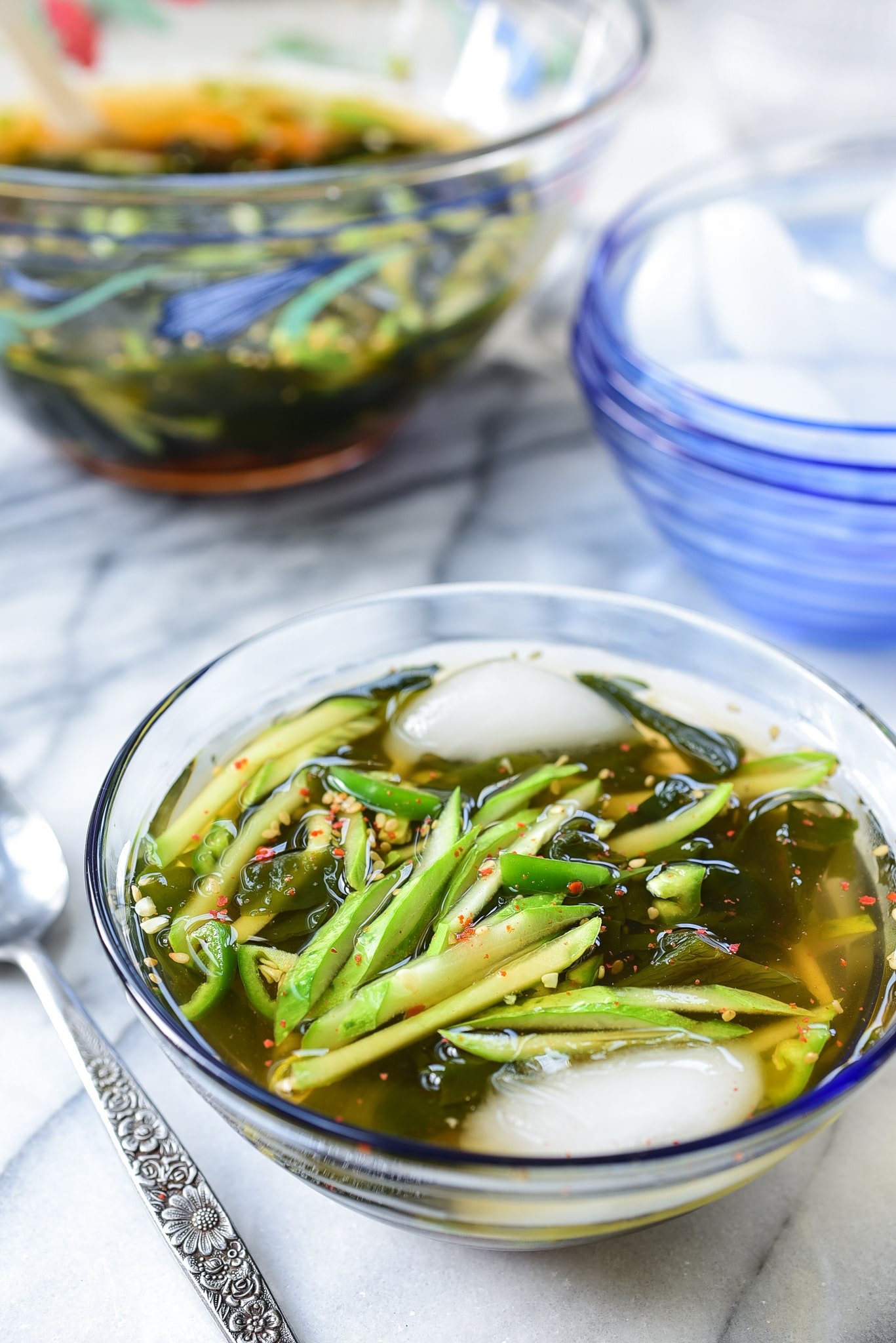 Oi naengguk (오이냉국) is a classic Korean chilled soup. Oi means cucumber, and naengguk means chilled soup. It's one of those dishes that remind me of my childhood summertime meals! My mother made this chilled cucumber soup quite often for us. It's a refreshingly tangy soup that's perfect on a hot summer day!
Cucumber and miyeok (seaweed)
I use Korean cucumbers which I can easily find around here in summer. You can also use any crunchy cucumbers, such as Kirby, English, Persian, and Japanese varieties.
Growing up, my mother would always add miyeok to this soup, which is a sea vegetable (edible seaweed). Dried miyeok is a pantry staple for making soups and side dishes. Once soaked, miyeok turns green, plump, and ready to be eaten. However, blanching it briefly in boiling hot water softens the texture and brightens the green color.
The crunchy cucumber together with slightly chewy and slippery seaweed creates interesting textural contrasts and a flavor combination, making the dish far more interesting than the cucumber alone!
Depending on which ingredient is used more, the soup can also be called miyeok naengguk (미역냉국). Some people call it oi miyeok naengguk (오이미역냉국), recognizing both ingredients.
Simply use more cucumber if you are not adding miyeok.
How to make Korean chilled cucumber soup
To make the soup, I season the cucumber and seaweed first with the seasoning ingredients. The soup soy sauce (guk ganjang) and vinegar are important for flavoring this soup. You can make ahead up to this point, and then add cold water and season with salt when ready to use. Don't forget to drop a couple of ice cubes in right before serving.
More chilled soup recipes
Kongguksu (Chilled Soy Milk Noodle Soup)
Chogyetang (Chilled Chicken Soup)
Naengmyeon (Cold Noodles)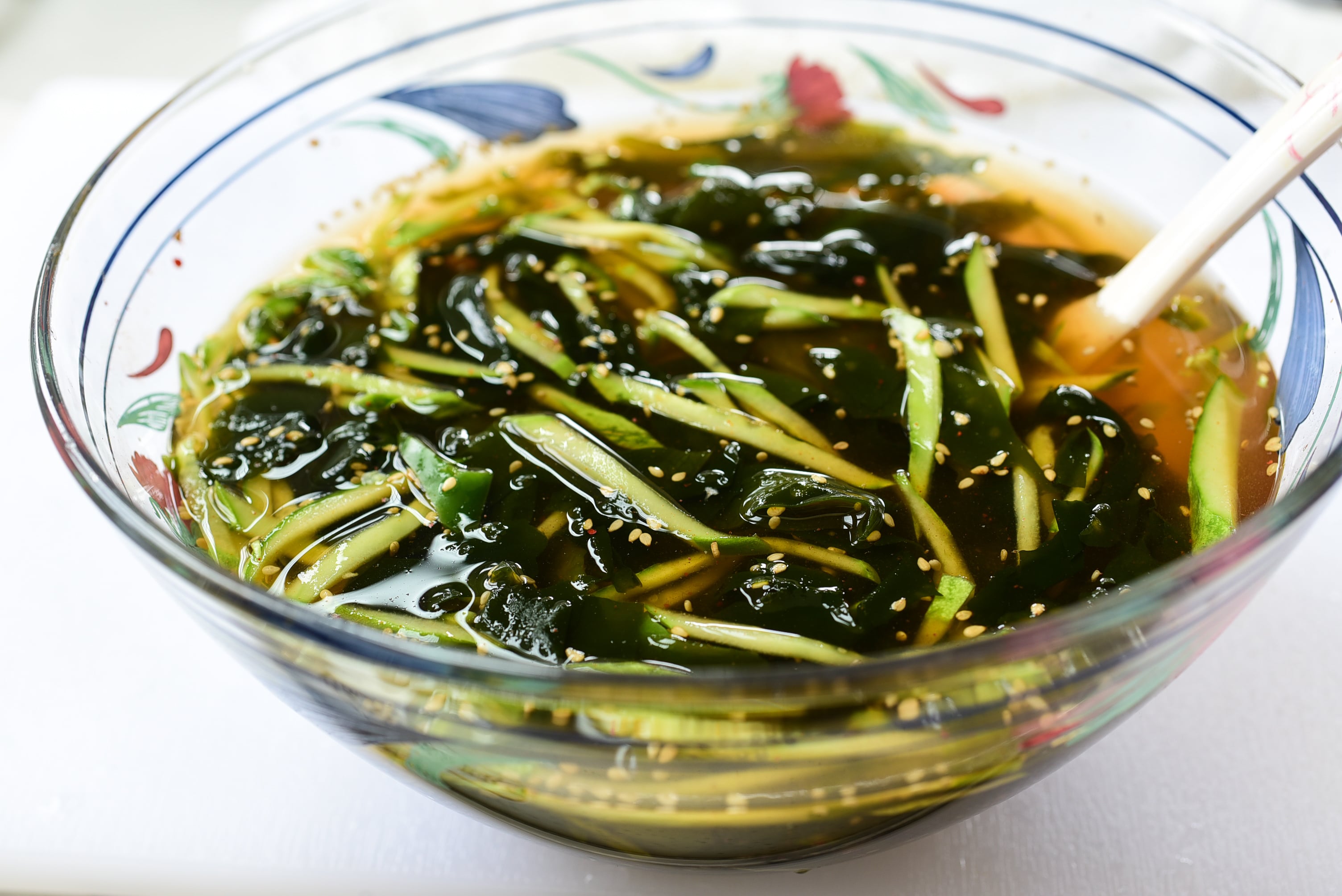 For more Korean cooking inspirations, follow along on YouTube, Pinterest, Twitter, Facebook, and Instagram.
Ingredients
1

Korean cucumber or 2 Kirby (pickling) cucumbers

(5 – 6 ounces)

1

cup

soaked miyeok, 미역 (seaweed – about 1/2 ounce dried miyeok)

1

Korean green or red chili pepper or scallion
Seasonings
1/2

teaspoon

minced garlic

2

tablespoons

soup soy sauce

(guk ganjang, 국간장)

3 to 4

tablespoons

vinegar

1

teaspoon

Korean red chili pepper flakes

1

teaspoon

sugar

2

teaspoons

sesame seeds

4

cups

of water

salt to taste

about ½ teaspoon
Instructions
Cut the cucumber into matchsticks. Finely chop the chili pepper (or scallion).

Prepare the dried seaweed by soaking for 10 to 20 minutes and rinsing well. (See my miyeok guk recipe for more.) Boil water in a small pot, and add 1 teaspoon of salt. Blanch the soaked seaweed briefly, 20 to 30 seconds. Drain and rinse with cold water. Drain again, squeeze out excess water, and cut into bite size pieces.

In a medium size bowl, gently toss the vegetables with the seasoning ingredients. Set aside for about 10 minutes. You can make ahead up to this point several hours or a day before, if desired.

Mix in 4 cups of cold water and season with salt. Start with a half teaspoon of salt, taste and add more if necessary. Refrigerate to chill. Serve in chilled bowls with some ice cubes.
This oi naengguk recipe was originally posted in July 2011. I've updated it here with new photos and an improved recipe.