This Korean spicy radish salad is an easy side dish (banchan) to put together. It can be a quick substitute for kimchi and is great in bibimbap.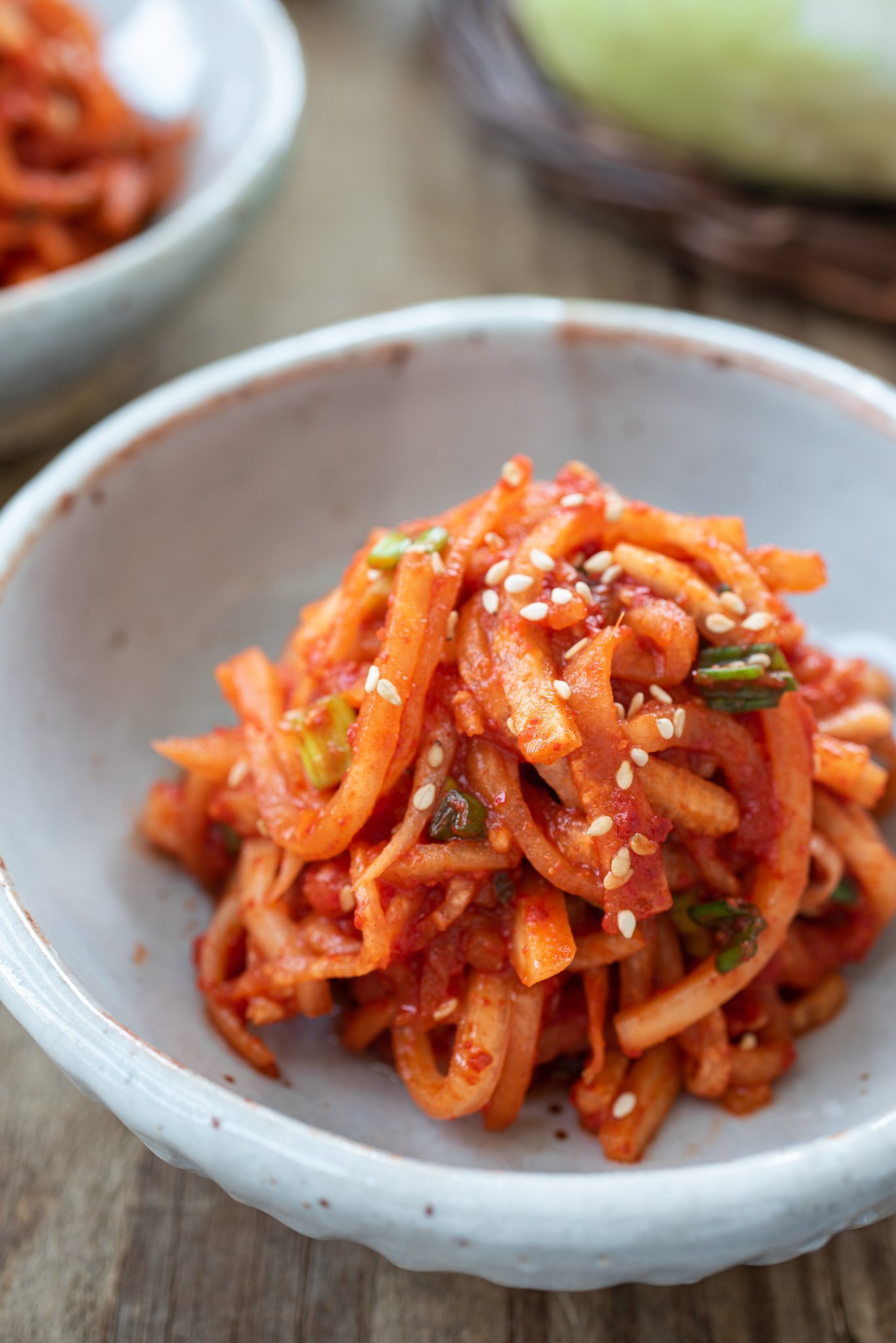 It's that time of year again! Korean radish, mu (or moo), is in season! I've posted several radish dishes before, such as kkakdugi (cubed radish kimchi), dongchimi (radish water kimchi),muguk (radish soup), and munamul (stir-fried and steamed radish). Here, I made a popular side dish called musaengchae (무생채).
In late fall, Korean radishes taste really sweet, juicy, and crunchy. Korean radish is a variety of white radish, which has firm crisp flesh and a slightly sweet and peppery taste. It's similar to daikon, a Japanese variety, but quite different in texture and taste. However, you can use daikon if Korean radish is not available in your area.
What is musaengchae?
Saengchae is a general term for salad-like dishes made with uncooked vegetables. Musaengchae is made with a radish. There are several variations, such as non-spicy, sweet and sour radish salad. This spicy version is a more common variation.
This one has the flavor of fresh kimchi (not fermented), so it can also be a quick substitute for kimchi. It's great in bibimbap as well. It's also a classic dish that's served with bossam (boiled pork wrapped in salted napa cabbage).
How to make Korean spicy radish salad
Musaengchae is an easy side dish to put together. The most difficult part for some of you will be julienning the radish. You can use a mandolin if you like. For this type, you can salt the radish first to draw out some water for extra crunch, but not absolutely necessary.
In this recipe, I used 1 tablespoon of fish sauce (myulchi aekjeot), but sometimes I also use salted shrimp (saeujeot). You can of course omit the fish sauce and use the same amount of soup soy sauce (gukganjang) or simply a little more salt to season to make it a vegan dish. You can also use some vinegar to taste if you want to add a bit of sour taste.
More Korean radish recipes
Musaengchae (sweet and sour radish salad)
kkakdugi (cubed radish kimchi)
Muguk (Radish Soup)
Munamul (Stir-fried radish side dish)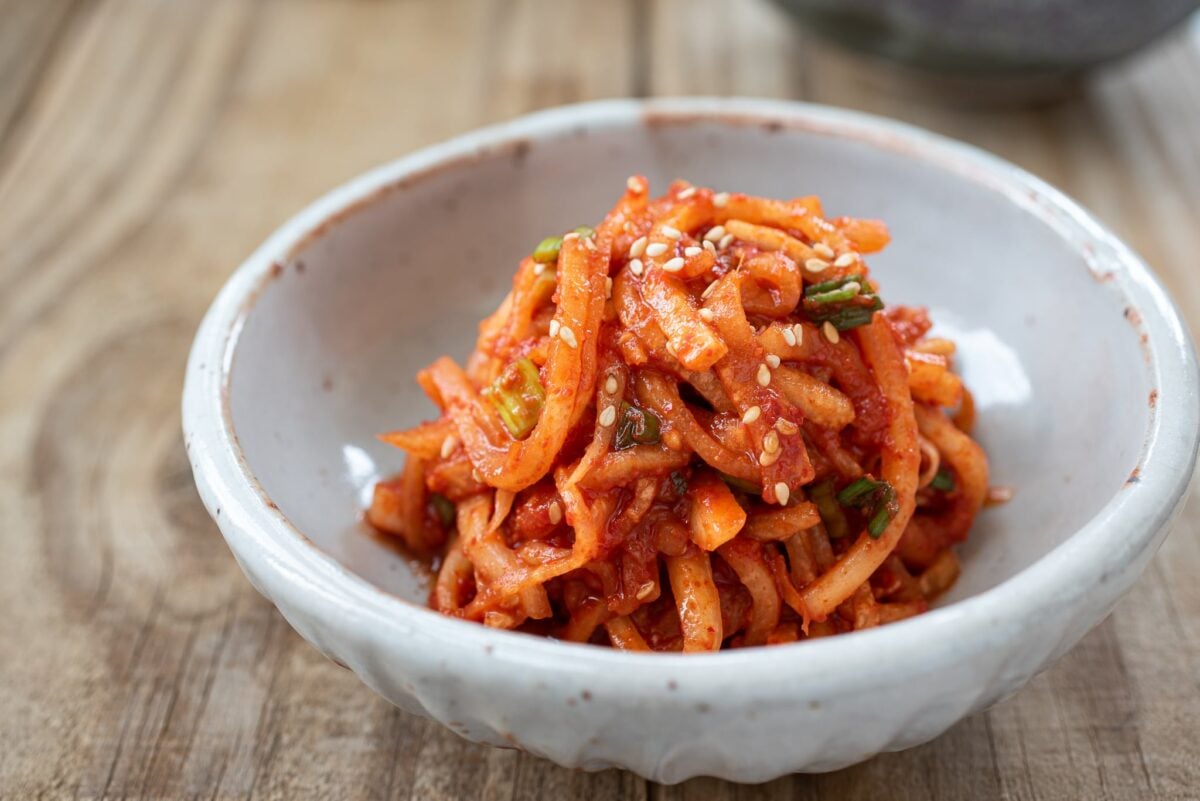 For more Korean cooking inspirations, follow along on YouTube, Pinterest, Twitter, Facebook, and Instagram.
Ingredients
1

pound

mu (Korean radish)

1

teaspoon

salt

1 or 2

scallions

finely chopped

2

tablespoons

gochugaru (Korean red chili pepper flakes)

adjust to taste

2

teaspoons

minced garlic

1/2

teaspoon

grated ginger

1

tablespoon

fish sauce (myulchi aekjeot) or saeujeot (salted shrimp)

1

teaspoon

sugar

adjust to taste - see note

1

teaspoon

sesame seeds

optional
Instructions
Clean the radish by scrubbing with a brush and/or scratching off the stubborn impurities with a small knife. Peel the skin only if necessary. Cut into matchsticks (about ⅛ to 1/4-inch thick).

Sprinkle the salt over the radish and toss well to coat evenly. Let sit for about 20 minutes until the radish has softened and released some liquid. Drain excess liquid. Do not rinse.

Add all the remaining ingredients, except the scallion and sesame seeds. Mix well by hand. Taste and add more salt or fish sauce, if necessary.

Throw in the scallion and sesame seeds and toss everything well.
Notes
As a sugar substitute, you can use corn syrup, oligodang, or maesil cheong (Korean plum extract).
This recipe was originally posted in November 2012. I've updated it here with new photos, more information and minor changes to the recipe.