This stuffed cucumber kimchi, called oi sobagi, is an easy kimchi to make! Being a summer favorite in Korea. It's crisp, crunchy and deliciously refreshing!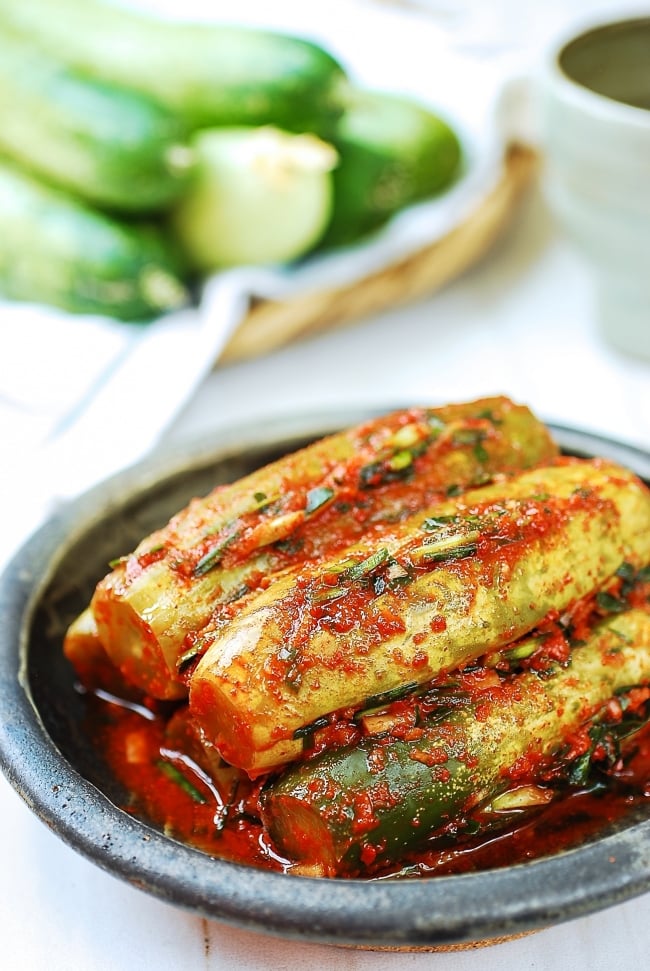 What is your favorite summer kimchi? Oi sobagi (오이소박이), stuffed cucumber kimchi, is a summer favorite in Korea. It's crisp, crunchy and deliciously refreshing! Oi means cucumber, and sobagi means it's stuffed with a seasoning mix.
What type of cucumbers to use
Oi sobagi is best made in the summer when cucumbers are in their peak season. I usually make it with Korean cucumbers I grow in my backyard. When they are in season, you may find them in Korean markets. They are long and slender with thin whitish/pale green skin. The flesh is thick, but less seedy than other cucumbers. I love how crisp, juicy, and sweet they are!
When Korean cucumbers are not available, Kirby (aka pickling) cucumbers are the next best thing to use. Always look for cucumbers that are firm and slender.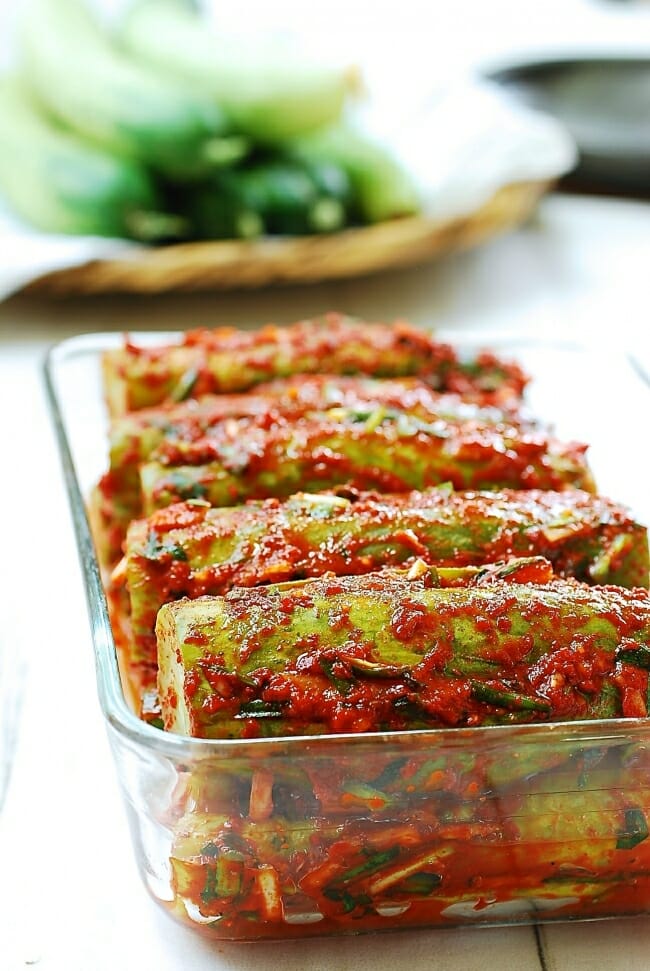 How to make oi sobagi
As with most kimchi varieties, you'll need to salt the cucumbers first. I use boiling hot salted water. Don't worry, the hot water won't cook the cucumbers. This is the method traditionally used for Korean pickled cucumbers, called oiji, to keep the cucumbers crisp and crunchy for a long time.
Then, make a pocket in the middle by making slits to create 4 cucumber spears that are held together at the end. Traditionally, both ends are left intact, which I prefer. Some people cut straight through one end, only keeping the other end intact. The latter will be easier, if that's what you want.

I make slits after salting the cucumbers so as not to lose the flavor in the water during the salting process. However, the salting process will go faster if you cut them before salting.
For the stuffing, buchu (garlic chives) is classic. I also added some Korean radish in this recipe, but you can substitute with onions or simply use more garlic chives. If you can't find garlic chives, you can use scallions instead.
This cucumber kimchi can be eaten right away but will taste better after a day or two in the fridge. This is a quick kimchi not intended for months of storage.
Hope you get a chance to make this easy and refreshing summer kimchi before the summer is over! It will be excellent with your Korean BBQ!
More Korean cucumber dishes to try
Oi muchim (spicy cucumber salad)
Oi kimchi (cucumber kimchi)
Oiji (pickled cumcumbers)
Oi bokkeum (stir-fried cucumbers)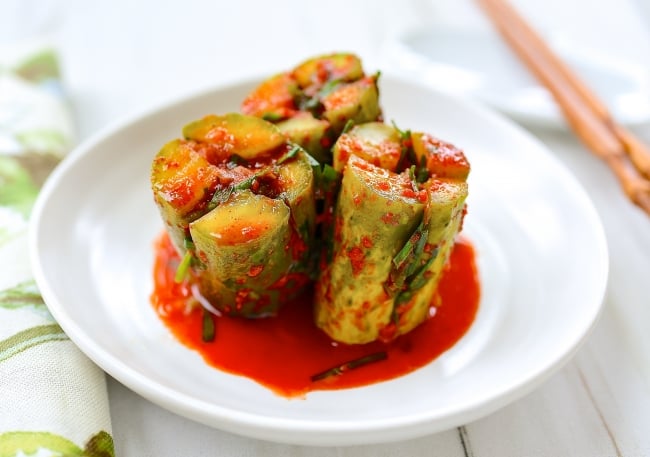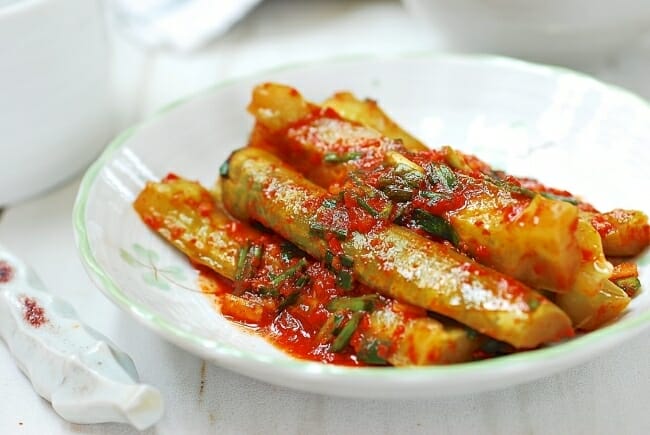 For more Korean cooking inspirations, follow along on YouTube, Pinterest, Twitter, Facebook, and Instagram.
Ingredients
5

Korean cucumbers

or 10 Kirby/pickling cucumbers (about 5-inch long)

½

cup

coarse sea salt

less if using finer salt

6

cups

water
Stuffing:
3

ounces

buchu (부추), Korean garlic chives

3

ounces

mu (무), Korean radish

or 1/4 medium onion

5

tablespoons

gochugaru (Korean red chili pepper flakes)

2

tablespoons

saeujeot (새우젓), salted shrimp

roughly chopped

1

tablespoon

myeolchiaekjeot (멸치액젓), fish sauce,

1

tablespoon

minced garlic

1

teaspoon

finely grated ginger

2

teaspoons

sugar - optional

or use any of your favorite sugar substitute
Instructions
Rinse cucumbers. Cut off both ends. If using long Korean cucumbers, cut in half (or thirds if long) crosswise.

Add 6 cups of water with 1/2 cup of salt in a medium size pot. Bring it to a boil. Turn the heat off. Pour the boiling water over the cucumbers in a bowl. Keep the cucumbers submerged by weighing them down with a bowl or plate. Let it sit until the cucumbers are bendable, about an hour or two, depending on your cucumbers and salt.

Meanwhile, cut the chives into 1/2 inch lengths. Julienne the radish (or onion), and then cut into the same lengths.

Combine all the stuffing ingredients along with 1/4 cup of water, and mix well. It should taste slightly salty.

Drain the cucumbers. Holding the top end of the cucumber on the cutting board, run a small knife through the middle lengthwise. Leave 1/2 inch uncut at both ends. Turn the cucumber and make another cut through the middle lengthwise to make a cross cut, again leaving 1/2 inch uncut at both ends. Repeat with all the cucumbers.

Gently open each slit and insert about a teaspoonful or two of the stuffing. Be sure to fill all 4 slits of each cucumber. Repeat until all the cucumbers are stuffed. Place them in a jar or an airtight container. Leave it out at room temperature for a day. Then, store in the fridge.
Notes
This cucumber kimchi can be eaten right away but will taste better after a day or two in the fridge. It will keep well for a couple of weeks.
Originally posted in August 2012 and updated here with an improved recipe and new photos.
This oi sobagi recipe was originally posted in August 2012. I've updated it here with minor changes to the recipe and new photos.