Just in time for Labor Day weekend or end of summer grilling, I am updating my post for LA galbi (or kalbi, 갈비), grilled beef short ribs. This galbi recipe was originally posted on this blog back in August 2009. I decided to retake photos to update to this
time tested recipe that I use all the time and everyone raves about. The recipe
can be easily doubled or tripled, making it perfect for large groups of people.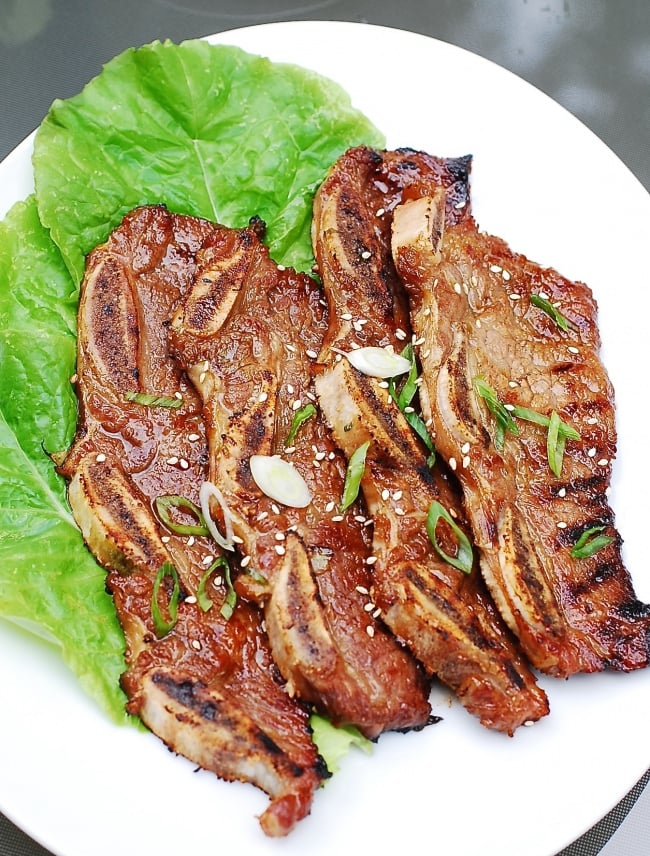 As I previously explained in another
galbi
post, there are two different cuts for beef short ribs. The first one is English cut, which is when the ribs are separated and cut into short lengths. The English cut is used for
galbi jjim
(braised)
or butterflied for grilling. The other is flanken cut, which is when ribs are cut thin across the bones. To Koreans, the flanken cut is also known as "LA
galbi
," supposedly named after the city where early Korean immigrants started to use this cut to make
galbi gui
.
These days, people use all sorts of things to tenderize short ribs, which are a tough cut of meat, including kiwi, pineapple, cola, etc. My favorite is Korean/Asian pear, which is a traditional ingredient used for
galbi
. Grated onion and alcohol, in the marinade, also tenderize the meat. These ribs have a smooth balance of sweet and savory flavors!
It's best to grill over charcoal or wood charcoal (sootbul,
숯불)
, but a gas grill or a grill pan over the stove top works well too. You can also broil galbi in the oven.
LA Galbi (Korean BBQ Short Ribs)
2015-06-11 03:01:16
Serves 4
Ingredients
3 - 4 pounds cross-cut beef short ribs (about 1/3-inch thick)
Marinade
1/2 cup soy sauce
1/2 cup water
1/4 cup sugar
2 tablespoons honey
1/4 cup rice wine (or mirin)
2 tablespoons sesame oil
1/2 Korean/Asian pear, grated
1/2 medium onion, grated
3 scallions thinly sliced
2 tablespoons minced garlic
1 teaspoon minced ginger
½ teaspoon black pepper
1 teaspoon sesame seeds (optional)
Instructions
Rinse the ribs to wash off bone dust, and drain well. Pound the meat lightly with a meat tenderizer, or stretch it out with your hands. This step helps tenderize the meat, but you can skip it if you want.
Mix all marinade ingredients well. Marinate the meat for 6 – 8 hours (overnight for best results). The thicker the meat, the longer you'll want to marinate.
Preheat the grill over medium high heat. Grill the short ribs, turning only once, 2 – 3 minutes on each side. It's best to grill over charcoal or wood charcoal (soot bul), but a gas grill or a grill pan over the stove top works well too. (See note for the oven broiling method.)
Notes
To broil galbi in the oven, set the oven to broil and preheat. Lay the meat in a single layer on a broil pan and place it on the top rack of the oven, usually about 6 inches below the broiler. Cook until the ribs are slightly charred and caramelized, 5 to 6 minutes. Flip them over and cook for an additional 3 – 4 minutes. Watch closely not to burn them.
Korean Bapsang https://www.koreanbapsang.com/