Easy Korean side dish made with potatoes!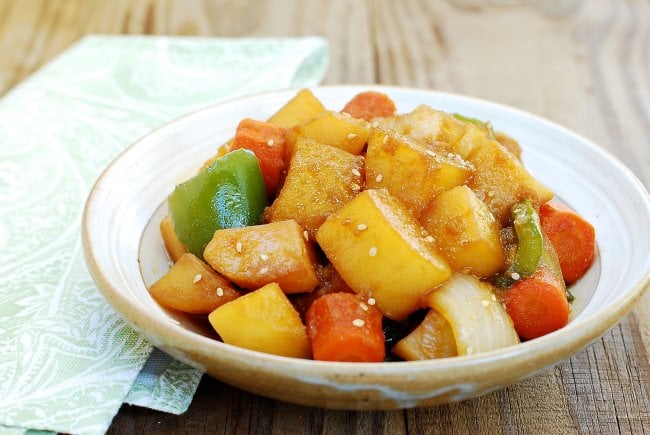 This past summer, I spent a couple of weeks on vacation in Berlin with my children. After several days eating German food, we felt it would be a nice change to have a home-cooked Korean meal. We cooked some rice and had a quick version of kimchi I had made with local cabbage a couple of days before. All we needed was some banchan (side dishes). We had gim (nori) and fried some eggs.
Looking through the fridge, I found some potatoes and decided to make Gamja (potatoes) Jorim, a simple side dish. The dish turned out delicious even without all the conventional ingredients. After this memorable meal thousands of miles away from home, my daughter asked me to write my recipe for gamja jorim.
Gamja jorim is a braised potato dish. It's very popular as a side dish at home and restaurants and for home-packed lunch boxes. Jorim refers to dishes made by simmering the main ingredient in sauce until the sauce is reduced. The potatoes are braised in a slightly sweet, soy-based sauce until the sauce is reduced and the potatoes are tender. It's a filling, inexpensive dish we all grew up on.
This dish can be made with a few staple ingredients in your pantry. I used a carrot and some green pepper for colors, but you can use other colorful vegetables of your choice or simply omit them.
You can also add some gochujang (Korean red chili pepper paste) and/or gochugaru if you like to add a little heat to the dish.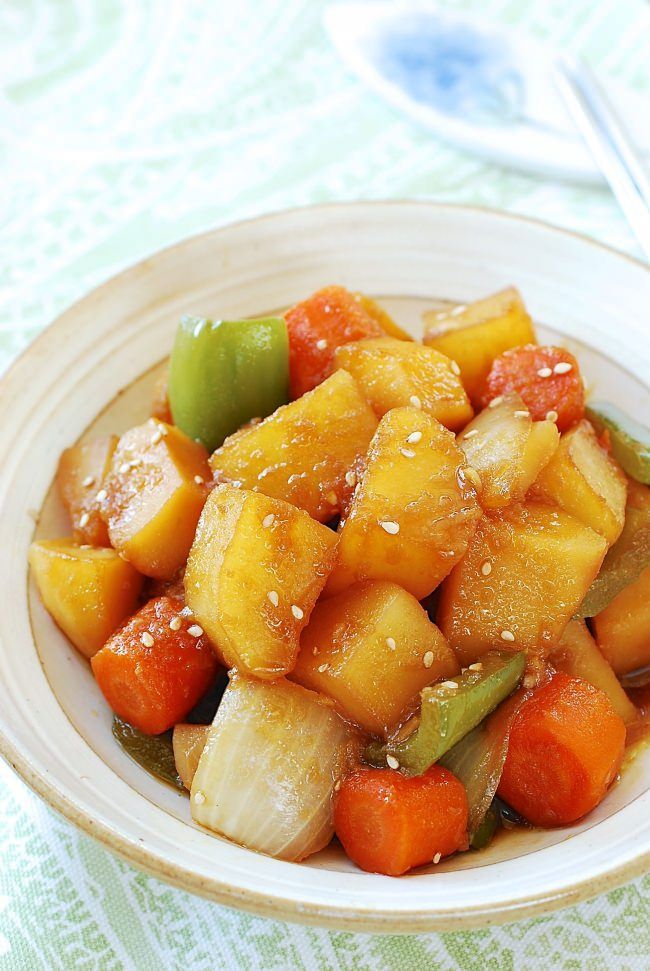 Gamja Jorim (Korean Braised Potatoes)
Side Dish
Print Recipe
Ingredients
3

medium white potatoes

about 3 cups cut

1

carrot

3

green chili peppers

or 1/2 green bell pepper

1/4

medium onion
Sauce:
3

tablespoons

soy sauce

1

tablespoons

sugar

1

tablespoon

rice wine

or other cooking wine

1

teaspoon

minced garlic

1

tablespoon

corn syrup

or honey

1

teaspoon

sesame oil

1/2

teaspoon

sesame seeds

pinch

of black pepper

1/2

cup

water
Instructions
Peel and cut potatoes into about 1-inch cubes. Cut the carrot, green peppers onion into big chunks.

In a small bowl, combine the soy sauce, sugar, rice wine, garlic, corn syrup, pepper and water.

In a small pot (preferably non-stick), sauté the potatoes and carrots in vegetable oil over medium heat for 4 - 5 minutes.

Add the sauce mix and bring it to a boil over high heat. Cover, and Reduce the heat to medium and cook until the potatoes are tender (about 7 to 8 minutes - less if you cut potatoes smaller).

Stir in the green peppers and onion, and continue to boil (uncover this time to make it shiny) for additional 3 - 4 minutes until the sauce is reduced to a thick sauce just enough to cover the bottom of the pan. Stir in the sesame oil and sesame seeds.