Change up your salmon preparation, and make this bulgogi flavored salmon! The marinade is easy to whip up, and the fish cooks very quickly!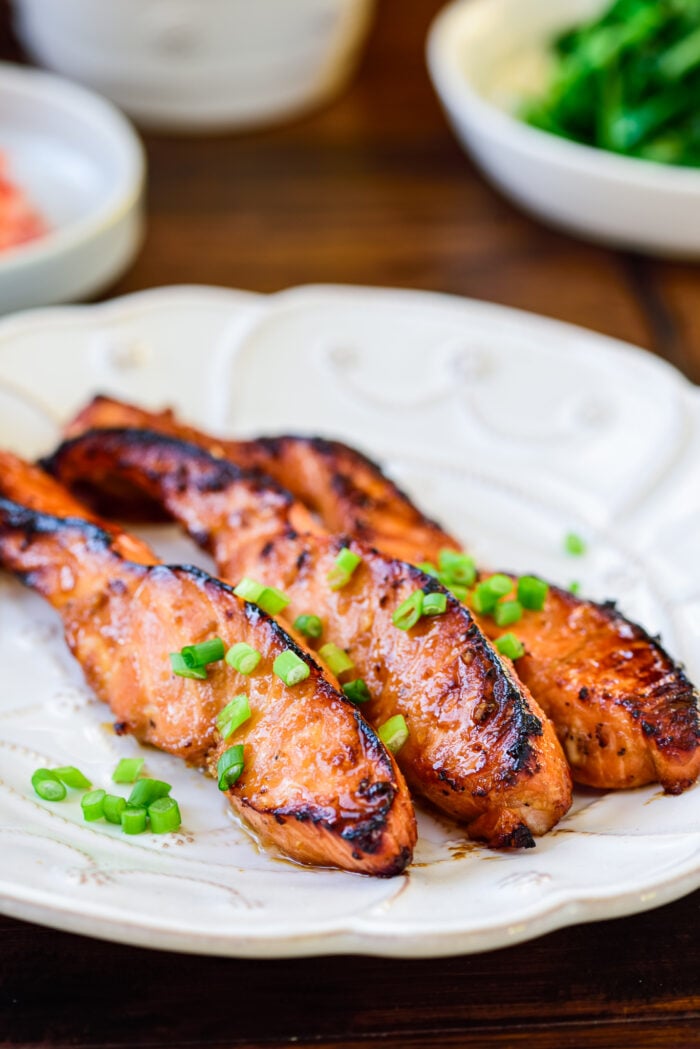 I absolutely love salmon! Here's my favorite way to cook this omega-3 rich fish. I marinate it with a sweet and savory bulgogi marinade, hence the name – salmon bulgogi. The flavorful marinade works wonderfully with the rich, oily fish.
Bulgogi is a marinated meat dish made with thin slices of beef. However, the sweet and savory marinade works well with any meat or seafood. In the past, I posted a variation made with chicken, dak bulgogi. It's one of the most popular recipes on my blog.
The marinade is easy to whip up, and the fish cooks very quickly, making this dish a perfect weeknight meal or a quick addition to your summer grilling!
I often serve it with plain rice and sesame broccoli. Also see my 15 Korean Vegetable Side Dishes.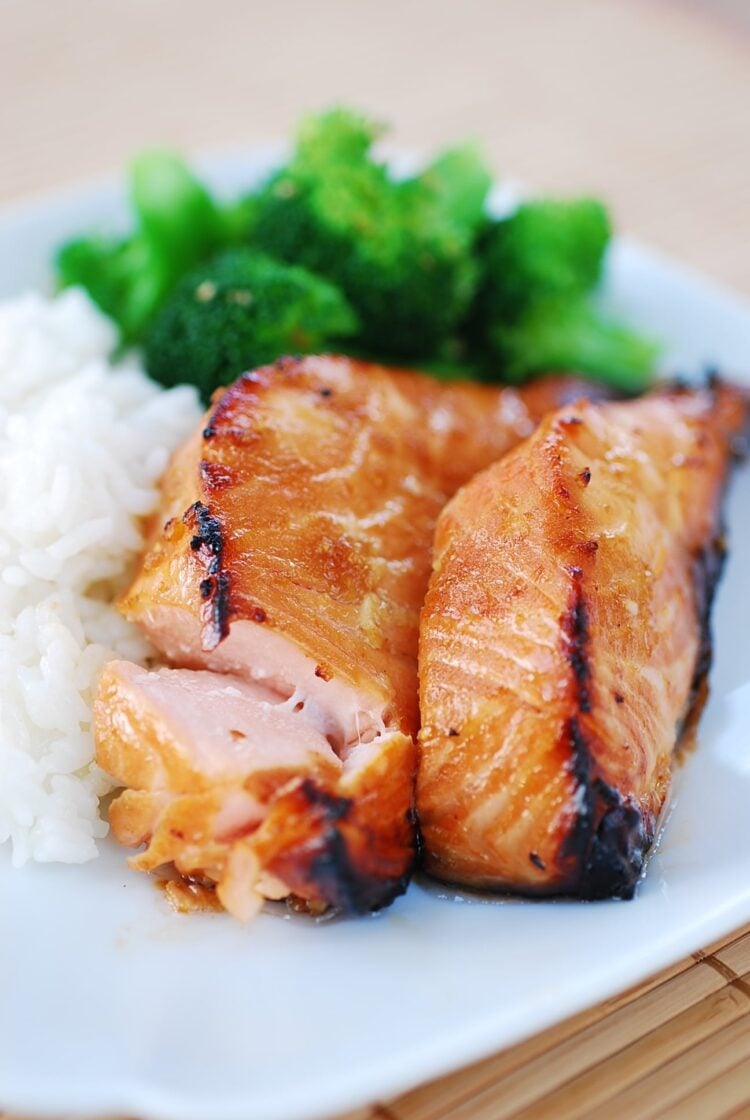 I prefer salmon with skin for grilling. The skin helps hold the thin flesh together and keep the salmon from drying out while being cooked. Always make sure the fish you buy is fresh.
Unlike how you'd normally cut your salmon steak, I cut the salmon thinly for quick marinating and cooking. You can, of course, cut it into any size your want. Simply adjust the marinating and cooking time for larger pieces.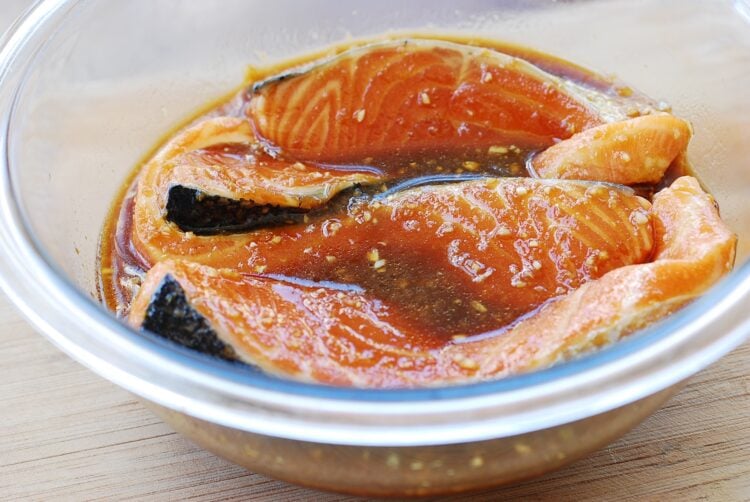 How to cook salmon
You can cook these relatively thinly cut salmon any way you want. My favorite way is quick broiling. The high heat cooks the fish very fast while giving a nice char, but be careful not to overcook.
If preferred, you can also bake it in the oven at 425°F for 4 to 5 minutes.
It will also be quick to cook the salmon in your skillet, a minute or two on each side.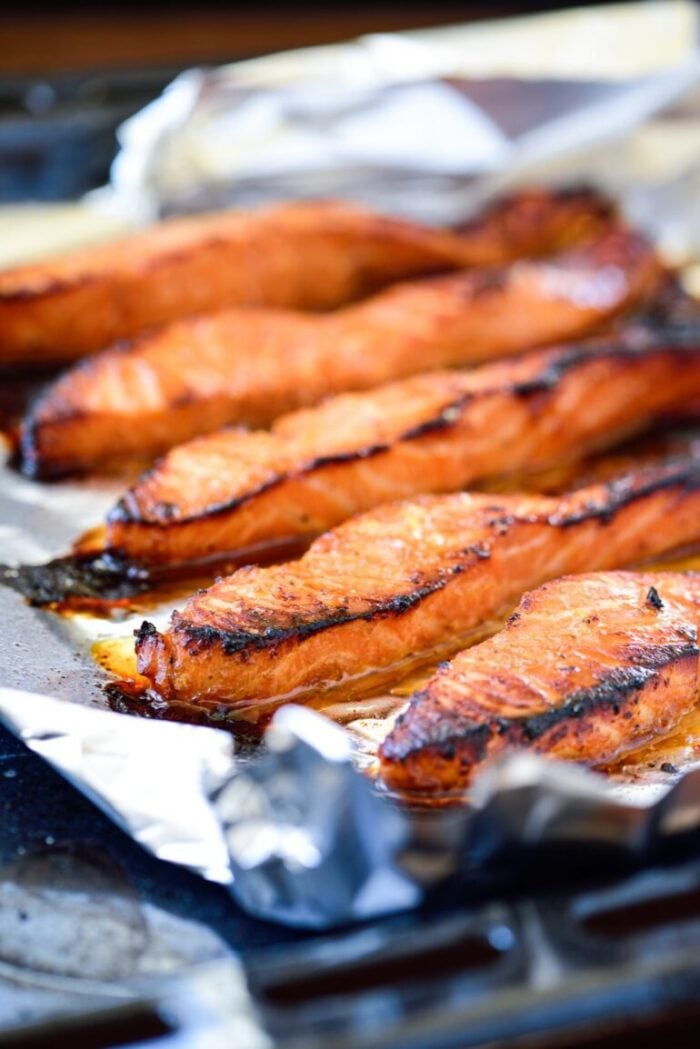 More bulgogi recipes
Bulgogi
Flank steak bulgogi
Slow cooker bulgogi
Dak bulgogi
Dweji bulgogi
Watch how to make it
For more Korean cooking inspirations, follow along on YouTube, Pinterest, Twitter, Facebook, and Instagram.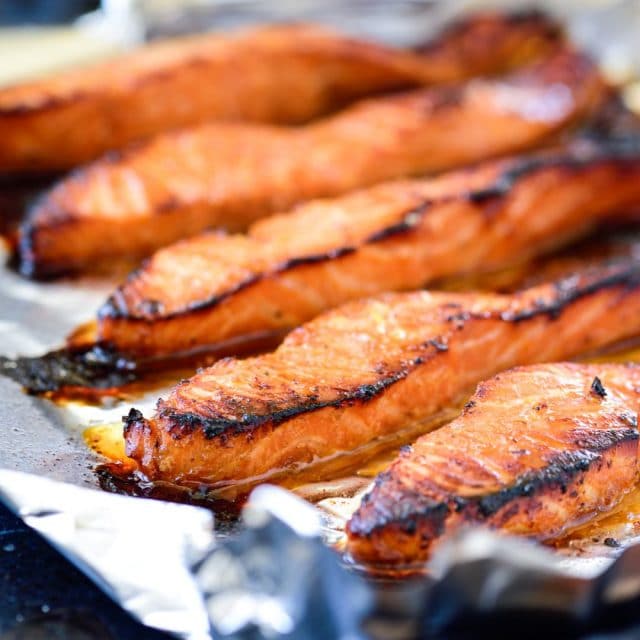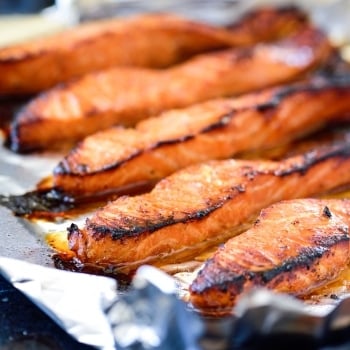 Ingredients
1

pound

salmon fillet

preferably with skin
Marinade
3

tablespoons

soy sauce

1

tablespoon

rice wine (mirin) or white wine

1

teaspoon

sesame oil

1

tablespoon

lemon juice

1

tablespoon

sugar

1

tablespoon

honey (or more sugar)

2

teaspoons

roughly minced garlic

1

teaspoon

grated ginger

black pepper to taste
Instructions
Pull the bones from the salmon if there are any. Cut the salmon fillet into about 3/4 to 1-inch thick pieces.

In a medium size bowl, mix the marinade ingredients until the sugar and honey have dissolved. Coat the salmon pieces with the marinade. Marinate for 20 to 30 minutes (longer if you have time).

Cook the salmon with one of these methods: (The time will vary depending on the thickness of salmon.)

Broiling: Set the oven rack 6 inches below the heating element. Preheat the broiler. Place the salmon in a broiling pan lined with parchment paper or aluminum foil. Broil about 3 to 4 minutes until the salmon is cooked and slightly charred. Watch closely so as not to overcook. Baking: Preheat the oven to 450°F. Place the salmon in a baking pan lined with parchment paper or aluminum foil. Bake for 4 to 5 minutes. Pan-frying: In a preheated, lightly oiled non-stick skillet, cook for a minute or two on each side.
This salmon bulgogi recipe was originally posted in March 2015. I've updated it here with new photos, more information and minor changes to the recipe.