Miyeokguk (미역국) is a soup made with miyeok (also known as wakame) which is a variety of sea vegetable or seaweed. It is a mild and tasty soup typically made with beef broth or seafood (such as clams or mussels) based broth. Here's miyeokguk with mussels!
More so than other Korean dishes, this soup has a special significance to Koreans. In Korean culture, miyeok guk is traditionally associated with birth. Korean mothers traditionally eat this soup for weeks after giving birth since it has long been believed to contain nutrients that help with a mother's recovery after giving birth and the production of breast milk. It is the first meal my mother ate when I was born, and it was the first one I ate upon giving birth to my two children. Due to its symbolic association with birth, miyeok guk is the soup most Koreans eat on their birthdays.
I made it for my mother on her birthday a few days ago, which was a very special day because only a few months ago we were struck with grief at the thought of losing her. I used mussels in this recipe, which is my mother's favorite. Mussels are called honghap (홍합), so miyeokguk with mussels is honghap miyeokguk.
If you prefer miyeok guk with beef. See here.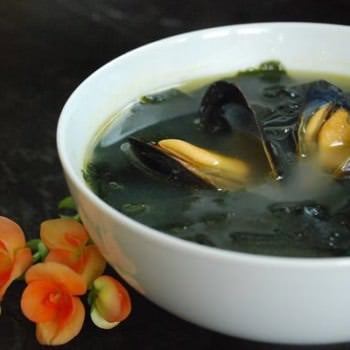 Ingredients
1

ounce

dried miyeok (seaweed), 미역

yields about 2 cups soaked

12 to 16

fresh mussels

1

teaspoon

minced garlic

6

cups

water

1

tablespoon

soup soy sauce (gukganjang)

1

tablespoon

sesame oil*

salt and pepper
Instructions
Soak the dried miyeok for about 30 minutes. Rinse 2 or 3 times, squeezing or kneading after each rinse (as if you are working with bread dough) to remove excess salt used in the drying process and rinse off any hidden sand. Drain well and cut into bite sizes.

In a large pot, sauté the miyeok with the sesame oil, soy sauce and garlic for 4 to 5 minutes over medium high heat.

Add water and bring it to a boil. Lower the heat to medium and boil for 15 minutes.

Drop the mussels in. Add salt and pepper to taste. Boil for an additional 5 minutes.
Notes
*Do not substitute. Sesame oil is a key ingredient in authentic miyeok guk. It adds a nutty flavor with a hint of sweetness when it blends with miyeok.