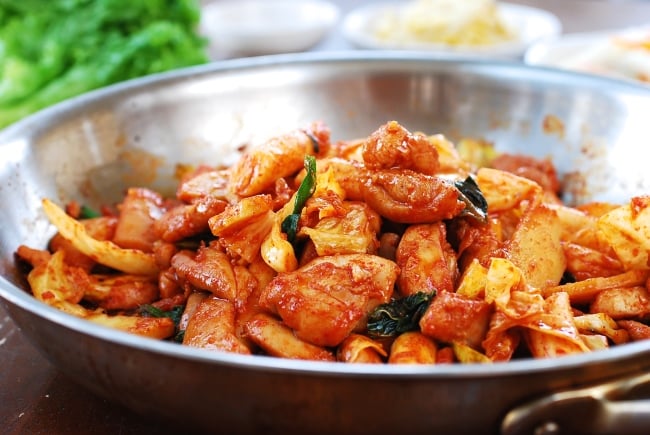 Dak galbi (닭갈비) is very popular all over Korea, especially in Chuncheon (춘천), a city in Gangwon Province (강원도), where the dish originated in the 1960's. It is a spicy stir-fried chicken dish made with boneless chicken pieces, rice cakes (tteokbokki tteok), green cabbage, sweet potato, and other vegetables. Dak means chicken, and galbi means ribs. But, there are no ribs in this dish. Back in the day, pork ribs (dweji galbi) were too expensive for everyday grilling, so a restaurant cook created a similarly flavored dish with chicken instead and called it dak galbi.
During my recent trip to Korea, I took a day trip to Chuncheon with a couple of friends. I always loved the dak galbi I had in Seoul, but this time I wanted to experience the dish where it's a local specialty. Chucheon is a small city which is about an hour driving distance from Seoul. It's a beautiful city with mountains and lakes, but most of all it boasts hundreds of dak galbi restaurants. We went to the famous dak galbi alley with a high concentration of restaurants. We didn't do any research before we went, so we just picked the one that looked busy from the outside. It was past lunch time, but the place was still bustling.
Each table was equipped with a gas stove and a large round grill pan, which is pretty standard at typical dak galbi restaurants. We ordered 3 servings of dak galbi. Shortly after, the waitress brought out a tray full of red spicy marinated chicken, freshly cut cabbage and sweet potatoes, and rice cakes. She then dumped everything on to the pan that was being heated in the middle of the table. The chicken started to sizzle immediately, and the smell was incredible. We had to patiently wait for everything to be cooked through, stirring occasionally. When the rice cakes and sweet potato pieces turn tender, the chicken is also ready to eat. We couldn't stop eating! We ate some wrapped in lettuce and perilla leaves. The dak galbi tasted a little lighter and cleaner at this place than the ones I tried in Seoul. I liked it better this way.
The sauce for dak galbi is made with staple Korean ingredients, such as gochugaru (red chili pepper flakes), gochujang (red chili pepper paste), garlic, ginger, etc. It sometimes contains Korean curry powder, which is a pre-made mixture. Dak galbi is typically not served with rice, but it's customary to mix in some rice into the leftovers at the end to make fried rice. At restaurants, you have to order the rice separately to do this. We were very full, but had to have some fried rice.
After leaving the restaurant feeling satisfied and full, we took a scenic ferry to a small island called Nami Island (남이섬), and walked around completely enjoying an early fall day.
This popular restaurant dish is so easy to make at home. You can double the sauce recipe and keep the half in the fridge. You will definitely want to make it again soon.