Easy, slow cooker Korean beef made with flank steak. It tastes just like authentic traditional bulgogi.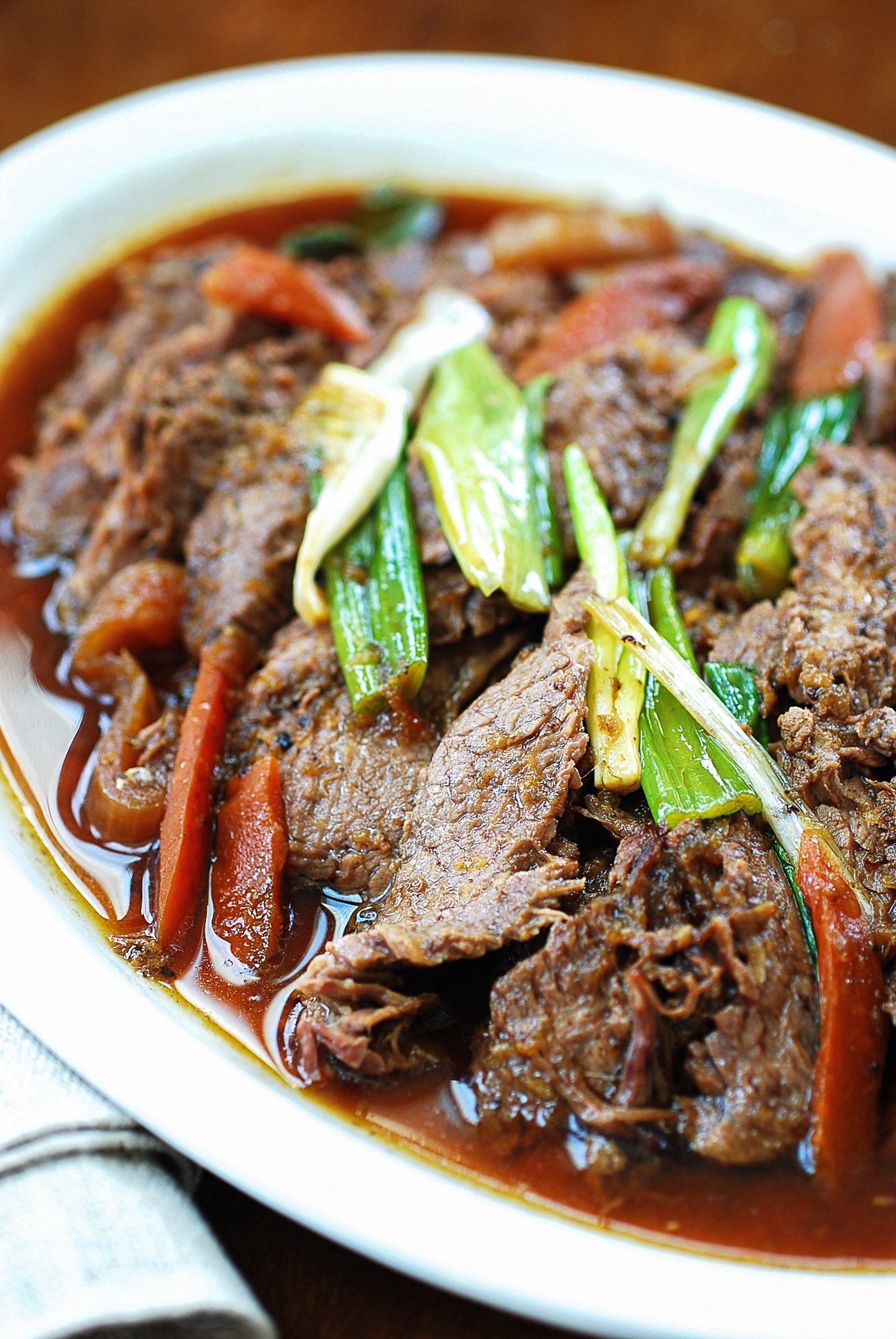 When I first started crafting this recipe, the thought of making bulgogi (Korean BBQ beef) in the slow cooker (or crock-pot) didn't seem like a good idea because bulgogi is made with thinly sliced meat. Then, it occurred to me that instead of cooking thinly sliced meat, I could first cook the meat in the slow cooker, and then thinly slice it. This approach worked beautifully!
After about 4 hours on high, it was perfect for thinly slicing. Newer slow cookers may take less time than mine. If you cook it too long, it will fall apart when you try to slice thinly. It will still taste good, but do not cook too long if you want to be able to slice the meat.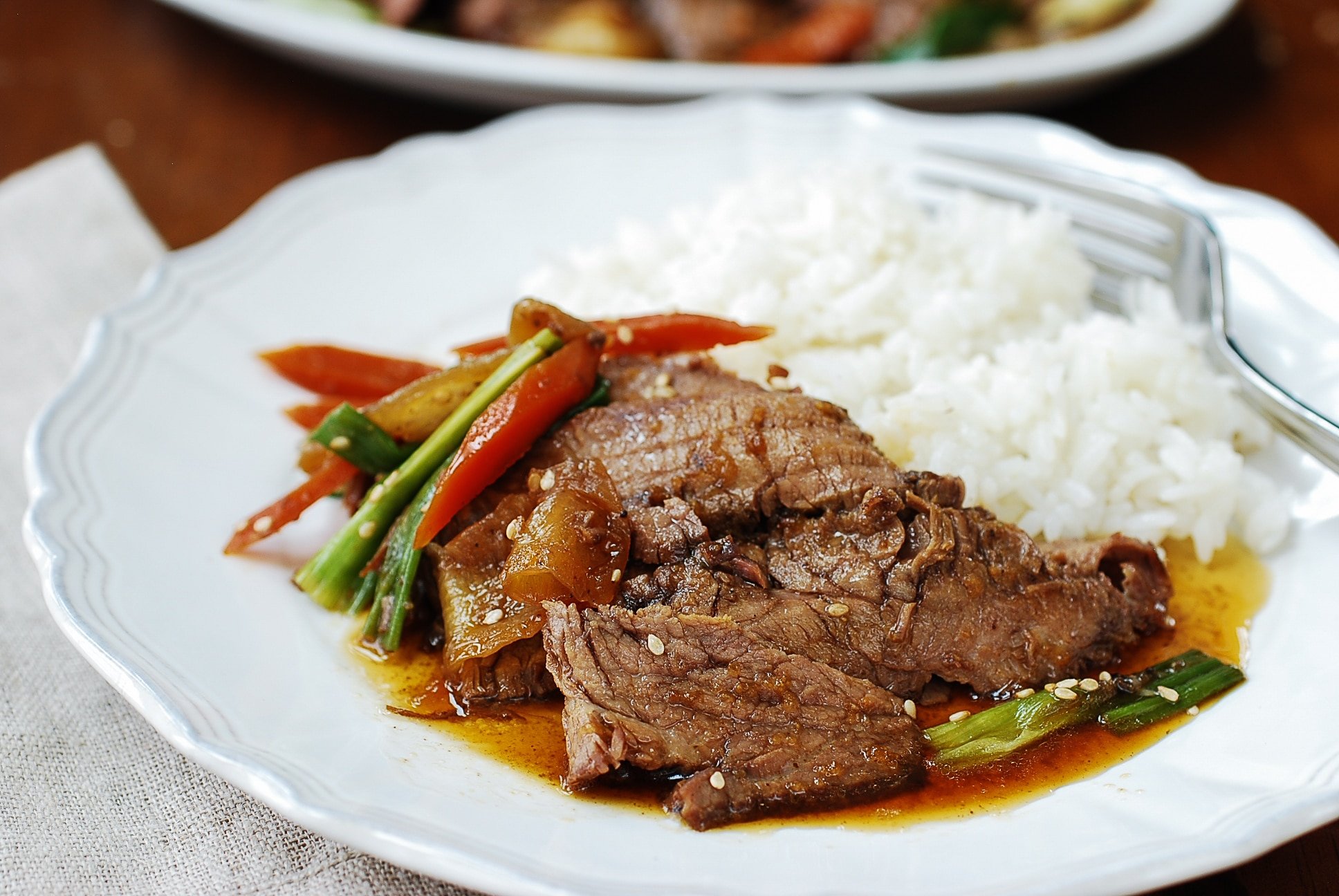 Flank steak is a tough but lean cut of meat. It works pretty well in the slow cooker with the help of a bit of acidity and enzymes that are in the cooking liquid. Brisket will work well too.
If you use other types of roast, such as chuck or round, make sure they are not too thick, so the meat is mostly submerged in the cooking liquid while being cooked.
As I mentioned in my traditional bulgogi recipe, it's important to find the right balance between saltiness and sweetness for authentic bulgogi.
The liquids in the recipe add up to a little over a cup. After cooking, you will end up with more than double the amount because the meat and vegetables release plenty of liquid.
The cooking liquid is very tasty as a sauce! It reminded me of the old-fashioned bulgogi from my childhood, which was cooked with beef broth. The resulting light, sweet and savory sauce was so delicious mixed in with rice.
More slow cooker recipes:
Slow cooker chicken soup with napa cabbage
Slow cooker dakjjim
Slow cooker braised beef shank meat with root vegetables
Slow cooker spicy pork ribs
Slow cooker galbijjim (beef short ribs)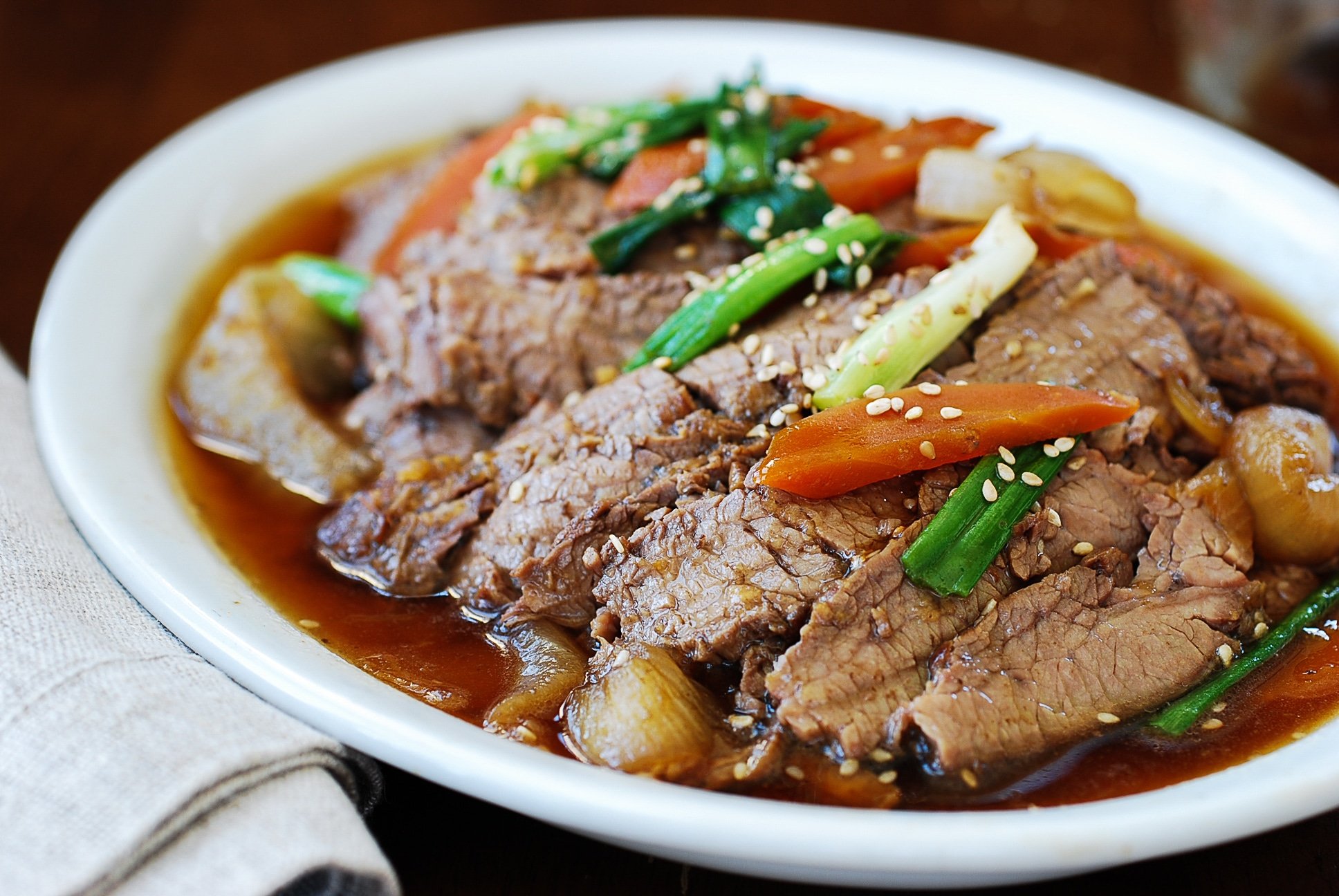 For more Korean cooking inspirations, follow along on YouTube, Pinterest, Twitter, Facebook, and Instagram.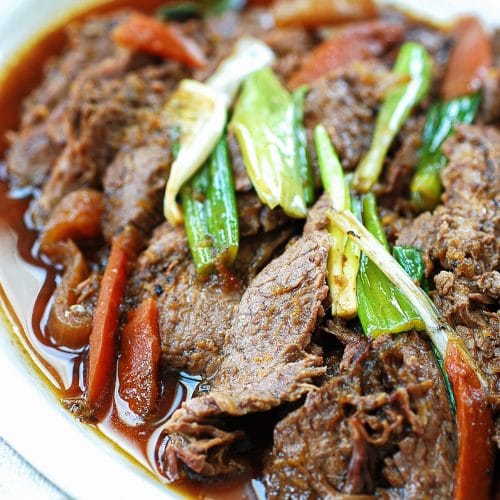 Ingredients
1.5 to 2

pounds

flank steak

or brisket

1

medium onion

sliced 1/2-inch thick

3

scallions

cut into 2-inch lengths

1

large carrot

sliced

7 to 8

garlic cloves

roughly chopped

1-

inch

ginger

thinly sliced
Sauce
6

tablespoons

soy sauce

3

tablespoons

rice wine

or mirin

3

tablespoons

sugar

1

tablespoon

honey

1

tablespoon

apple cider vinegar

or lemon juice

1/2

Korean pear

or apple, grated (about 3 to 4 tablespoons)

⅛

teaspoon

pepper

1

tablespoon

sesame oil

1

teaspoon

sesame seeds
Notes
You can reduce the sauce if you want by boiling, but the sauce is light and tasty as is.
Keep the leftover meat in the sauce in the fridge. It will reheat in no time, preferably over the stove top.