A deep-fried shrimp dish glazed in a sweet and spicy sauce. Easy and delicious!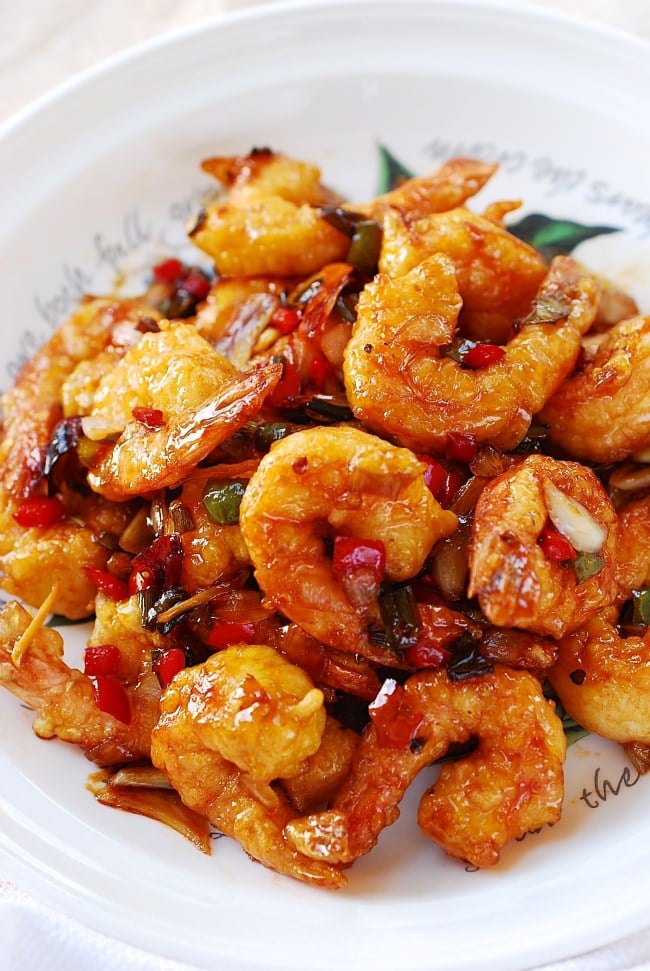 This past weekend, we celebrated my mother's 80th birthday with a Korean feast! I made several of our family favorites, such as galbijjim, bossam, japchae, nokdujeon, ojingeo muchim, saengseon jjim (steamed fish), and gujeolpan (platter of 9 delicacies). Most of these dishes are what she used to make for us on special occasions. My mother greatly enjoyed the food and family gathering!
This shrimp dish, called kkanpung saeu (깐풍새우), is another dish I prepared. It's a deep-fried shrimp dish glazed in a sweet and spicy sauce.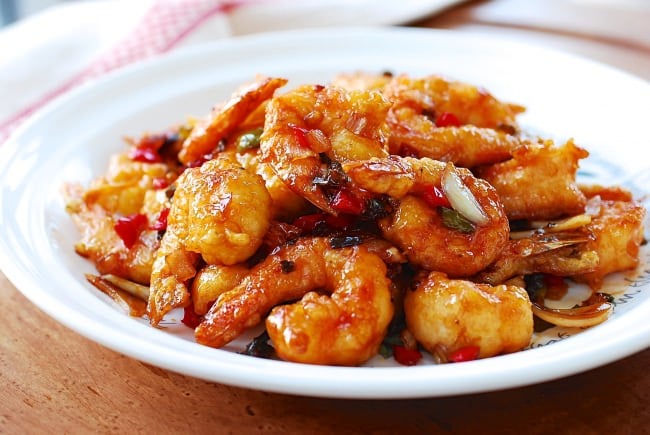 Like tangsuyuk, kkanpung saeu is a popular Korean-Chinese dish, which is a Chinese dish that's adapted for the Korean palate by Chinese immigrants in Korea. Kkanpung is a Korean pronunciation of the Chinese word that refers to stir-frying until the sauce is all absorbed, and saeu (also spelled saewu or saewoo) means shrimp in Korean. When the dish is made with chicken, it's called kkanpunggi (gi meaning chicken in Chinese).
You can use this kkanpung shrimp recipe to make the chicken version as well. Kkanpung dishes are typically served as appetizers to share at Korean-Chinese restaurants before eating jajangmyeon or jjambbong as a main dish. It can be pricey, but it's easy to pull together at home!
To make the batter, I simply mix the shrimp with some potato starch and egg until the shrimp is evenly coated. This creates a light yet crispy coating. Be sure to deep-fry the shrimp twice for extra crispiness that will stand up to the sauce.
For a spicy kick, I used dried hot peppers to make chili infused oil, but you can use commercially prepared chili oil and/or fresh green/red hot peppers instead. You can always leave them out if you don't want any spiciness.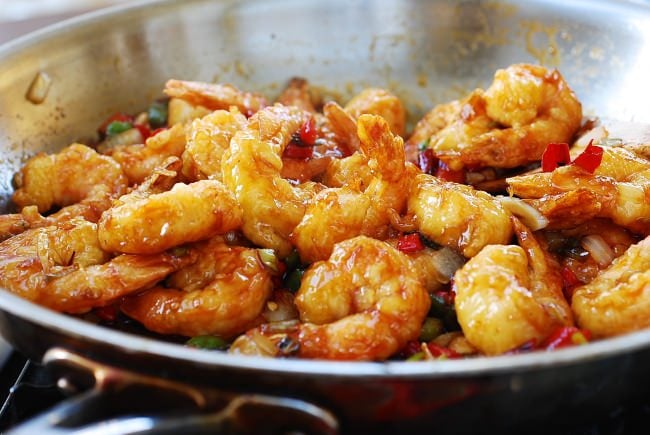 For more Korean cooking inspirations, follow along on YouTube, Pinterest, Twitter, Facebook, and Instagram.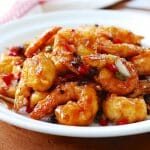 Ingredients
1

pound

large shrimp

about 22 large shrimp, peeled and deveined

Oil for frying
Batter
8

tablespoons

potato starch

1

egg
Aromatic vegetables
4 to 5

small dried red hot peppers

roughly cut

5

garlic cloves

thinly sliced

1-

inch

ginger

thinly julienned

1

scallion

finely chopped

1/4

medium onion

finely diced

1/4

red bell pepper

or 1 red chili pepper, finely diced

1

green chili pepper

finely diced
Sauce
2

tablespoons

soy sauce

2

tablespoons

oyster sauce

2

tablespoons

plus 1 teaspoon sugar

2

tablespoons

vinegar

1

tablespoon

lemon juice

2

tablespoons

rice or dry white wine

or use more water

2

tablespoons

water

or chicken or dashima broth

1/2

tablespoon

sesame oil