The holiday season is upon us! Some of you may be planning on getting together with family and friends for dinner parties. In this post, I hope to give you some menu ideas in case you want to throw a Korean dinner party. The dishes I've included here are some of my favorites for dinner parties. I put together three menus for you — a simple, casual dinner for a few people, a more elaborate dinner for a larger group and a vegan dinner.
You can adjust the number of dishes you make from the menu depending on the number of your guests, and double or triple the recipes as necessary. The number of servings is provided in each recipe. These dinner menus can be served family style or buffet style.
For cold days, you can also add a simple soup such as kongnamul guk and mu guk to any of these menus, especially if you have elderly guests. Rice and kimchi are the basics for a Korean table, so I did not add these to the menus here.
A lot can be prepared ahead of time. You can certainly marinate your meat or make namul dishes a day in advance. With some planning and preparation ahead, you too can serve up a Korean feast everyone will be rave about!
Simple dinner: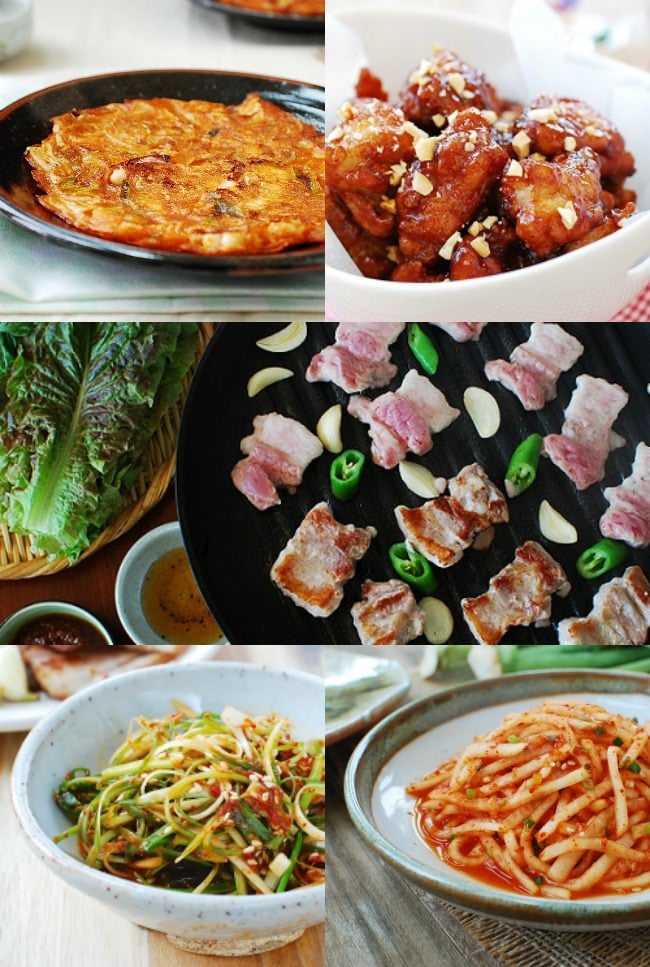 Kimchijeon (Kimchi pancake)
Dakgangjeong (Sweet crispy chicken)
Samgyupsal gui (Grilled pork belly): Or Bulgogi, Jeyuk bokkeum, or Salmon bulgogi if preferred.
Mu saengchae (Spicy radish salad)
Pa muchim (Scallion salad)
Big feast:

Kkanpung saewu (Sweet and spicy shrimp)
Japchae (Stir-fried starch noodles with beef and vegetables)
LA galbi (Beef short ribs): Outside grilling season, you can broil the ribs in the oven.
Samgyupsal (pork belly): This can be done in the slow cooker or over the stove top.
Sangseonjjim (Korean-style baked fish)
Baby Bok choy kimchi salad
Mu namul
Vegan dinner:

Hobak mandu (Zucchini dumplings): Make this in advance and freeze until ready to use.
Buchujeon (Garlic chives pancake)
Eggplant rolls (Gaji mari)
Kongnamul japchae
Tofu bibimbap